This must be made for a babydoll
If you are a runway model, then this set will work rather well for you. Being a normal everyday woman who I don't consider myself to be on the larger size, this is not realistic. There isn't much thought that went into making this outfit, I don't think. The back causes problems with curling up around the band when trying to put this on, you can't even put it on trying it feet first. Not realistic at all.
Published:
Pros:
G-string is comfy enough for daily use
Material is not itchy
Can be cleaned in the washer
Cons:
You have to be built like a barbie doll!
So I got my babydoll set in today and I was so super excited to put it on for my hubby and show off like the "bad girl" inside me, however when I went to put this on I was like "What the hell?" The top must be made for someone the size of a babydoll, because I still don't know how I got it on but it ripped in the process. I am 5'6", and 173lbs. so the large SHOULD have fit me no problem. The g-string panties fit me great, but when I tried to put the top on, I couldn't get it past my mid shoulder area without much difficulty and ripping it in the process.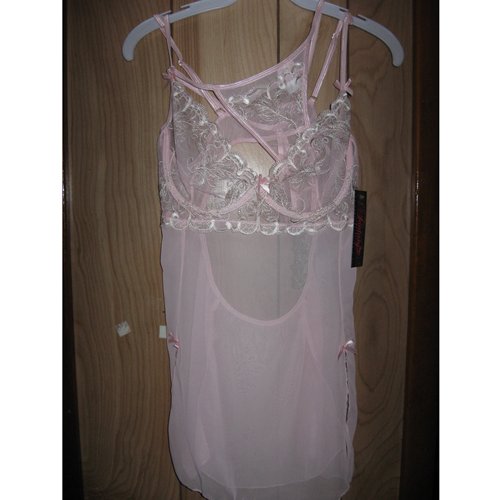 Above was the way it had arrived in the box, it was covered with plastic, but it was hard to keep the flash from washing out the photo. Nothing special about the packaging here.
I was expecting this to be white, as per the one on the model but it is a nice delicate pink color with the gold-ish colors in the lace on the cups and the g-string. Also my hubby said he thought that the lace wasn't seductive enough, there was nothing to tease, the entire nipple area was washed out by the lace.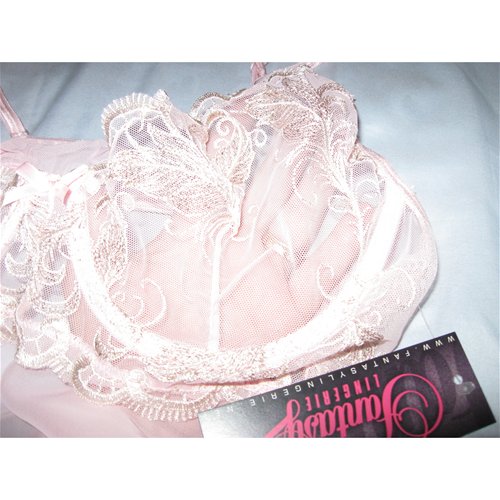 This picture below of the back of the outfit is a great visual aid to explain how hard it was to get this outfit on, when trying to put my head through, arms first through the straps, the very bottom of the outfit would curl up and around the strap that makes the middle portion of the top. So I had to deal with trying to take all of this out and unwrap it, while trying to get this to pass over my shoulders, it was getting me very frustrated and ALMOST out of the mood. But I somehow managed to get it on but you will see the result of that.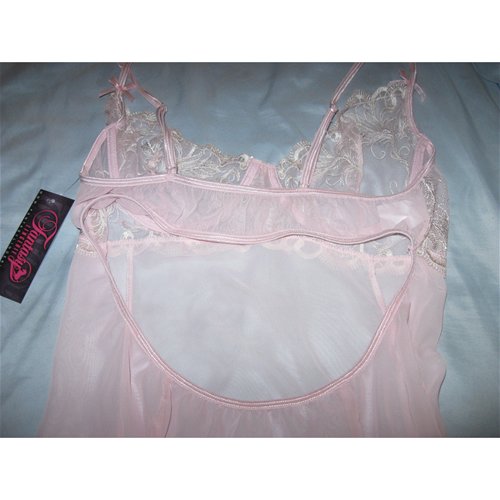 Had this been an XL it probably would have went over my shoulders, but like my stats above say, it should have fit. My shoulders are not broad, you can't watch movies on it.
The G-string is actually quite comfortable and I don't wear g-strings. But I think if you are a daily wearer of the g-string, you could wear these for daily use as well as with the top to this outfit. They are the classic g-string, not too wide, not to thin.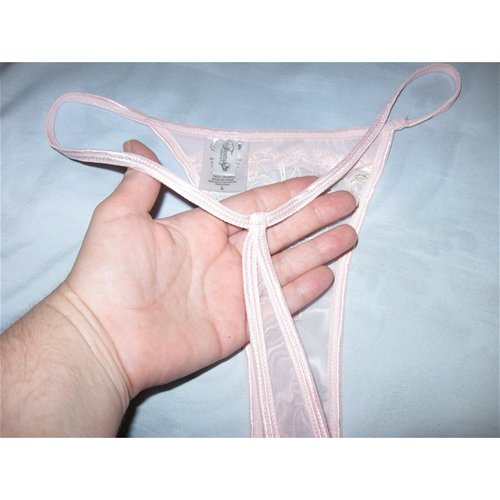 Both of the tags in the g-string and in the top say that this can be washed in the washer and put in the dryer on low. Had I been able to wear this again, I would have put it in my delicates bag and then put it in the washer and dryer, just to be on the safe side that the lace doesn't get caught on anything else that might be tumbling around and rip it anywhere.
Experience
All the trouble and frustration I went through to get this top on was ridiculous. I had no clue this wasn't going to fit until it had me enveloped in my mid shoulders and had me feeling like I was pinned down, so I was commited to getting it on at that point, as trying to take it off wasn't working and I had my hubby waiting in the bedroom to see me come walking in with this on!
Once it went on, it ripped, but it felt good. The material isn't at all itchy. The g-string isn't bothersome at all. It would be good for daily use.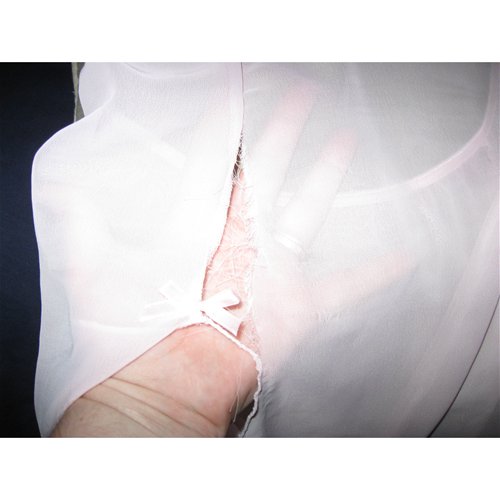 The above picture is the result of all my frustration and struggling to get this on.
I think I will be avoiding anything from this company or like this design in the future. I had 2 others in my wishlist that look like this same design, even worn by the same model. But I deleted them from my wishlist.
This product was provided free of charge to the reviewer. This review is in compliance with the FTC guidelines.

Thank you for viewing
Babydoll set
– babydoll and panty set review page!