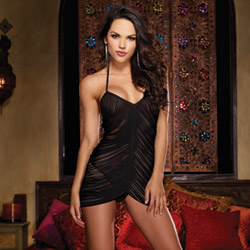 Fringetastic teddy
Teddy
by DreamGirl
This Teddy is unique and lovely, give it a shot if your not afraid of getting it on.
We think everyone should try this, it's great at covering up flaws but still provides a sexy glimpse. At this price there's nothing holding you back(except the out of stock thing).
Published:
Pros:
Super unique, elegant and complimentary. Good price too!
Cons:
May be a little involved getting it on. Durability may be an issue.
Fringetastic teddy is a revealing piece that will comfort you and tempt him(or her if that's the case). Its sheer mesh that leaves little to the imagination. It's really a chemise/teddy hybrid. The Fringes are a awesome touch and it's a very intricate piece. It's materiel flows in some spots and conforms in others revealing curves in the bust line.
PACKAGING
The set comes in the standard Dreamgirl shipment on a hangar inside a plastic bag. The Chemise/teddy does have a integrated bottom.
SIZING
Cup Bust (in)Waist (in)Hip (in)Inseam (in) Rise (in) Weight (lb)
Small 2 - 6 A - B 32 - 34 24 - 26 34 - 36 34½ 7 - 7½ 90 - 120
Medium 6 - 10 B - C 34 - 36 26 - 28 36 - 38 35 7½ - 8 120 - 140
Large 10 - 14 C - D 36 - 38 28 - 32 38 - 40 35½ 8 - 8½ 140 - 150
Sm/Med 2 - 8 A - B 32 - 34 24 - 26 34 - 36 35 7½ - 8 90 - 130
This product is a one size fits most, we would agree that the elasticity of this Chemise would accommodate most sizes, if you were very petite it may look a bit loose or baggy. Conversely if your a plus size, you may find it was very conforming(not tight mind you).
The measurement across the bust line is 10" with a maximum stretch of 18", it's measurement from the top of the cup to the bottom of the garment is 21". The cups are 5" wide and 7" tall.
My size is 34 D with a size 6. I weigh 140 and am 5'8". The measurement at my hips are 40". The bottom of the Chemise came down past the but cheek, extending about 2 additional inches.
MATERIAL
The Chemise is 82% Nylon and 18% spandex. The Nylon/Spandex is not exactly soft but it's smooth, no one is going to mistake this for silk though. It's Spandex gives it very good elasticity, going back to what we stated in the sizing section.
DESIGN
The design of the Chemise set is really pretty. It's got a plunging V neckline that extends beyond the breast area.
The cut and stitch of the front creates a bunching effect of the cups. There is no under-wire for support in the cups, but the straps are ties and thus adjustable. In our case they provided some support, but larger natural breast may not be supported as well.
Experience
QUALITY
There is a difference between lingerie Calvin Klien and Dreamgirl, this piece looks good on the product page and it's on par with other products we have purchased from the same manufacturer. It does not however feel terribly sturdy. There is some light fraying going on around some of the seams. Some of the fringes arrived damaged, but not enough to affect the overall appearance. The fabric is OK for what it is but is not very soft, and I would not describe it as luxurious.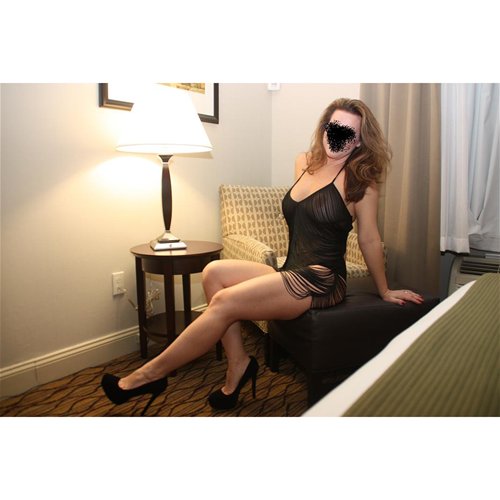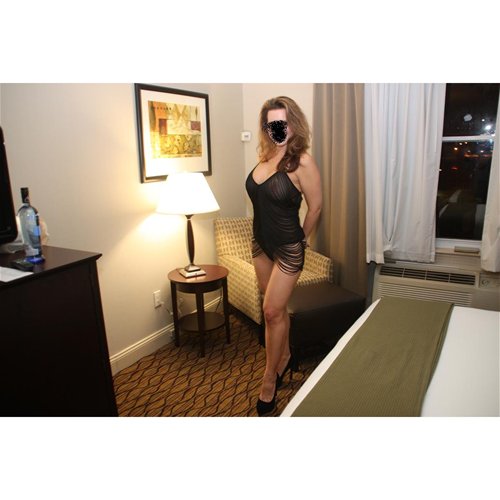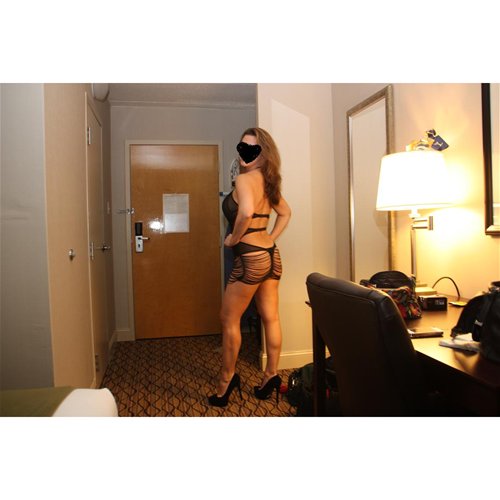 CARE
You should hand wash this in gentle detergent and cold water. It should be line dried. It should not be placed in a drier or ironed. It should not be bleached.
Accessories
She wore this with a pair of her Maryjane stripper pumps, you may want to add more. Pasties could also be used if you wanted to cover up a bit more.
Here's how it fit my lovely bride;
Experience
We have dozens of pieces that we have either bought or reviewed over the years, this one has a distinctive cut and you could say that this is our style. It lays well and is comfortable enough to wear the whole night. You may want to remove it before bed, it's not that comfortable. I found that this was very sexy on. The Dr.(him) loves sheer, and really loved taking this off of Mrs.(her) before playtime. We sometimes leave lingerie on when we make love or fuck, but those are usually super soft or silky.

One thing to keep in mind is that it's a little tricky getting it on. The fringes definitely get in the way and get tangled on everything. It's not impossible just a little more involved.

We like the overall look and performance of this garment, and we look forward to getting a lot of use out of it. This testing will give us some good feedback for the follow up, there are no pieces of plastic or rhinestones to worry about. It should hold up to machine washing in a garment bag.
This product was provided free of charge to the reviewer. This review is in compliance with the FTC guidelines.

Thank you for viewing
Fringetastic teddy
review page!