Tickled Pink
For less than the price of lunch, you can add these pretty bright pink panties to your collection! I'm really impressed by the quality for the price, and will be looking for more from this brand!
Published:
Pros:
Inexpensive, soft lace, comfortable, stretchy.
Cons:
A little bit too low-rise for me.
I can't even tell you guys how quickly these went into my cart when I saw that there were new panties that were not g-strings, thongs or crotchless! Plus, $6? I did a serious happy dance, and ordered both this pair and the
Microfiber boyshort with lace trim
, also by Baci.
When they arrived, I opened the other pair first, because I'm a total sucker for pink with black lace or vice versa, so I was really excited for these! When I tried them on, they were a little too small, so I didn't even open this pair, and instead tossed the unopened package in a pile of stuff to use for blog giveaway.
Later that night, I pulled up the info for the pair I'd tried on, and was confused to see that they were now available in small, medium and large- when I'd ordered there were no sizes listed, so I assumed they were a one size deal. Out of curiosity, I grabbed the package and... ah hah! The pair I had tried on was a medium! No wonder they didn't fit! I grabbed these and saw that the package said Large. SCORE!
I guess the different sizes were added to the microfiber ones after I ordered? I looked at my order info, and it says medium, but I never picked a size. Still, they're $6 panties, so it's not a big deal. I'm just happy that one of the pairs came in a size I can use! Looking at the product info page for this pair, there are still no sizes listed, but over in the "Properties", it does say Size: L, so I guess that's the only size available for now.
These lace boyshorts are bright pink, very similar in color to the tissue paper EdenFantasys uses to wrap lingerie in. The lace is soft and stretchy, and not at all scratchy. The tag says they are made in China, and 90% nylon, 10% spandex. It also says to machine wash warm and tumble dry.
Did you see that?
Machine wash warm and tumble dry!
A care tag finally approves of what I do to my underwear anyway! (I am way too lazy for hand washing, sorry. I do at least use cold water.)
Even though the tag doesn't say so, I'd stick to tossing these in the delicate cycle, since they are lace and all.
As if cute, machine washable, ass-covering panties for $6 isn't enough, these even have a handy dandy crotch liner that is about 2 x 5.5".
There is no separate waistband on these, they're just stretchy all over. They measure about 15" across the top when unstretched, and will stretch to about 21", no problemo. They're about 7" tall from mid-crotch up, and each leg hole is 10" across unstretched, and will stretch to about 15".
Baci's size chart isn't up at EF yet, but the chart on their site says large should fit 28"-32" waist, 38"-40" hips and dress size 14-16. My waist is 33", hips are 39" and I'm a 10/12, and these fit me quite well, other than being a little *too* low rise for my taste. They cover all the essentials, but just barely. I'm pretty tall, though (5'11"), so they may cover a little better if you're shorter. If you're not shaved down there, you may end up with a little tuft of pubic hair peeking out the top, though, since they're just not tall enough to cover the whole area. Another 1/2 inch of fabric would make me way happier with these, but c'est la vie. Overall, these are about the equivalent of a US size 7 panty.
The packaging for these is a cardboard envelope, similar to what some pantyhose come in, that's printed with images of a model wearing the panties on both the front and back. You could use it for storing them if you really wanted, but mine just get tossed in the drawer with all the others.
Experience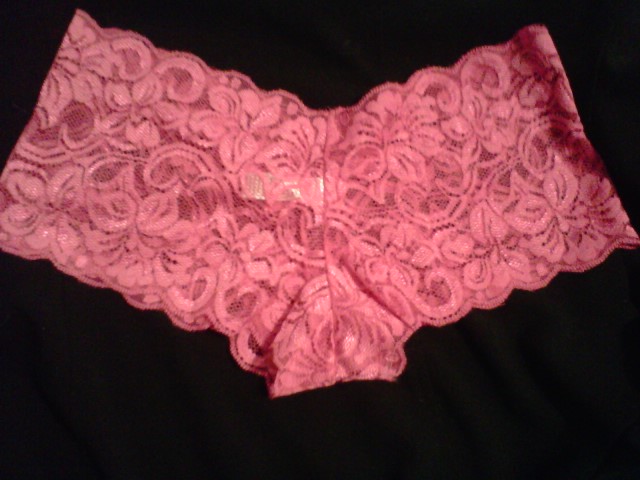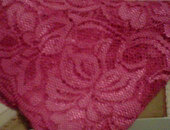 My camera was being a pain about getting the color right, but this is fairly close.
Sorry for no pics of them being worn. I like you guys and all, but you're at least going to have to buy me some drinks before I start showing that much skin.
I'm really impressed by the quality of these, especially for $5.99. They're both delicate and sturdy, and are quite comfortable. They are panties you could use for everyday wear under clothes, or pair with other lingerie for the bedroom. I'll definitely be reordering the other pair in the right size, as well as any other similar panties Baci comes out with!
Follow-up commentary
18 days after original review
After wearing these a few times, I've found that the "too low rise" issue bothers me a little more than I originally though it would. They're comfortable enough for general everyday wear, but I do get annoyed by pulling them up more than I'd like to. I did wash them (on gentle cycle) and they held up like a champ!
This content is the opinion of the submitting contributor and is not endorsed by EdenFantasys.com

Thank you for viewing
Lace boyshort
– shorts review page!