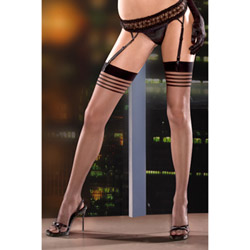 Stockings with striped top
Stockings
by Spice Lingerie
Tight Thigh Highs
Though not the girl who usually goes for tights or thigh highs, I appreciated how well made and comfortable these are. They are attractive, sleek, and easy to put on and take off. Though they are tight around the thighs, and may not fit all plus size types, they will hold well and are good for the average customer. These will look great whether you are wearing them with sexy lingerie or a business outfit.
Published:
Pros:
-Smooth, easy for long-term wear
-Versatile, can use with lingerie or regular outfits
-Well-made
Cons:
-Minimal packaging
-Tight around the thighs
I'm not a fan of thigh high stockings but I decided, why not? Let's give them a try. These arrived by themselves in a small cube of a cardboard box, shipped to my address. Inside I found the receipt, a plastic pillow "bubble" for packaging, and of course this pair folded neatly over a paperboard insert inside of a plastic bag. There was minimal packaging and no product information on the packaging, whereas most of the times in a store, tights or leggings will come in various sizes and you will be able to pick which size you are going to be buying.
The good thing about minimal packaging is that there isnt very much waste, and I will be able to reuse the plastic bag for storage of these tights or other items. I will also be able to recycle the paperboard insert.
I brought these out of the packaging and inspected them. The material is smooth and silky, and not stiff like other tights I've worn before. The striped pattern that would go above the knee is very attractive, even though it is simple. Upon inspecting the toes I noticed that there wasnt an annoying piece of fabric where the ends meet. Dont you hate that little bit down there that some tights burden you with? It can be so uncomfortable to walk on. So I was impressed at the quality from these two parts of the thigh highs. Any seams are hardly visible or noticeable, and this is a very nice touch. You can tell these were probably made in China or factory made, but for all intents and purposes, they are a great quality thigh high.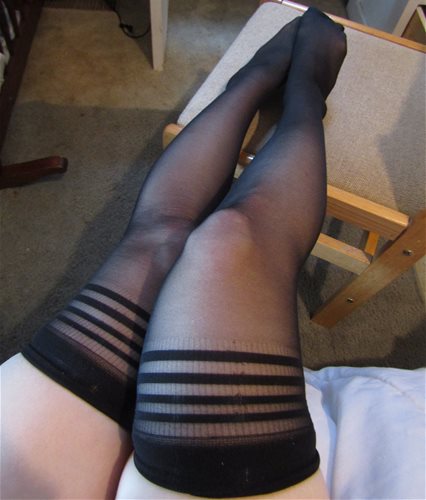 When I rolled them up my legs, they again did not have that stiff feel, and also didnt shock me as some tights do when there is friction rolling up the leg. So rolling them up was a breeze.
They are fairly tight on my skinny legs, well, the top part at least. The rest fits comfortably and feels smooth and wearable for the long term. Spandex is a great material for this reason. The top part, the tightest fitting part, wraps around my thighs and stays there, stubborn, refusing to falter. It doesnt feel too tight but you can tell from the photos that it certainly looks tight. This makes it slightly unattractive aesthetically. But this is a good thing because when you're in a business meeting or dolled up in lingerie at home, these thigh highs wont abandon you (an issue I've had with many thigh highs, leaving me wary of any new experiences with them). But it can leave an imprint on the thigh when these are removed, because they are so tight. Spandex is a great material for this reason.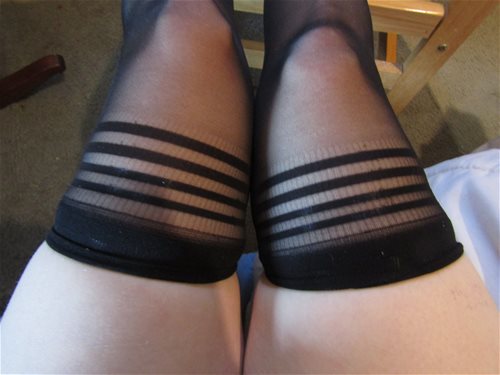 I am a little person at 120 pounds and 5 feet tall, and if these are "one size fits most," I would be worried to be a plus sized girl. These may not fit larger sizes, which can be a bit frustrating. I do wish these came in different sizes and were labeled that way so that girls could pick the size that they know would work best for them.
As I type up this review I feel very sexy modeling my new thigh high tights. They are simple, elegant, and sexy. I was doubtful of thigh highs before but am quite impressed with these and the overall feel of them. Now I am inspired to dress up more often so that I can wear these under my dress, or even just wear them at home for my man with some sexy lingerie!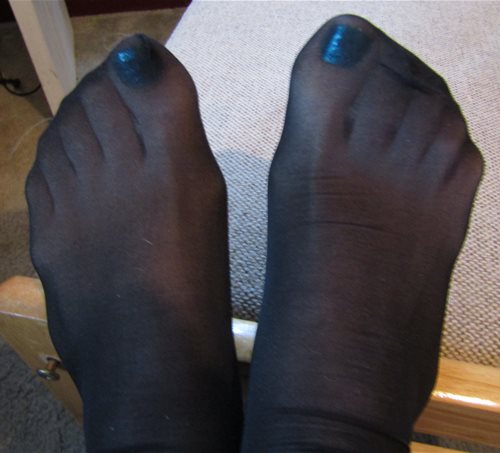 A note on washing: Though I'm not sure how exactly they should be washed and if washers are dryers are safe, I will myself be careful and recommend as well to you that hand washing would be the best idea.
This product was provided free of charge to the reviewer. This review is in compliance with the FTC guidelines.

Thank you for viewing
Stockings with striped top
review page!