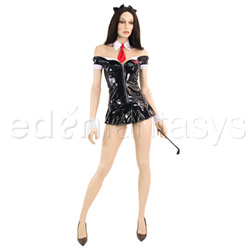 Donna matrix schoolgirl
Costume by DreamGirl
Time for this schoolgirl to teach her teacher a lesson or two.
This Dreamgirl Donna Matrix Schoolgirl outfit is worth every penny. Trust me you'll get your money back out of it the first night. This sexy 6 piece outfit will have your husband begging on his knees for more. Yet you will be comfortable and relaxed at the same time.
Published:
Pros:
Comfortable, sexy, and easy to put on.
Cons:
Makes you sticky and hot.
This sexy Dreamgirl Donna Matrix Schoolgirl outfit is now my absolute favorite outfit in my closet. My husband has been begging me to get this outfit, but I had my doubts about it. I am a firm believer that some lingerie outfits are made for more petite woman, while others are for larger busted and curvier women.

I fall in the curvier women category. I wear a US size 14 pants and a 38 C bra. Since I have had two children, I have the muffin top as well as not so perky breasts. So with this outfit not having a wire or padded top, and it appearing to fit very snug, I was concerned that it would show my 'curves' a little more than I wanted. But I finally bit my tongue and ordered it. To my surprise, this is our new favorite outfit.

The Dreamgirl Donna Matrix Schoolgirl outfit comes with everything shown: the dress, tie, gloves, headband and riding crop. This sexy dress is made out of black vinyl, in the front and back skirt portion of the dress. The remaining back of the dress is made out of a stretchy material which makes it easier to put on.

The tight fit helps caress, but also restrain some unwanted curves, as well as keep your breast 'a float'. The stretchy material in the back also makes the dress easy to move, and bend, in so you are not restricted from doing all your favorite sex positions. However I do want to add that the vinyl does make you feel sticky, and hot, after wearing it for a little while since the material doesn't really breathe. But that didn't matter to me. I believe your going to get that way anyway during sex and foreplay, might as well look damn good while doing it.

This dress was extremely flattering on my body, which leads me to say that this dress is great for EVERY body style. There's one other thing I'd like to briefly mention about the dress, which is the front zipper. I've never owned an outfit with a front zipper, so this was new for me. The zipper makes it extremely easy to put on and take off this dress. My husband loved it since he could get to my boobs easily, without me having to completely undress.

The headband has two little black bows on it, to top off the 'schoolgirl' girl, while the riding crop tops off the 'domatrix' look. However, the riding crop is simply for looks. There is no point in trying to use it during foreplay or sex. The extremely small flimsy tassels at the end, are too soft to do anything with.

The gloves and tie that are also included with the Dreamgirl Donna Matrix Schoolgirl outfit, also add a little oomph to the outfit. The tie simply goes around the neck and fastens with Velcro. The gloves simply slide on, and are held in place by a single strap that loops around your middle finger. But beware, from personal experience, don't try to stretch the loop over your finger once the glove is on your hand; you will break the strap. If this occurs, NEVER FEAR, your glove still stays in place; it just doesn't bend when you bend your knuckles.

The Dreamgirl Donna Matrix Schoolgirl outfit has it all. It's comfortable, sexy, and easy to put on, which is extremely important in our busy lives; so I give it 5 stars.
This product was provided free of charge to the reviewer. This review is in compliance with the FTC guidelines.

Thank you for viewing
Donna matrix schoolgirl
– costume review page!