TOO big for this tiny girl
If you have the body for this piece your body will likely look rockin'. If not don't even bother knockin'. One-size fits alls are a dangerous breed and this bet didn't pay off for me. While the fabric was comfortable and the t-strap back offers an interesting design the awkward fit made me feel insecure when wearing it and I only go into the bedroom confident.
Published:
Pros:
Really cool design, comfortable
Cons:
one size doesn't fit all, beading falling off after one wear
I found this piece of lingerie really pretty on the rack...sadly it does not apply to me. It's at least 2 sizes to big for me (the epic down side of one size fits all)....Do they really ever fit anyone? I felt awkward in it like I'd put on something from my big sister's closet that I was trying to be older than I am.
Sizing
I have a 34B/C chest I didn't come anywhere near large enough to fill out the provided cup space and the back draped off of me unless I was hunched over to pull it tight for photographic purposes.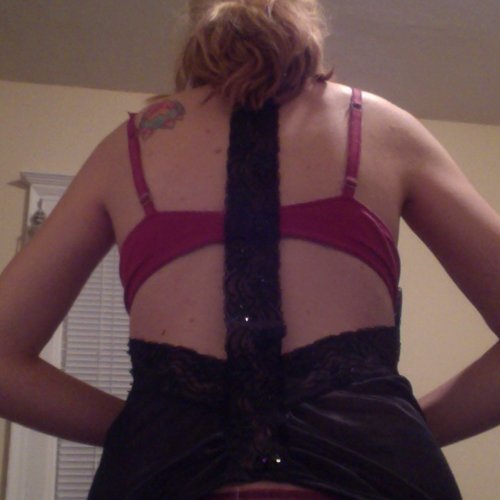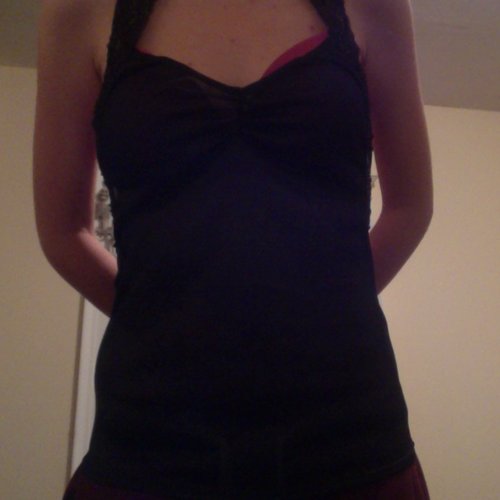 Packaging:
Cheap cardboard box with cellophane around the garment itself. The box displays the product.
Design:
She sparkles a lot more in those photos than I did in mine. Go lighting design and photoshop...aka a little bit of false advertising in my opinion.
Garment:
It's one sized fits all polyester. It has no underwire but is obviously designed for much larger breasts than I have. The beading seems flat and 2 of the beads popped off as I put it on. It wasn't itchy if that is something that you are worried about. The thong has a panty liner which is a nice "upgrade", but the straps were one size fits all elastic and didn't look like they would be fun to wear. As with most lingerie the best bet is to find something that looks nice with it but that actually fits you.
If you have experience with this company and you know that this product will likely fit you I say go for it as it is pretty and on the right body could be rocking. However, if you have smaller breasts you are likely just going to feel awkward like I did and bedroom awkwardness sucks.
Experience
I will be giving this garment to a friend as I never put on the bottoms once I realized the top was NEVER gonna work. So my only experience was trying it on for this review.
Follow-up commentary
9 months after original review
I wanted to write a follow-up based on how my friend linked it, as I gave it to her because it was too large on me. SHE LOVES IT! But she has the rack to fill it out. She said that the t-strap in the back is one of the sexiest things she owns, which I completely believe as that was what attacked me to this piece in the first place. She didn't keep the thong as she said it wasn't well made and fell apart as she was washing it by hand (Which she completely recommends). If sex goes well it is nearly always messy and clean up is often required. The recommendation from her is
1)warm water with a sensitive laundry soap, she uses dawn in a 5-gallon wash tub you only need a table spoon of the soap.
2)Lightly scrub together by hand always be gentle.
3)Rinse with cool water
4)Line dry (air dry)
This product was provided free of charge to the reviewer. This review is in compliance with the FTC guidelines.

Thank you for viewing
T-back chemise and thong
review page!