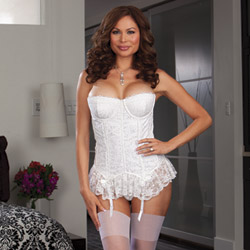 White love is beautiful bustier
Bustier
by DreamGirl
Too Busty for This Bustier
Dreamgirls White Love is a visually stunning piece of lingerie. It's lacey white with superb stitching and beautiful details. Unfortuantely it doesn't come close to fitting my breasts, and I found it slightly uncomfortable as well. It may be the perfect piece for someone with smaller breasts, but well endowed gals should pass this one up.
Published:
Pros:
Variety of sizes available
Quality stitching
Beautiful
Cons:
Size 3x will fit a C or D no higher
Feels restrictive
This is a beautiful piece that would be great for a bride or anyone who loves white. It's put together well, and I think would look great on someone with the right size breasts. That's just not me. I read a review of the identical item in black who said the small size had too large cups. It could be that Dreamgirl really messed up with the cup sizes on this piece. Maybe the smaller sizes have cups too large and the larger sizes have cups too small. Or perhaps both reviewers were at extremes in cup sizes. I know that's true for me. Bottom line, if you are a 3x with a C or D, this might work for you.


According to Dreamgirl this 3x should fit a size 18-20 with 48-54DD breasts, 40-44 inch waist, and 50-56 inch hips. I wear a size 20-22, have 46DD breasts, 39 inch waist, and 53 inch hips. I should have been fine with this piece. The cup size was woefully inadequate though. I think a C or maybe a D would be best. It didn't even begin to work with my boobs. There was major boob spillage out of the sides and top. It was pretty shocking, really.

The beautifuuly crafted bustier is made from nylon. The stitching is excellent. There are no stray threads or loose seams anywhere. I have no complaints about the craftsmanship whatsoever.

The bustier has an allover lacey pattern. The pattern is on the cups and the body of the bustier. The back has two panels without the lace which provide a bit more stretch to the garment. The bottom has a lacey ruffle hem with 2 bows. The body is made from 2 liners. The inner layer is plain white and the outer layer is the lace pattern. The lace is not real delicate. Running my finger nails on it produces a scratching noise. The lace hasn't caught on anything to ruin it. It seems to be very durable lace. The lace ruffle hem at the bottom is a bit more delicate. It's flirty and feminine and not itchy at all. The two bows at the bottom add a flirty touch. I usually don't like bows, but I think they work on this piece.

The cup has underwire and is padded. Obviously, too small for me. However, I think a smaller breasts would find them comfortable and supportive.

Nine plastic boning pieces give the bustier it's shape. All together with the boning this has a heavy feel to it. I feel somewhat restricted in. It's not that it's tight- it's not, it's just heavy. It's not as comfortable for me as my other bustiers. Additionally the side boning pieces dig into my breasts. That's probably because my breasts are too large for the piece. I don't think they would dig on someone with smaller breasts.

The back has 14 hook closures. There are 3 sets to accomodate different sizes. If they are hooked on the farthest ones the lace hem meets at the back. If the middle or closest ones are used there will a gap where the ruffle meets.

The 4 garters are detachable. They are of good quality. The piece included white sheet stockings. They are not of real good quality. They didn't go up to my mid thigh and they had a tendency to roll down. I would recommend buying different stockings if you want to use the garters.

The G-string that came with it has the same lacey material on the front and back panel. It has a cotton liner. It's cute, but it doesn't fit me well. The back does not come far up enough to be comfortable. I don't usually wear the thongs or G-strings that are included in sets so that was not a big deal for me.


The tag says it is made out of 100% nylon. I have half a dozen bustiers and all of them have spandex in them. I like those more because they stretch to fit. I can put all my other bustiers on over my head and leaving it hooked up permanently. I can't do that with this bustier. I have to get help with the hooks. That's annoying for me. I like to put on the lingerie first and then surprise my husband. I don't mind him helping to take it off, but I really dislike having to have help putting it on.

Dreamgirl recommends hand washing in cold water and line drying. I would follow that recommendation.
Experience
My anniversary is this month and I had visions of wearing this to recreate our wedding night. Alas, it will not be. My husband thought I looked fine with it, but he's always fine with boob spillage. I didn't feel sexy with the cup desperately trying to rein my breasts. Also, we tend to like lingerie that can be worn during sex. This piece was restrictive enough that I wouldn't be comfortable with that. It would need to come off before much action started.

I wish it worked better, because I do think it is beautiful.

I really debated what rating to give this. I didn't want to take off just because it didin't fit my boobs. Most people don't have my boob size. Ultimately I decided on 3. I took off 2 points because it wasn't as comfortable as I would like, I had to have help getting it on, and both the stockings and G-string had issues.
Follow-up commentary
25 days after original review
I passed this on to someone else. The cups were just way too small for me. It is a very beautiful piece and well constructed. Woman with smaller boobs may really love it. Unfortunately, that's not me.
This product was provided free of charge to the reviewer. This review is in compliance with the FTC guidelines.

Thank you for viewing
White love is beautiful bustier
review page!