Too many straps (ML)
This piece is too complicated for an uncoordinated girl like me. I have to spend a considerable amount of time making sure that I have all the strings in the right places. When they're in the right places, I just hope they stay that way, otherwise I could be revealing more than I am wanting.
Published:
Pros:
Metallic
Cons:
Too many straps
What it is
This is a very metallic blue romper from Espiral that does not have any support whatsoever and ties everywhere around your body. If you need support, look somewhere else. When I first received it and saw it for the first time I thought to myself wow, that's bright. There's not much to this piece at all, but brightly colored straps. About the bra, the triangle pieces that are supposed to cover you do not slide to be positioned. It says in the overview these are slider style which I took as they slid, but that's just not the case at all. They are sewn in and the only way I can get them in the proper place is by adjusting the long straps that tie at the back exactly where I need it. Thankfully, the straps accommodate my small bust size and I'm not revealing everything to all you Eden readers.
Sizes Eden Carries
Eden currently carries this in SM and ML. I have the ML and my review will be based off that information. They also carry this in hot pink and black.
Espiral Size Chart
There's not a separate size chart for those outfits that are SM and ML for Espiral's sizing that I could find. I'm going to base the information based on these sizes. I believe it is cut to size according to their chart. If you fall in the same measurements, you should not have any trouble with this fitting you accurately.
Small: 34" bust, 25" waist, 34" hips
Medium: 36" bust, 27" waist, 36" hips
Large: 38" bust, 29" waist, 38" hips
My current Sizes
Size 4-6
AA Cup
32" bust
27" waist
32" hips
121 pounds
Given the following information, a ML should fit a 36"-38" bust, 27"-29" waist, and 36"-38" hips. With this information I should be loose at the bust and hips and fit at the waist. I find this to be correct. The piece in reality is too big for me, but because it is so strappy can be adjusted to make it fit better.
Measurements taken laid flat
The measurements for this piece is quite different than most pieces I review since the piece is really divided into sections of straps. I'm going to give the measurements by each section and try to describe the area I'm talking about for you.
To begin, the strap that ties around your neck halter style measures 19" long on one side has a 10 ½" long area for the neckline, and then is 20" long on the other side. This side wasn't tied into a knot whereas all other strings were. Both sides of the string are ¼" wide. The neck area is 1 ½" wide.

At the bust area, the strap won't stay down no matter what I do. If I pull the string down then the triangle area pops up. It's a losing battle.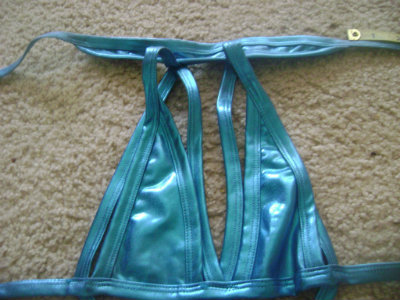 Anyway, from the neckline has 6 strings sewn from the bottom of it. Two sets of two outline the bust and one set of two in the middle where the triangle bra area is.
The strings that outline the bust are 7 ½" and 8" long. From the top of the string of the triangle area to the bottom measures 10" if you can get the strings to cooperate with you. The triangle's each measure 5 ½" long. They are 2 ¼" wide at the bottom, 1 ½" wide in the middle, and ½" wide at the top.
From here is another string that ties around the waist and is 45" long. Now we're to the area that has two large X patterns at your waist. There are four straps that make these X patterns and each measures a little bit differently. They are 11", 10", 9", and 8" long.
Next is a strap that ties at your hips and one side measures 19" and the other side measures 18". They are separated from each other at the panty area and are not one continuous strap. The panty strap is 13" laying flat. There is a 2" space from the waist band to the top of the panty. The panty measures 3 ½" wide at the top, 2 ½" wide in the middle and 1" wide at the bottom. The panty is 7" long.
It does have additional lining in the thong area, at the collar, and at the bra which is always nice. The panty liner measures 2" by 2 ½" and doesn't cover the entire panty. It is open and not sewn completely shut so you could put a bullet in there if you wish.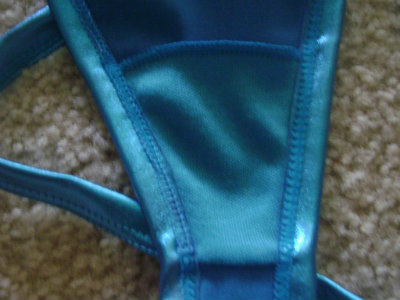 Front of the piece laid flat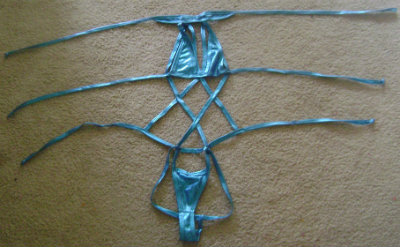 Back of the piece laid flat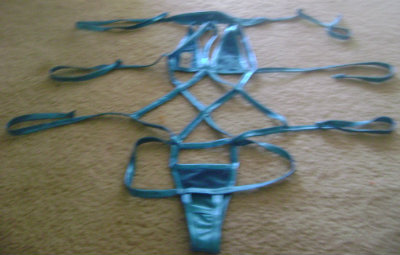 Experience
continued....
Material and Care
This piece is 93% polyester and 7% elastan. According to their symbols on the tag, it is best to hand wash only, do not use chlorine bleach, do not iron, and do not dry clean.
Craftsmanship
The piece seems to be sewn efficiently. There are no loose strings or unfinished edges. If I tug on the strings, I do not hear the stitching coming apart.
Front of the piece while worn.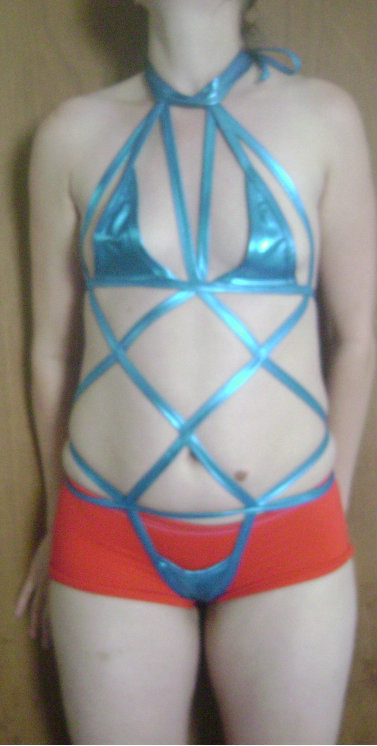 Back of the piece while worn.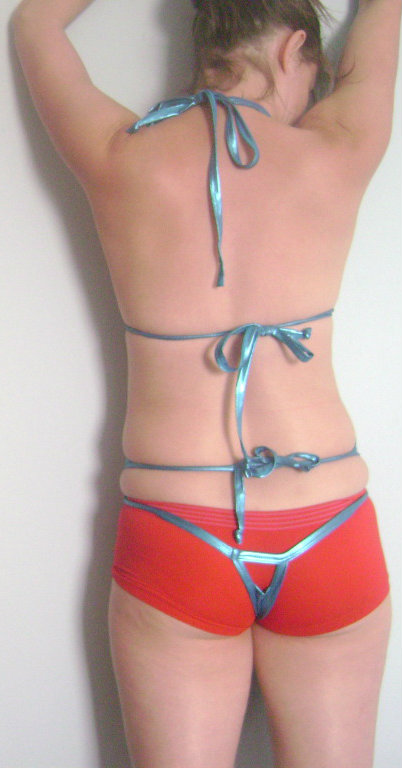 Experience
I don't know if I'm totally uncoordinated or what, but every time I put this on, it takes an act of congress to get all the places in the right position. I don't mean this by fit, but I can't seem to get it right which strap goes where because out of my lingerie drawer it's just a tangle of strings. I finally realized after a few unsuccessful attempts, that it's easier to put on the underwear area first, and work my way up. Here's what it looks like straight out of my lingerie drawer.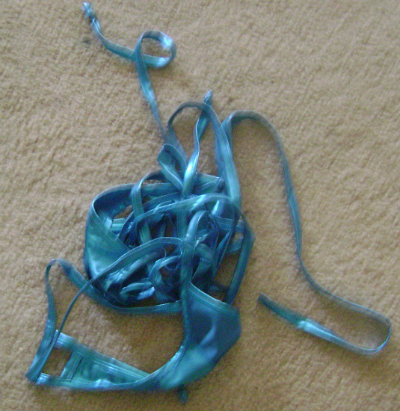 The thong fits comfortable as far as thongs are concerned. My only issue is that it is lower than I prefer. It's placed almost exactly where my landing strip begins. I'm self-conscious that hair may be sticking out, but my husband never seems to notice. The nice thing about this strappy piece is if you didn't want to entirely slip out of it during sex you wouldn't necessarily have to. Just slide the thong down and out of the way.
As a whole, I really don't like this piece. I thought it was going to be something that I liked, but the strings are just too much hassle for me to get into the correct postion. I've had it for a very long time now and just can't get into wearing it very often. I have many lingerie pieces that I enjoy much better.
Follow-up commentary
44 months after original review
I never could like this bits of strings. I like the metallic blue color, but that is it. Nothing is appealing about it, and it's just too complicated and not worth the effort to wear.
This content is the opinion of the submitting contributor and is not endorsed by EdenFantasys.com

Thank you for viewing
Strappy romper
– teddy review page!