Traffic Cones and Jack-o-lanterns Are Just Not Sexy
While this does fit me very well, I will never wear this in or out of the bedroom. It is too ridiculously orange and I don't think that being this neon is in anyway sexy for me. I also don't like the way the back is cut. This is true to size and comfy but that is as far as it goes for me, otherwise I think this is seven levels of terrible.
Published:
Pros:
Easy maintenance
Cheap
Comfortable
True to Size
Cons:
Not Coral, But Bright Orange
Smells like rubber
The Cut
Overly large itchy bows
I received the coral chemise and thong, a one size fits most set from dreamgirl, and I must say that I am very disappointed. It is not at all like I expected for one. It also is NOT coral but a hideous shade of orange, and the moment I put this on my body all I could think was, "I look like a f*cking jack-o-lantern." That is until my man, who heard my disgust from the other room, came in to laugh and say lovingly, "kind of, but if you ask me I think you look like a traffic cone." While we had fun laughing about how utterly hideous this is, there was nothing sexy or mood setting about this ensemble.
Well now I suppose I should go over the finer points of this set such as the material and comfort for those people who do think that resembling a jack-o-lantern/traffic cone may just be the kind of sexy they are after.
This is a pic of my shock at the level of orange that this is ... a little over the top right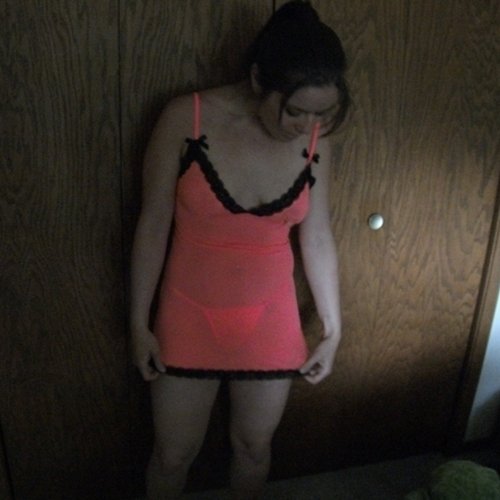 MATERIAL/COMFORT
This set is a polyester and spandex blend that is very sheer. It's light, airy and comfortable. It is sheer enough to see nipples through (I photoshopped mine out) and the top does not offer much in the way of support as there is no underwire, just a seam under the bust to define each cup of the chemise. This is trimmed in black lace that is also comfortable and not remotely itchy. The only material I found to be irritating on this are the bows that are on the shoulder straps. They are larger than I think they should be, and tend to turn and twist oddly and be bothersome. These could easily be removed though if one so chose.
Bows ... I don't like 'em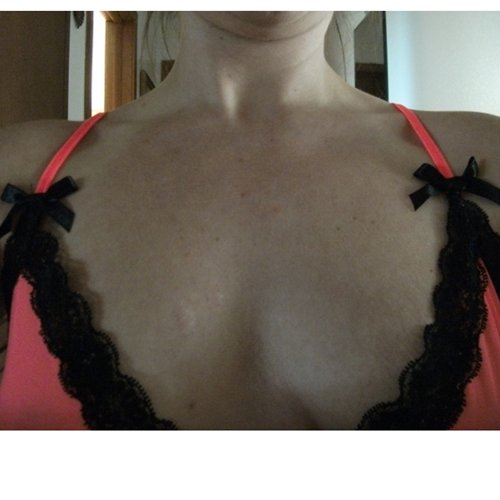 The color is even advertised in the name of this set. Coral. Not. This is bright freaking orange. Not the nice subtle salmon pink/coral that this appears to be on the product page. Oh no. I could probably put this on, grab a stop sign and proceed to go in the road to direct traffic, and I don't have a black light to test this theory but I am pretty sure that this is black light reactive.
SIZE/FIT
The size range for dreamgirl's one size fits most sets will fit sizes 2-14, B-C cups, a 32-38 bust, a 24-32 inch waist,34-40" hips, and people from 60-160lbs. 60lbs? Really. Well I find this to be mostly true. I feel this would fit people in the range of 90-160lbs. as the 60lb is just a joke I hope, and I honestly don't think it would fit someone that small if they exist as adults. This would not be great on larger breasts either due to the lack of support. Around the top of the set in the back is a stretchy ruffled band that is accommodating. The thong is also ridiculously stretchy. While on the subject of the thong I will add that it comes in the same painful shade of orange, is very basic, comfortable and comes with a cotton crotch liner.
On my 5'2" 120lb frame this fits nicely, not too snug and it doesn't hang off. It actually fits very well. The stretchy ruffled band in the back however makes this unflattering on me I think. I don't like the cut of this. It's length allows for this to just cover my ass, on taller people or people with longer torsos this will be more like a babydoll or long cami. It would sit on people up to 5'7" as a chemise though.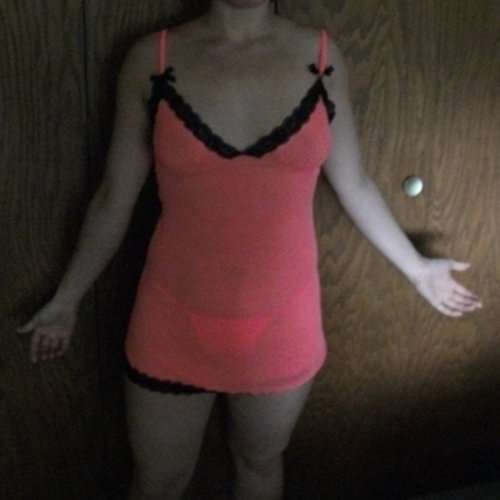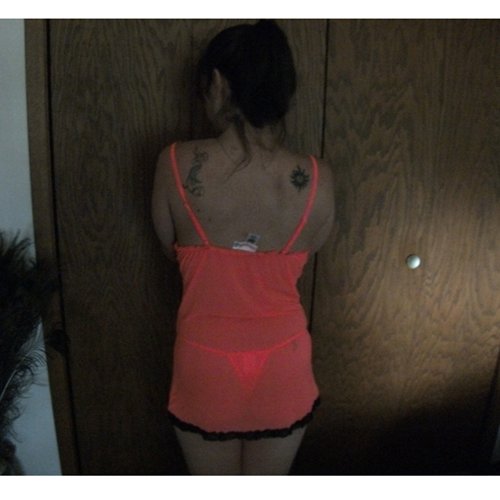 CARE/MAINTENANCE/PACKAGING
This ideally should be hand washed and hung to dry. I washed mine in this way when I first got it since it came out of the packaging with a rubbery smell. With this type of material it is not likely that this will wrinkle so it could be kept in a drawer and it certainly does not need to be hung.
This came in a small cardboard package that has a picture of the model wearing a coral version of this orange monstrosity on the front and back. It also gives the size range on the back of the package. Inside this is the set wrapped in clear plastic. I am not sure if the rubbery odd smell that this set carried with it when it arrived was due to the packaging or where it was manufactured, but you will likely notice it immediately when you break that plastic seal on the package. The plastic needs to be thrown away but the cardboard portion of this package can be recycled.
Experience
Overall I am disappointed. The cut isn't my favorite on the back of this at the top. I feel it makes me look boxy. I also can not stand the color. It is just unflattering. For this being true to size, a comfortable material and low maintenance I will give it two stars. I docked three for the ridiculous color, and the odd cut. Plus the fact that my man agreed that this set was in no way sexy and the color was to horrendous and way to bold. This set stands out so much that the fabric is noticed more than the wearer, which takes away from the wearer's assets and will not likely make the wearer feel very sexy if they are noticed second to this ridiculous fabric. That's just my opinion though.
Follow-up commentary
1 month after original review
I still totally loathe this. It is ugly, bright orange an ridiculously unflattering. I will never ever wear this. The bows are over the top, the lace is not the most comfortable and the cut is just not quite right. One good thing about this is that it is comfortable to wear. I definitely don't recommend this to anyone though.
This product was provided free of charge to the reviewer. This review is in compliance with the FTC guidelines.

Thank you for viewing
Coral stretch mesh chemise and thong
review page!