Tres Sexy is Tres Small
This is a beautiful, 2 piece set if you are smaller than average. If you are, then I would definitely recommend this chemise and g-string set. It's soft and delicate enough to be sexy, but not so delicate that it wouldn't last. If you happen to be average size or bigger stay away!
Published:
Pros:
Vibrant color, soft, sexy
Cons:
Sizing is way off, no cotton liner in g-string
Appearance and Quality Overview
This is a 2 piece Lace Chemise and g-string set in one size. The product page and box call it a babydoll, but as you can see from the picture it's more of a chemise.
I received the red color and it came in the regular box.
Front of the box: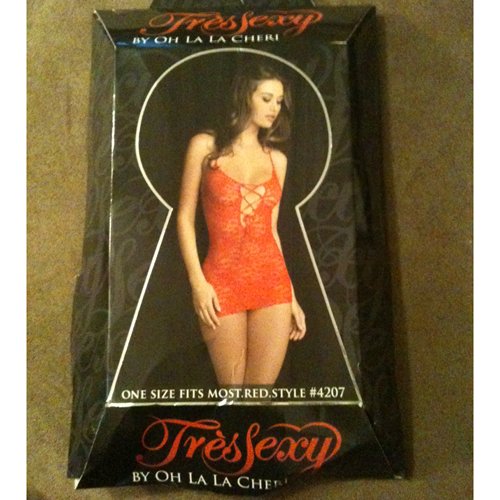 Back of the box: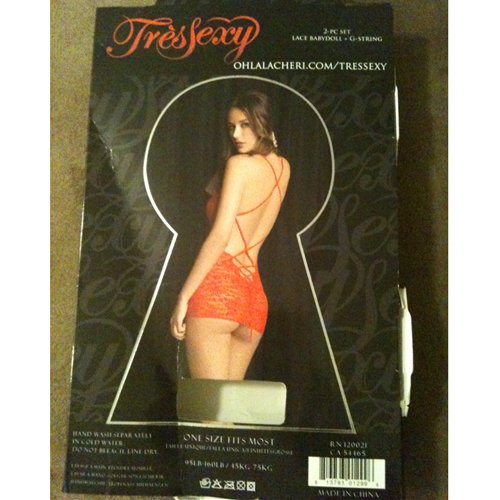 When I first inspected this, I was impressed with the way the pieces felt. Lace can be itchy, but this was soft and very delicate. The color is a very vibrant red. After inspecting the stretchiness I noted that it only had a little stretch.
Material Overview
The dress and g-string are made from the same materials:
94% polyester
6% spandex
Tag: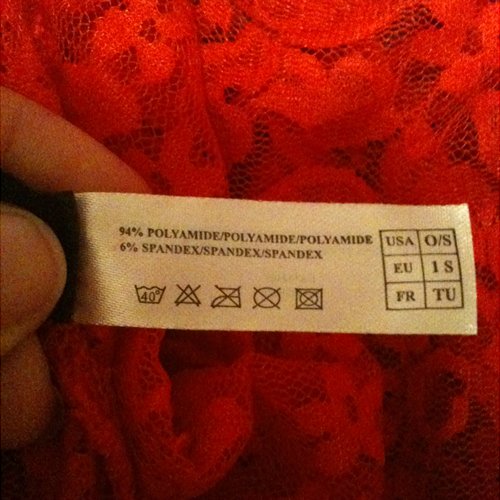 With only 6% spandex I didn't expect it to be extremely stretchy. You should hand wash it in cold water and then hang it dry.
Here is the lace design up close: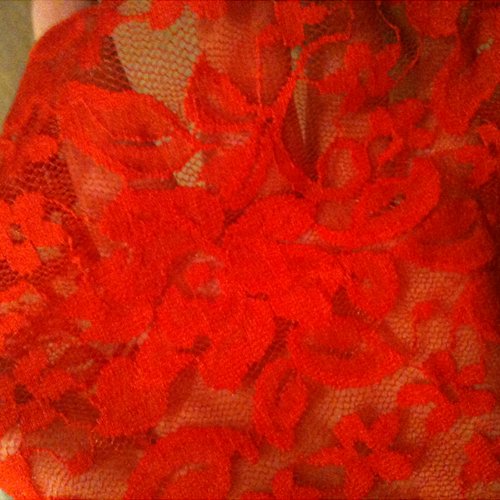 Chemise Overview
The chemise really is beautiful. The material feels great and the red color reminds me of a fire truck. It is very delicate, so if it doesn't fit you right chances are that you will snag or tear the material trying to get it on. The neckline is a scoop neck with corset type ties that scoop down much lower.
The front: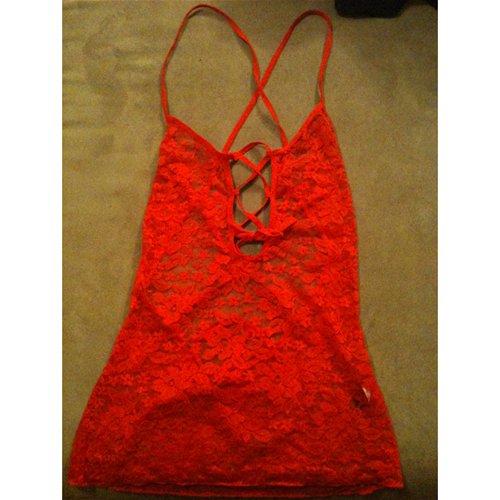 The back was my favorite part. It has a somewhat open back that scoops down to the top of your butt. The straps crisscross down the back.
The back: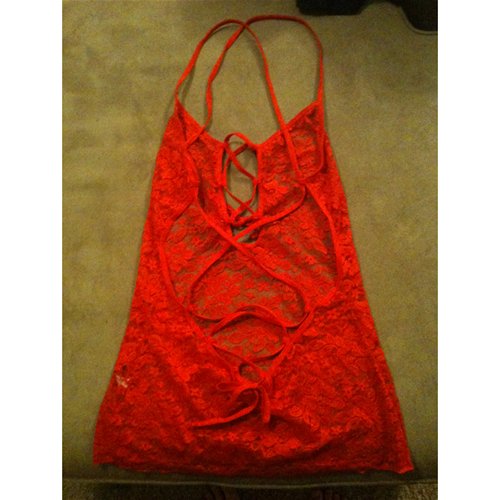 The reason I strongly dislike this piece,
size
.
One size fits most usually fits me in the bust and waist, but is small in the hips since I have wide hips. I was extremely disappointed to put it on and find that it was tight in the bust, waist, and
extremely
tight in the hips. It is tight in the way that it wouldn't even stretch over the tops of my hips. It felt like a small. The box says it will fit 95 lbs to 160 lbs, but there is no way that this is true. I am so shocked because I'm not used to a one size fits all piece being too tight in my waist and bust.
I searched for a size chart and couldn't find one. Their website didn't even have one. I called their customer service number and spoke with a helpful, quick representative who gave me the one size fits all size chart.
Oh La La Cheri Size Chart
Sizes 2-14
Cup: B & C
Bust: 32-38
Waist: 24- 32 inches
Hips: 34- 40 inches
My Measurements
Size: 14
Bust: 36C
Waist: 32 inches
Hips: 44 inches
Chemise Measurements
Waist across: 12.75 inches
Length from top of neckline: 18 inches
Across bust: 11.5 inches
Hips across: 16.5 inches
I took the chemise measurements and there is no way that it could stretch enough to fit the upper limit of their provided size chart. I wasn't expecting it to fit my hips very well, but since it was so short I had planned on ordering one of the wetlook skirts to pair it with if I decided that I really liked this. I'll put it this way, unless I lose 30+ lbs there's no way that this will fit me well enough to even wear as a top with a sexy skirt. Even though I was pretty sure that it would be a little tight in the hips, I wasn't doubting that it would fit me in the waist and bust.
I can't even begin to explain how disappointed I am in the fit of this. Even if my hips were 4 or 5 inches smaller this still would have been too small for them. I really think they should consider updating their size chart or creating this piece in small, medium, and large with this piece being the small. I honestly don't think that it will fit the average sized woman. It's a shame, really, because this was so pretty.
G-string Overview
The g-string is just as soft and vibrant as the chemise since it's made of the same material. It doesn't have a cotton panty-liner, which sucks.
The front: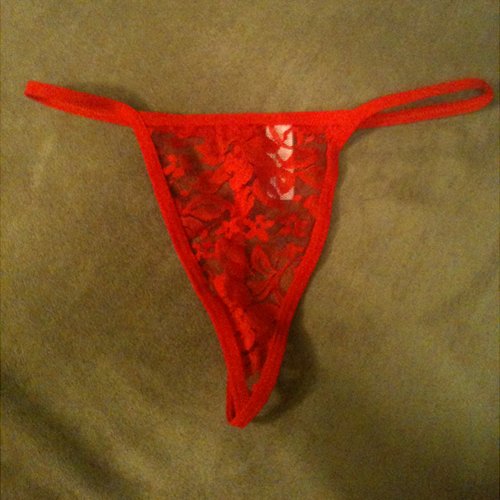 The T-strap part of the g-string slides from side to side and isn't sewn down, which is a pain and allows it to go crooked easily while wearing it.
The back: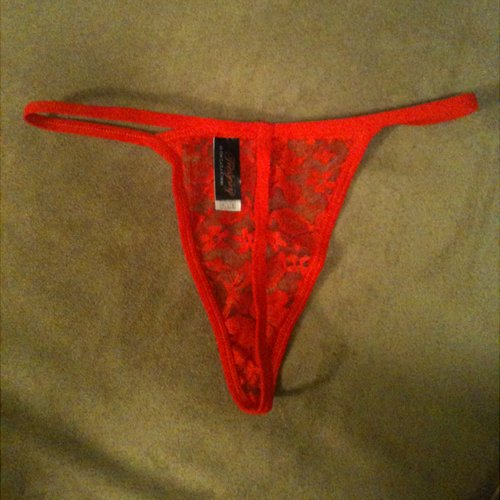 G-string Measurements
Waist across: 11 inches
Top to bottom: 7 inches
Waist stretched as much as possible: 17 inches
Since the waistband of the g-string isn't made of the same lace as the rest of it, it's a little stretchier. The fit was better and, surprisingly, only a little bit snug on my hips.
Experience
If you are normally a small or less than 130 lbs, then I think that this will fit you. I still can't believe it was so small. My issue with this is not with the quality or appearance at all, only with the sizing. My experience didn't go past trying it on initially because it didn't fit me. If you happen to be on the small side and want to get this, then the chemise itself can be warn during sex. The g-string can't because it's not crotchless, unless of course you like to push your panties aside, which can be hot sometimes.

I had a few of this brands other lingerie products on my wishlist, but I will probably remove them. I would really rather not deal with another size issue this ridiculous.

Side note- I usually will submit pictures of myself in lingerie unless it is way too small and not true to the size chart like this one.
Follow-up commentary
16 days after original review
It's still too small, but still cute. I just can't wear it. I still can't believe the sizing was so off though.
This product was provided free of charge to the reviewer. This review is in compliance with the FTC guidelines.

Thank you for viewing
Tres Sexy babydoll and g-string
– babydoll and panty set review page!