True Beauty Leaves No Place to Lie
While this piece does make me feel sexy, I think there are some big quality issues. When paying this much for such a skimpy piece, you'd expect better materials and NO super glue. The thong is throwaway, as usual. I will still wear it, but sparingly due to how abrasive I find the material. At least it is a piece that is made to be quickly taken off.
Published:
Pros:
sexy as hell, open back, butt ruffles
Cons:
itchy, a tad short, not best quality for your dollarr
Presentation
Lately, I have been craving a sexy sheer lace chemise. When I saw this piece, I decided that I had to have it.
This chemise came to me wrapped in pink tissue paper, thanks to EF packagers. The thong was attached to the chemise by a plastic tag, which sort of disappointed me in terms of quality. There was also a cardboard tag attached as well, with a picture of the model and the size.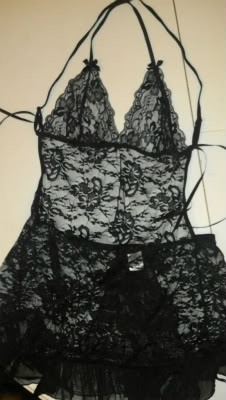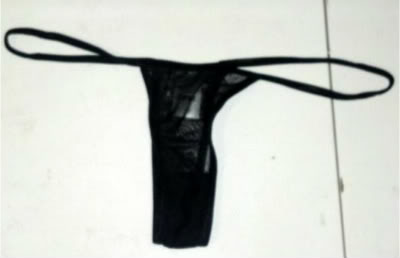 Materials and Craftsmanship
This set is comprised of 88 Nylon and 12 Spandex.
Now sadly, this is not the soft, well-made kind of lace. It is the unfortunately rough kind that is made with the quality of ITCHY.
I honestly loathe that this piece is not more comfortable and high-quality in terms of material. For a lace chemise, I think it is pricey at $30. If you pay that much, for so little and slinky a piece, you expect it to at least be made of softer lace.
Craftsmanship is a bit compromised on this piece. There are two bows where the straps attach to chemise. On my other DG lingerie, this is not a problem. The straps and bows are smooth. On this piece, it feels like something is scratching the living daylights out of the sensitive skin on my chest. Upon close inspection, it would appear that the ends of the straps are sealed off in horribly uneven super glue. Talk about poor decisions.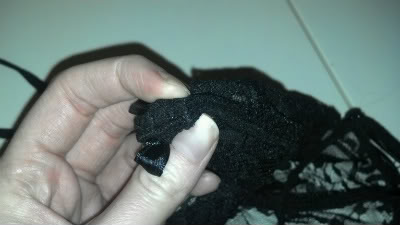 Itchiest straps ever.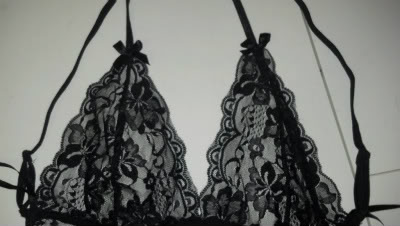 The piece is otherwise okay. There aren't many loose threads.
I think the only thing that bugs me other than the itchy material is that there are two extremely long ribbon loops attached to the sides of the chemise. At first, I thought they were a part of the lingerie, to be tied or put on somehow. Then I realized that they were to hang the chemise up. I've never seen hanger loops as long as these!
The thong does have a liner in it. There are no obvious imperfections to the thong; it is a typical, uncomfortable DG thong.
Oh, and the garters are extremely low-quality. The fabric itself is thin feeling, and then the garter backings are horribly CLEAR in color. They stand out way too much for me. Thankfully, you can remove them.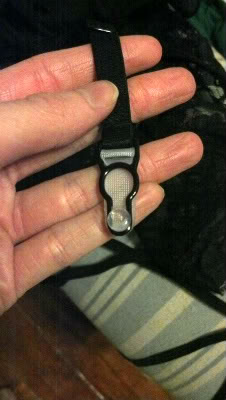 Experience
Care
DreamGirl suggests you hand wash and line dry.
This product is made in China.
Sizing
I purchased this in a size large.
DreamGirl says that a large should fit women sizes 10-14, C-D cup, 36-38" busts, 28-32" waists, and 38-40" hips.
I myself wear sizes 8-12 (depending on brand and garment), I wear a 36C bra, my bust is 32" under and 39" fullest, my waist is 30", and my hips are 39" with my butt extending to about 43".
I found this set pretty true to sizing. Larger, support-loving breasts should look elsewhere.
Measurements
Thong- 28" around.
Length, center of bust to hem: 20"
Length, top of cups to hem: 26"
Cups: 6" long, 7" across bottom
Waist: 13". There is no back to it, so this is flexible
Hip: 38" without stretching
Skirt: 10.5" long (without stretching)
Skirt ruffles: about 8" at the bottom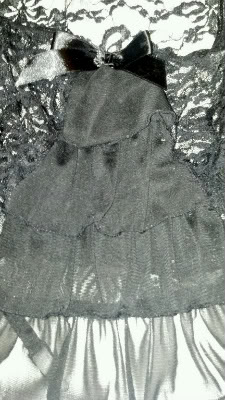 Weird piece of "hanger assistance" ribbon: 15" long. Really? Who decided this was necessary?!
Experience
I love that I'm able to adjust the chemise to wear it different ways. I can wear it as it seems to be meant, for a shorter girl, without stretching it down too much. This gives me more coverage over my breasts and tummy, while deliciously exposing the bottoms of my buttcheeks... Or, I can wear it like my body intends to wear a garment, which stretches the chest down for a narrower look, and exposing my hourglass waistline.
I'm actually quite torn on LOOKS vs COMFORT... For a quick romp, 5 stars. For a long seduction, or something you want to prance around in all day looking sexy... this just wouldn't be ideal.
(Please excuse me. I happen to love back-featuring lingerie, so I had fun showing off different ways to wear it.)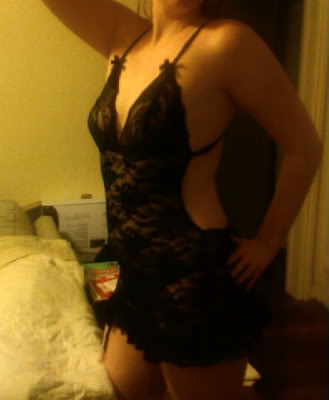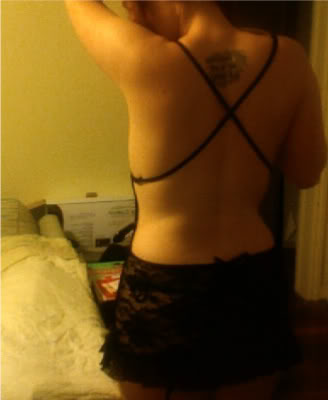 A more centered crossing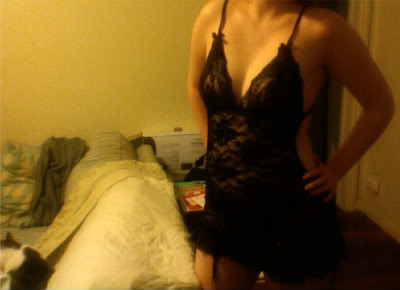 If you adjust the straps for a lower criss-cross, you will not get the haltered-front affect. Instead, you'll get this, which looks like normal straps from the front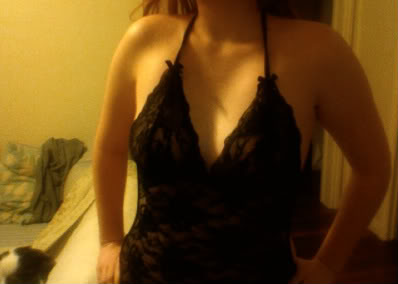 As you can see, a higher strap-crossing will result in a more halter-style look. This actually makes a difference to me with the cup-size (or maybe just the feeling of being more snug)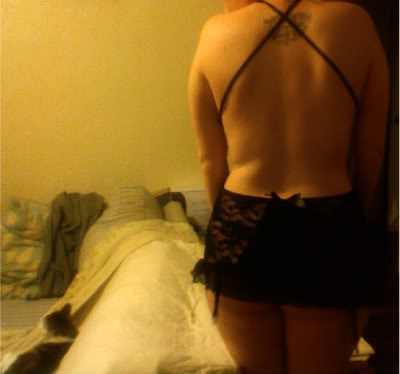 Wear it up higher for a little cheek-peak action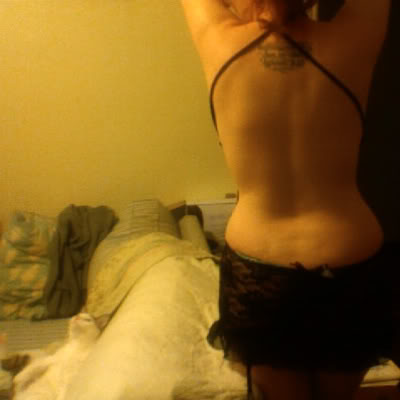 ..or longer, for the sexy back look. This one creates whimsy in kitties.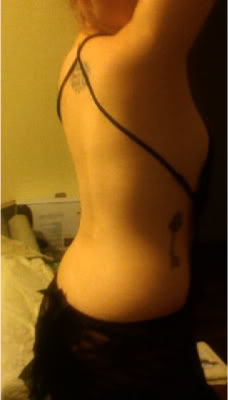 Side boob is easily exposed. Again, large breasted women will probably want to skip this over. You might feel like you're "free ballin'" it with your boobs.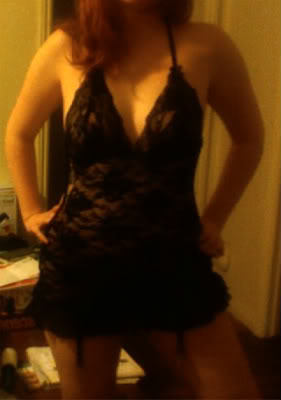 OVERALL, a sexy and confident piece of lingerie... unfortunately made with low-quality materials
Follow-up commentary
3 months after original review
I can't wear this piece because of how it irritates my skin. It is so damn frustrating, I would knock it down another star if I could. I am sure someone more handy with a needle and thread could fix this up a bit...

But the spot where the chemise straps connect to the cups... well, it's pure hell on my sensitive chest area. I get all red from it and I can't enjoy this stunning piece.

For looks only, not comfort.
This product was provided at a discounted price in exchange for an unbiased review. This review is in compliance with the FTC guidelines.

Thank you for viewing
My true beauty chemise
review page!