Turned out to be a trick knee length. (Plus Size)
I can usually fit "plus size" items pretty well (better than OS), but this dress is WAY too large on me. That aside, the material is comfortable, the back detailing is lovely, and it's a decent length (though not knee-length). The fabric is perhaps a little too sheer for the liking of others, though, and it is very low-cut. The low-cut back and front make wearing a bra impractical, which many will hate as this dress has NO breast support.
Published:
Pros:
Comfortable, Easy to get on/off, Longer than most EF "dresses", Great back detail, Adjustable straps
Cons:
Too big for lower range of plus size, Cheapish material, Minor craftsmanship issue, No bust support
This would be a decent dress for me.....if it wasn't freakin' HUGE on me. My main issue with this dress is simply that it's too big. (Note: I can alter this dress easily enough, but the review has to be of the dress as is. And no, I don't want to return it. I don't want to risk the OS being too small.) I do have a few other issues with the dress, but, overall, it's a decent piece (if it fits).
Included in this set from Dreamgirl: A dress that I need to alter and a thong that I could alter but won't bother doing so
This set came packaged as follows: The dress and thong were wrapped into a cylinder, encased in a plastic sheath, and inside of a paper box such as pictured on the left. The packaging screams class.
The dress and thong tags both read: Hand wash in cold water, (Do not bleach), Line dry. 90% Polyester, 10% Spandex.
I personally wouldn't attempt to wash this in the washing machine, lest it mess up the detailing in back.
The dress laid flat. The material of this dress is smooth, comfortable, and stretchy, but it is a little cheapish feeling (I've encountered MUCH worse, though) and is slightly sheer. Notice that there is a seam running down the back, which is a little odd since there are also seams down the sides.
The detailing section is not stretchy, and it has just the right amount of stiffness to make it lay flat across the back without collapsing on itself, but it is not so stiff that it is scratchy or irritating to the skin.
The thong is made of the same material as the dress. It has a well-placed 4" panty liner and seems well-constructed.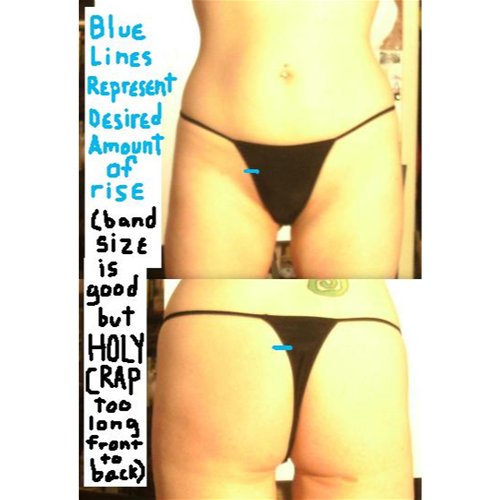 I thought that I had escaped from thongs that fit this way, but I suppose I was mistaken. While the band fits very well, the front-to-back length makes the rise about two inches too high in front and back. Perhaps it's just my strange body shape (my frame is crazy wide and I have some hips going for me but no ass). Perhaps these thongs fit others just fine (comments?).
SIZING INFORMATION
: DreamGirl's
size chart
says that a plus size (aka queen one size) should fit the following:
Size 16-20
Cup D-DD
Bust 40-54
Waist 36-44
Hips 42-56
Weight 165-275
Me:
Size 16
Cup C
Bust 42
Waist 32
Hips 42
Weight 180
Sure, I expected this dress to be a
little
big in the waist, but I didn't expect to drown in this dress, seeing as how I'm only under the chart in the waist and cup size (though still have a 42" bust).
Showing how the dress fits me, first with the straps as short as possible, then as long as possible.
Obviously, a bra will definitely show (A LOT) when wearing this dress (except maybe the stick-on bras, which probably don't work well for large breasts, anyway), and the dress provides no support whatsoever, so be aware of that if you're less than thrilled about free-stylin' your fun bags.
I am 5'8", which is taller than average I suppose, but the dress is HUGE on me and STILL only comes halfway down my thighs.
I expected four inches of loose fabric just in the waist. What happened was....well, you have eyes.
Something is troubling me. For the dress to fit the ("plus size")
model
the way it does, that model would have to have a waist of about 43 or 44 inches (yeah right), and hips of about 56 inches (like hell, she does) based on how her waist-to-hip ratio looks, and she has to be SHORTER than me based on how far her dress comes down..... I can only conclude that she is wearing the OSFA or she has the living daylights pinned out of that dress she's wearing........
GET A REAL PLUS-SIZED MODEL TO FILL OUT YOUR CLOTHES, THANKS
I always include a side view.
The only craftsmanship issue I have with my dress is that the bottom of the neckline is not centered. It's slightly to the (my) left. Probably not an issue with every piece, but I thought it worth noting.
Experience
(continued)

MORE SIZING INFORMATION: What I judge to be an appropriate size chart for this dress (plus size)

Bust: 42- ??? (It's difficult to say. Seems cup size could be whatever you want as long as you're okay w/o support)
Waist: 40-52 (Lower end of that will be a little loose, but only as loose as I expected it to be on me)
Hips: 43-60 (Again, lower end of that will be a little loose, but should still fill out the dress enough).

(Not that anyone cares, but I think the thong would only comfortably fit up to about 45" hips.)

The strappy nature of the back detailing and the clingy nature of the fabric may make for a less-than-flattering fit at the top of the size range. This is a dress for someone who loves their curves and wants to rock them.


Thanks for reading. Feel free to ask questions :)
This product was provided at a discounted price in exchange for an unbiased review. This review is in compliance with the FTC guidelines.

Thank you for viewing
Knee length dress
review page!