Twirl me right round baby, right round!
If you've never tried pasties before, and you aren't sure if you're going to like them, these pretty pasties might be a good starting point. The shiny, sparkly sequins bring the attention right where you want it! The sequins are well made and firmly attached; they won't be coming loose, even during heavy play. Enjoy a sexy tassel twirling strip tease, or if tassels aren't your thing just cut them off and allow yourself to shine!
Published:
Pros:
Very fancy, fits even large nipples/areolas, tassel twirling capabilities, three sets of adhesives
Cons:
Very conical, adhesive not reusable, flimsy backing
Use
Pasties are patches that cover the nipple and areola. They can be applied to the breast with a variety of different adhesives and tapes, such as double sided fashion tape, toupee tape, eyelash glue, spirit gum, latex adhesive, etc. Pasties were first documented in use in the 1920's at burlesque shows and dance halls as a way for dancers to perform topless without violating nudity or indecent exposure laws.
What are these pasties like?
These pasties are all sequined up with one place to go – your boobs! They should come with a sign: "Have tassel, will travel!"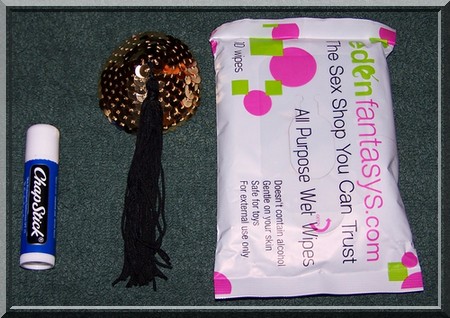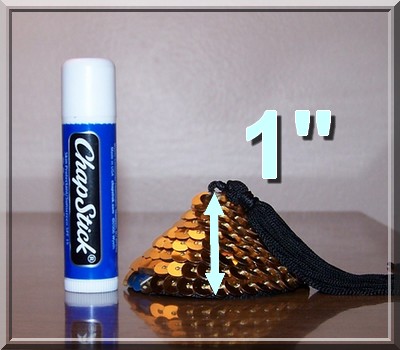 As you can see they are quite conical, and they really aren't flexible at all. In reality, they don't flatten out they way they seem to in the product pictures.
As I was researching pasties (boy, these are the times when I hope Google doesn't collect my internet search information) I learned that they come in a variety of sizes. Pasty size ranges from Extra Small at 1 ¾" to Large at 3" and beyond. So regardless of the size of your breasts, nipples or areolas, there should be a pasty out there with your name on it! There are plenty of pasties in the sea. The Baci Gold Pasties have 2" diameters, which is the Medium/Large range of the spectrum. Still, they only manage to cover the areola and nothing more.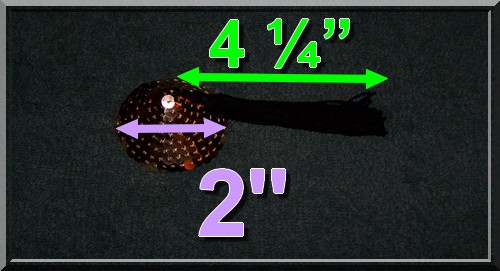 Packaging
The Baci Gold Pasties come in a cardboard box. The front has a photo of a model wearing the pasties, while the back has a peek-a-boo window so you can check out the merchandise before you open the box.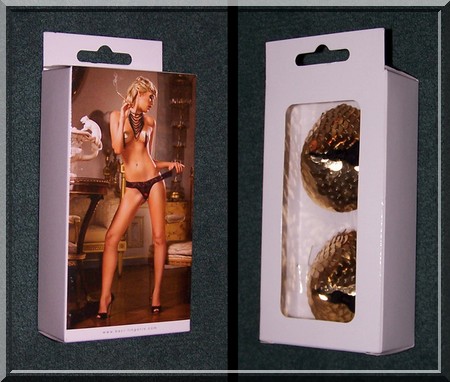 A small cardboard tray slides out of the box with the pasties attached to it. There is a small strip of tape holding each pasty in place on the tray, and the tassel loops through a hole keeping the pasties from sliding around too much.
Three sets of adhesive circles are included, so right off the bat you're guaranteed 3 exciting experiences with these pasties. And you know what they say: Third time's a charm!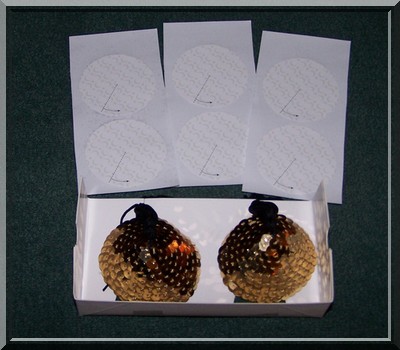 Workmanship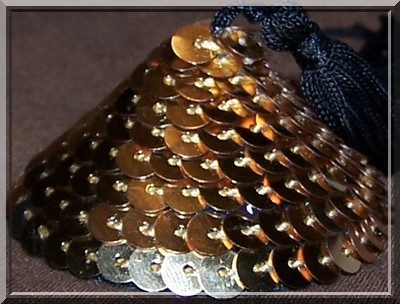 The sequins on these are very well attached. It looks like one really long string of sequins spiralling towards the center. None are loose or in any danger of falling off, though they can get pushed around a little when handled.
A lovely 4 ½" black tassel (just like the ones on your pillows, oh my!) adorns the center. The tassel is attached very securely and shows no sign of coming loose, even after my repeated tugging.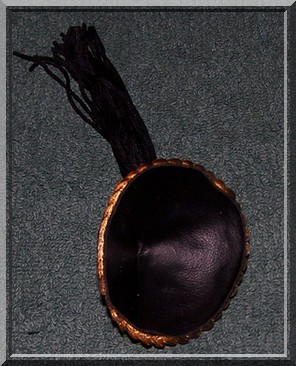 The lining of the Baci Gold Pasties is 100% PVC and seems to be attached with some adhesive only. This aspect of the pasties isn't great quality, while I was peeling them off the little cardboard tray they come on some of the tape caught the lining of one of the pasties. The lining peeled off the pasty just a bit, but I was able to stick it back down pretty well.
How to apply
If this is your first time wearing pasties, don't worry, they aren't that difficult to apply. I'm including the basic steps I found online, and some tips I discovered for myself through trial and error. I didn't see any difference when applying them to soft or erect nipples.
1. Peel the circle adhesive off the sheet. It has a slit halfway through it, I finished cutting (or gently tearing) the circle in half, so I had 2 adhesive semi-circles. I found this best for a few reasons. Since the pasties are so conical, the only place they are definitely going to be in contact with your skin is around the edges. The tip of the cone will likely not be in contact with your skin/nipple at all. Additionally, using adhesive just around the edges keeps your sensitive nipples free of adhesive. (You'll be glad during pasty removal!)

2. Apply 1 semi-circle adhesive right on the edge of the pasty, leaving about ¼" overhang. Apply the other semi-circle directly across from it in the same way.
3. Peel the paper backing off the adhesive. Make sure your skin is clean and dry, and free of lotion, oil, sweat, etc.
4. Lean over at the waist so that your breasts hang freely. This will allow you to make full contact between your breast and the adhesive.
5. Before pressing firmly, check your pasty placement in a mirror. If you need to reposition it do so, and once you are happy with the placement, press firmly. When applying your other pasty, be sure to get it level and even with the first one, even if that means off-setting it to your nipple slightly. (You don't need to get out your level here, just eyeball it.)
Experience
Removal

This is the scary part, right? Wrong! These bad boys come off so easily. Just hold the adhesive firmly against your skin, and peel the pasty off starting at a corner. I had no trouble getting the adhesive off next, holding my skin taut and peeling it slowly. No pain at all, even with my sensitive skin. If you have any trouble, drizzle a little water, olive or baby oil to the area and the adhesive will slide right off. The adhesive cannot be reused.



Experience

~Hers ★★★

*The Good*
Ok, first off, this was my first experience with pasties ever. They were so much fun to wear! I found it really easy to learn how to twirl them too, with just a little practice. They look great on, and can make a great lingerie "set" when paired with just a sexy pair of panties. I don't think this will be the last time I try pasties!

During testing I wore the pasties around the house and they stayed firmly in place a good 2 hours. And that was with me continually tugging on them, and practicing my twirling.

*The Not As Good*

The second time I put these on they did not stay on well at all. And during sexual activity (with the sweat, lube, movement, etc.) they came off really quickly. I maybe had 15 or 20 good minutes with them, which was a real disappointment.

These pasties are also extremely conical. I don't have x-ray vision, so I can't be certain, but I am pretty sure there is a substantial gap inside the pasty between the end of my nipple and the end of the pasty. That means that any adhesive applied closer to the tip will be wasted, and won't help keep the pasty on.

The strange shape means they won't work for every breast. They work just fine for me, and I have full C cup breasts that are round in shape and firm. They completely cover my areolas and provide an extra ½" of coverage all around. These pasties will not work quite as well on larger nipples or breasts with a nipple that doesn't point straight out or up. They should be fine on smaller busts, but may not work quite as well on busts that hang a bit lower.


~His ★★★★

These sparkly pasties were a really fun surprise. They're a great piece to wear under something else, so that as you strip your partner will continue to be surprised and titillated, as it were. I really liked the novelty these provided, and enjoyed an immediate effect. A little retro and extremely sexy, the tassels were really the key element for me here. While the shiny sequins were nice, the tassels were what I really liked. Watching those tassels move was a LOT of fun!

I'm giving these pasties by Baci 4 out of 5 stars. I'm just taking off 1 star because they aren't a stand-alone piece, you will have to add panties, or stockings, or something else to complete the ensemble. Although, just wearing these pasties and nothing else wouldn't be a bad idea.
This product was provided free of charge to the reviewer. This review is in compliance with the FTC guidelines.

Thank you for viewing
Gold pasties
review page!