Um, that's NOT a plus size.
Although I bought the plus size version of this chemise, I would NOT call this a good plus size item. I'm way below the size chart's suggested measurements, and still found it much clingier than I expected, almost tight in places. Not sure what Seven Til Midnight was thinking with this one!
Published:
Pros:
Will protect you from zombies. Ok, not really, but I couldn't come up with any pros.
Cons:
Uncomfortable arm holes, will not fit the suggested range of sizes, sloppy construction
I'm a sucker for a cute, comfy chemise, and this stripey one from Seven Til Midnight looked like it would be just that. I ended up not so impressed by it; it falls into that sort of "meh" category of lingerie where I don't really regret buying it, but I probably won't get all that excited about wearing it, either.
This chemise comes in "one size fits some people" and "plus size". I went with the plus size, since I'm about 90% boobs, and I'd rather err on the side of something being a little baggy than too small. (It's easier on my ego!) The size chart says that STM (Seven Till Midnight)'s plus size should fit sizes 16-22, C-DD cup, 40-50" bust, 36-44" waist, 42-56" hips. I have to disagree, big time, but we'll break all that down in a second. For comparison, I'm size 10/12, 38D, 33" waist, 39" hips, 5'11", about 155 lbs.
The Till Dawn chemise came packaged in a little cardboard display box, which I totally wrecked while trying to get it open. Oops. Inside the box, the chemise and matching G-string were wrapped around a thin square of cardboard. Like some other STM items I've ordered, there was some black discoloration on the cardboard, as if the items had faded onto it.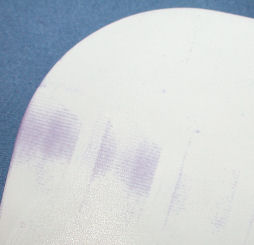 The chemise is 80% polyester, 20% polyamide. The tag says to hand wash and line dry, but to be honest I'll probably toss this in the delicate cycle since it doesn't look especially fragile. I'll try to remember to do a follow-up about how it holds up!
Measuring 29" long from shoulder to bottom hem, this is longer on me than I expected, coming down to actually cover my butt. I mostly planned to wear this like a tank top under some other shirts, with possible double duty as sleepwear if it was comfy enough. It measures 17" across at the underarms (where it would most likely hit close to the largest part of your bust) and will stretch to about 22". It's about 17" across at the center (near your waist), stretching to 20", and 20" at the bottom hem, which will stretch to 24". Although this may *technically* fit a size 20-22 as the size chart suggests, I can't imagine it would be comfortable. For best results, I'd recommend this for a size 10-14. When I first tried it on, I actually stopped to check the tag because I thought I may have accidentally been sent the one size version instead.
This is definitely tight around my bust. I can pull my boobs up to "perky" position and it will hold them in place no problem, despite the lack of wires or padding or anything. It also clings to my waist much more than I expected, but is nice and flowy around the hips.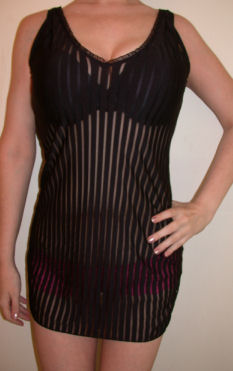 Ugggh, unflattering photo!
This piece does strike an interesting balance between being covered up and showing everything. The black stripes keep you camouflaged enough that not every detail of your body peeks through, but it's certainly not modest enough to wear around family/roommates without something under it. It's not the most comfortable fabric I've ever worn, I wish it was a little softer, but I didn't find it irritating, either.
My main problem with this piece is that the arm holes are really tight on me. My arms aren't skinny by any means, but I don't think they're especially gigantic, either. The elastic around the arm holes really digs in, though, and since the straps aren't adjustable, there's no way to make it looser. If only they'd made this with bra-style straps so you could alter the fit, I think I would have really loved it! I'm currently trying to decide between cutting the elastic off of the arm holes for a more comfortable fit, or finding a way to totally reengineer the straps. Looking at the different photos on the product's info page, it looks like the arm holes are a little tight on the plus size model, but they look fine on the one size, so maybe this is only a problem with the larger size. Oddly, I found that if I wore this backwards (only the lace around the bust line is really different) the arms were less uncomfortable.
This may not bother some people, but it annoys me- the tops of my chemise's straps (where the front half of the garment is attached to the back half) are different widths. It's not something your partner will notice by any means, but it's pretty obvious when comparing them side by side: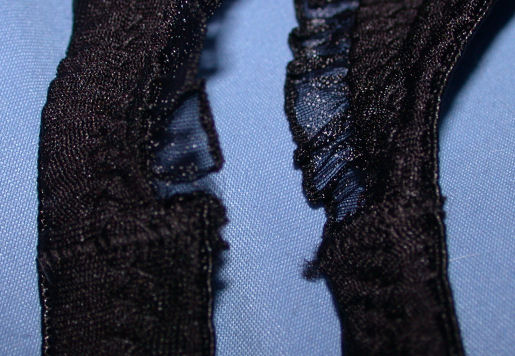 Just sloppy.
Experience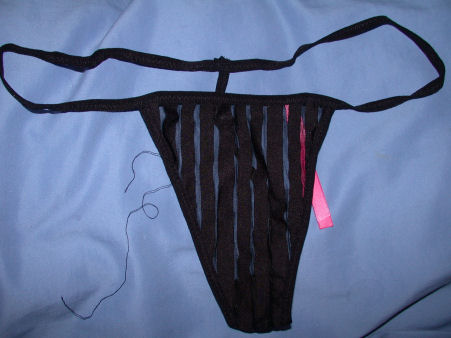 The G-string that comes with this set is made of the same fabric as the chemise, with the same care instructions. My G-string definitely had some quality issues. Straight out of the package, there were two really obvious threads hanging off, as if whoever sewed it didn't bother to trim the ends when they were finished. The area in the back where the strings join together in a T-shape is also really sloppily sewn together. I understand that this isn't a $20 g-string or anything, but it would be nice to see a little more pride taken in the work.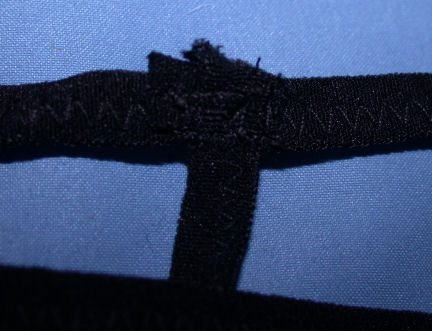 The g-string is too large on me to be comfortable, but that always happens if I order a plus size item. I do like that the front triangle of fabric is actually large enough to cover almost my entire pubic area, so I might get creative and see if I can turn this into something wearable.
I'm giving this 2 stars, because it doesn't totally suck, but it could definitely be a lot better. I was going to give it 3 stars, but I had to knock it down a little bit for claiming to be a one size/queen size when it's really more of a basic XL. I'd be curious to see a review for the one size version!
This content is the opinion of the submitting contributor and is not endorsed by EdenFantasys.com

Thank you for viewing
Till dawn chemise
review page!