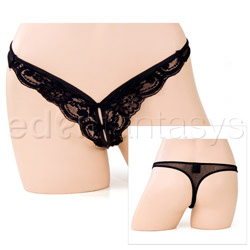 V-cut lace thong
Sexy panty
by Fantasy Lingerie
"V" for "Very Disappointed"
I'm rather disappointed; it looks so amazing in the pictures and I was excited about it, but reality falls short. Unless you're shaped like a mannequin and fully shaven, this isn't going to look anything like the pictures. It's really tiny- I have a 40" butt and it fit me perfectly. So if you're any bigger, don't even think about buying this; it stretches, but not that much. Also beware the "labia muffin" effect (see full review, 4th paragraph).
Published:
Pros:
It stretches. A lot.
Cons:
A little scratchy, TINY, and induces "labia muffin".
I had such high hopes for this little thing. It looks so awesome in the pictures, and I was so excited when I got it in the mail. I wanted to love it, really, I did. It's my first piece of lingerie, so I was just oh so excited and desperately wanted to love it.

First thing when I got this was to open it up. The thong was in a clear little plastic bag (sans ziplock) with the end folded down and held in place with a large sticker. There wasn't anything else; just a bag with a black wad of fabric. I pulled them out and examined them. First thing I noticed was how damn TINY the thing was! Now, I'm fairly small myself (well, really tall but really skinny), and I only have a 40" butt. I had serious doubts that this thing would even FIT over my fairly tiny butt.

Amazingly, the thing stretched. In fact, it stretched quite a bit. I was pleasantly surprised to see just how far the thing stretched. It's even pretty strong to boot. I pulled and stretched that little bugger (emphasis on "little") in all sorts of directions, and it didn't tear. The stitching didn't break, the lace didn't tear or snap, and it wasn't all stretched out when I was through; it just bounced right back as though I hadn't just spent 5 minutes trying to rip it apart with my bare hands. The mesh on the back was extremely stretchy too!

Very quickly, though, you might want to note that I have never worn a thong before. I'm strictly a bikini-cut kind of girl, so I'm pretty sure that any comments about major wedgies are just because I haven't worn a thong. Also, I don't shave myself bald down there. I trim and shave whatever isn't covered by a NORMAL bikini, and that's it.

Okay, next thing to say-- This doesn't wear like it does on the mannequin. Seriously. Unless you pull the front part down to where the V covers your entire lawn, you're gonna have some issues. By "issues", I mean that if you have a labia majora, it's gonna stick out of the sides. Kinda like a muffin top on pants, except a labia top on a thong. I have just dubbed it the "Labia Muffin" effect. However, pulling the thong that far down kinda negates the look of it. Oh, if you have any skin (note that- SKIN, not fat) on your hips, then the side straps will pull in and give you the dreaded muffin top.

The ribbons do NOT come apart, and those gaps between the ribbons are just confusing. It *looks* like you ought to be able undo the ribbons and turn it crotchless. If that were possible, then pulling them down to eliminate the labia muffin effect would be perfectly rational. Except that it doesn't come undone, and pulling them down looks ridiculous.

The mesh and lace feel nice enough against the hands, but not so much against the lips. Or your butt. Maybe that'll go away if I chuck it in the washer, but for now it's a little scratchy.

Overall I think it's a really nice idea. It's cute and sexy... if you happen to be a mannequin. It's kinda scratchy, but not that much. I'll chuck this in the washer and see if that doesn't take care of it.
Follow-up commentary
21 months after original review
Frankly, I haven't really bothered messing with this thing since I got it. I did pull it out and chuck in in the washing machine to test durability, which was okay. But I am loathe to try putting it on again; I'm not a huge thong fan to begin with, and this is rather uncomfortable.
This content is the opinion of the submitting contributor and is not endorsed by EdenFantasys.com
Thank you for viewing
V-cut lace thong
– sexy panty review page!