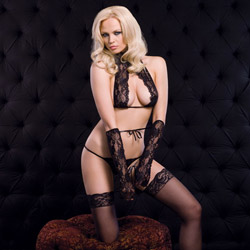 Sexy naughty lace set
Bra and panty set
by Leg Avenue
Vixens Can Be Kittens Too!
Want to change how you feel or act just by how something feels? This is an excellent little set! I recommend this set. For the price, it's a great sturdy set that will last a while if you aren't too rough and if you are, cheap enough to have a thrill!
Published:
Pros
Gloves + top fit bigger size, Restraints secure feeling, Price Right.
Cons
Panty size too small (adjustable possible), Velcro too chintzy and sharp.
In my initial opening of the box, I dug in and removed the rather folded up nonsensical wad of black lace. Skinny strings didn't exactly help me determine what was supposed to go where, but after spreading things out, it became apparently what they were. I wasn't very impressed with the Velcro closure for the neck collar of the top, it was very hastily 'attached' and the corners were very sharp and scratchy. I was a little nervous that this would interrupt having a good time with my partner, because it was very unsavory feeling on my hands, let alone on the back of my neck and under my hair.

I moved on to the gloves, and I immediately tried them on! Now, keep in mind, I'm a bit of a girl on the heavy side, but I like to feel sultry and sexy inside. Being reminded of this by the snug fit of the gloves, I turned to the panties to see what exactly 'one size fits MOST' really means. They sure looked tiny, and they didn't stretch that much either. A little more excited for my review items I tucked everything away and quickly stashed it until we could get a chance to review the item with a little play time.

Finally playtime arrived. I was sent off to go get 'my review item' and I slunk off to the back room where I had my goodies stored. I was amazed at the fit of the top, I'm a little larger than the woman pictured on the site, and that made my girls feel good! A little more ramped up for the upcoming time together I again dug around for the panties and I am sad to report, they do not fit me. They weren't even going to be a size or two too small - they were very unforgiving for a thong. I had to go without! I pouted for a moment and then slipped the gloves over my hands and tugged them up to my elbows as far as I dared without ripping the soft netting fabric they are made of.

So on I went back to the bedroom, sauntered in and gave my lover a soft pout, reporting to him that I was unable to wear the cute little thong that came with the set but that everything else fit me just fine. So once I was called to his side I slipped into bed and as we started cuddling, I realized that I felt a little extra sexy. The gloves made me feel a little cutesy, and the top made me feel sultry, seductive, and playful, maybe even a little slutty all at once.

I like that I can launder these little gems right in with my normal lingerie or panties in a zipper bag and not have to worry about them disintegrating. The quality of the lace was better than say flimsy... but not so harsh it wasn't exotic feeling. For the price range, and the materials, the only complaint I have is the Velcro fastener at the back of the neck. I have a short neck and it tended to fold strangely, and shove into my neck with the sharp cut corners. The panties could have been made like the top with a long string that you tied on the sides, or even on one side would have allowed this set to be 'one size fits more than most'. I may just modify it on my own, though I wish designers of fancy under things would consider that most women in the US aren't under a size 5 panty.

I felt extra special and like I could be more of one the smaller facets of myself which is always exciting.
Experience
We had a lovely time in bed, getting into that mental intimate zone very quickly. This set plays nicely on how you feel as a person, and I felt very kittenish and coy while seeing to the needs of my partner, caressing him with the glove resting over my palms, though all of my fingertips were exposed to smooth over his skin. The ties went primarily unused during our first endeavor - but I very much enjoyed the gloves by themselves.
Follow-up commentary
22 months after original review
This set was broken up by the fact that 'one size fits most' didn't fit me. The gloves fit, snug on my arms though I'm a bit fluffy. The panties did not fit at all, so I tossed them after I initially got this set.

The Top: Seriously lacking in details for 'every woman'. The Velcro tab to close around the neck is really strong, but when you try to get it off after vigorous — trying it on — it chokes you a bit. More than a bit in my case, so I held it off my neck while I received help to yank apart the hook and loop tape. Also, the sharp corners were still there, and didn't irritate me as much this time.

The Gloves: are so cute — they really pull this little outfit together. They feature some ribbons so you can be tied up.

The Stockings: are just as cute and sexy as in the photograph. It helps if you are thin for this one, but if your not — just keep in mind you will need your own pair of panties.

They could have fixed this by using the same ties as on the gloves so you can 'one size fits all' and let the person adjust — and it would have led to more play time featuring the idea of you being tied up. I also think the tie for the top could have been in the front for the same reason.

DISLIKE: The panty situation & the lace top have a ribbon on the outside of the lace, so it's lacy and pretty toward your center. The problem with this is that it feels really loose on the lacy side, and tight and pressing against your body on the outer edge. My breasts are the wrong size, so they muffin out on the outside of this ribbon edge. It's a little uncomfortable, I was able to easily pretend it wasn't there — and of course, my husband was able to play sneak a lick and move aside the lace easily. It also enhances how your breasts look especially when using your arms to proffer your assets. For the money, this was a great set even without panties that fit.

This product was provided free of charge to the reviewer. This review is in compliance with the FTC guidelines.
Thank you for viewing
Sexy naughty lace set
– bra and panty set review page!