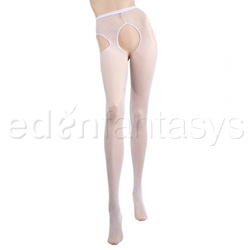 Fishnet suspender pantyhose
Crotchless pantyhose
by Leg Avenue
Wake me up I must be dreaming!
These stockings are only available in one size fits all and one size actually fit me. They are a great and affordable stocking to add to your collection. The best part is, no garter belt required.
Published:
Pros:
One size fits all fit me, go with anything, and price.
Cons:
More color options like pink, red, blue, green, and whatever else.
What are they and what are they for?
Leg Avenue presents fishnet suspender pantyhose; these are a crotch-less pantyhose. They can go under any outfit and work well with any lingerie. If you do wear these under clothing like a dress or skirt you may want to wear underwear, but if you will not have to take these off to go to the bathroom? Wearing these with lingerie is best, since they are more suited for the bedroom. You can pair them with just about anything and you will look great.
Material
These stockings are made of 100% nylon.
Nylon
is a very delicate material; it can be easily snagged or ripped. It is not itchy at all and they are very comfortable. The material is very stretchy and has a soft feeling to it. There is a slight smell to them, but it is the new clothing smell.
Design
These are similar to your normal fishnet pantyhose, but with a few exceptions. There is a ¾" thick elastic waist band, but on the front and back in the middle is a seam. They are completely crotch-less and this part is completely functional during intercourse, it does not get in the way at all. At the top of the legs on the sides, there are cut outs. This gives the stockings that are attached to a garter belt look, all in one set. Connecting the waist band and the stockings in the front and back there is about 1"thick, vertical material. The pattern to the fishnets is tiny diamond shaped cut outs. At the feet there is the seam for toe placement. There is no seam throughout the stockings, but along the edges out the cute outs (the side cut outs and the crotch-less part), you can see the raveled material to protect from fringing.
Sizing
These are only available in one size fits all, but it is true, this time. The packaging says 90lbs-160lbs, but the stretch to fit larger sizes. I am about 160-170lbs. The waist band stretches out to 50". My waist is 40". These fit short legs just fine, but will work well for longer legs. I am 34" from bottom of the foot to hips. They also fit chunky thighs well; the top of my thigh is 26". These fit right around, but I do have a slight over hang, nothing unattractive though. The larger around these go the more hexagon shaped the diamonds appear. When I put them on the crotch-less part in the front is from the beginning of my pubic hair line, back to almost the top of my crack. Then from side to side it is from mid thigh to mid thigh, so the crotch area is completely open. It is like you wearing a garter belt with stockings and no underwear. It is comfortable and functional during intercourse.
Size Chart Info
Leg Avenue Chart
Weight 90-160lbs
Hips 34-40
Size 6-11
My Size
160-170
40
13
My New Chart
90-220
34-50
6-18
What is available?
These are available in black or white. It would be nice if they were available in many other colors. Like red, pink, blue, green, purple, and etc.
Pairing Suggestions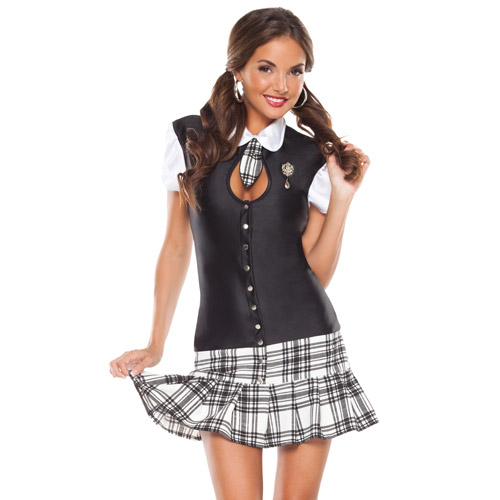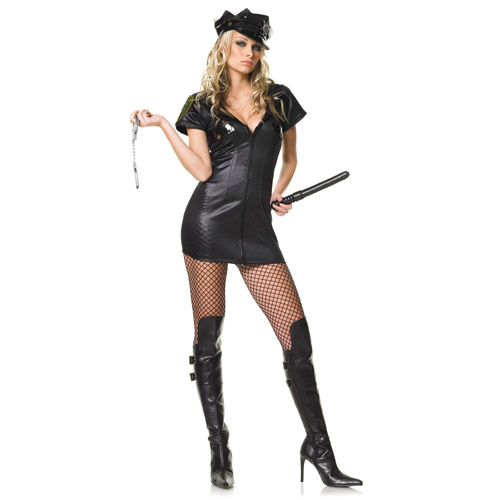 Both colors will go well with many outfits.
Cleaning
All things that are made of Nylon should be hand washed; otherwise you run the risk of damaging the material. They should be stored in a safe place and away from things that can and will snag them.
Overall Feel
These are getting 5 stars in my book; they fit a wide variety of sizes, are inexpensive, and look sexy as hell. They are a win in my opinion. I highly recommend snagging up a pair of them, in each color.
Follow-up commentary
5 months after original review
I have plenty of pantyhose to rotate my pairs, so this pair has help up well over time. I wash it regularly with my Dona Lingerie Wash, but before I purchased that wash, I used dawn dish soap. I have not snagged the yet and they match well with many different pieces I own. They are also functional with everyday clothing. They are worth the purchase.
This content is the opinion of the submitting contributor and is not endorsed by EdenFantasys.com

Thank you for viewing
Fishnet suspender pantyhose
– crotchless pantyhose review page!