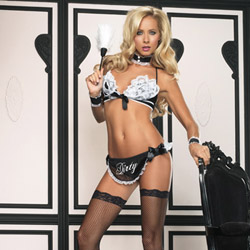 Dirty girl
Bra and panty set by Leg Avenue
Wanna Get Dirty?
If you are looking for a way to get things heated up in the bedroom, then this is the outfit for you. It is sexy and feels good against your skin. Once your partner sees you in this thing it will definitely get dirty, but in a good way.
Published:
Pros:
Sexy, Comfortable Panties, Material Feels Good
Cons:
Wrist Cuffs/Choker don't fit well.
If you like to get dirty and naughty in the bedroom, then I strongly recommend this sexy four piece set by Leg Avenue. When I seen this outfit on the website, I fell in love with the sexy maid look of it. I couldn't wait to get it and then role play for the hubby. It was just as sexy and hot in person as it is on the website.

Dirty Girl Lingerie is all black and white and includes a bra top with lace ruffles, panties with built in apron, choker and two wrist cuffs. The bra is black with white lace ruffles. It doesn't hook at all, but ties in the front between your boobs. The straps cross in the back. It is not adjustable, so keep that in mind before you order. I choose the ML size and I wear a "D" cup bra. For me, this bra was to small for my breast. I did manage to get it tied in the front, however, it wasn't very comfortable, being as it barely covered my boobs and was very snug fitting. It does have elastic in it, however, it doesn't give much. The panties are very sexy and was my favorite part of this set. They are black and have a built in apron on the front of them that says "Dirty". They have black bows on the side and the back is all white ruffles with a black bow right in the center. These panties were comfortable to wear and also are elastic. I am about 5'7 and weigh currently 164 pounds and the size was perfect for my body. They fit good in the front for a ML size and in the back they only covered part of the butt cheeks which my hubby found extremely sexy. I didn't care much for the choker and wrist cuffs. They don't snap together, they just Velcro and they can not be adjusted at all. Unless you have real small wrists, the cuffs may be uncomfortable to you. For me, I found that the cuffs and the choker were too small. I could get them around my neck and wrists, however, it wasn't comfortable to wear, so I just took them off. The wrist cuffs are black, with white lace around the top and bottom and they have two white buttons on the front of them. The choker looks the exact same way with the lace and buttons.

This outfit is all 100% Polyester. You should hand wash it only and drip dry. Do not bleach or iron this set or you take a chance of messing it up which would be disappointing to your partner. This "Dirty" outfit arrived in a box that is pink, back and white. On the front of the box it shows a blonde model wearing the lingerie set and holding a feather duster. To me, the model looks a little strained and fake, but that is just my opinion. On the front of the box on the bottom, it list everything that is included with the set. The top front of the box says Leg Avenue. Now on to the back of the box. The same model (I'm guessing) is standing there with her back showing so you can see how the outfit looks from the back. I kept the box and this is what I store my "Dirty" costume in for future use.
Experience
Once this set arrived, I was so excited to try it out and surprise my hubby. After putting it on (minus the wrist cuffs and choker), I put on one of his long sleeve black silk dress shirts and buttoned it up, so he couldn't see what was underneath. When I slowly unbuttoned the shirt (nothing like a little strip tease to get things moving) and he saw what was underneath, things definitely got "dirty" for us. The fact that I was his personal "maid" for the night in that outfit turned him on a lot and we didn't waste any time getting busy.
This product was provided free of charge to the reviewer. This review is in compliance with the FTC guidelines.

Thank you for viewing
Dirty girl
– bra and panty set review page!