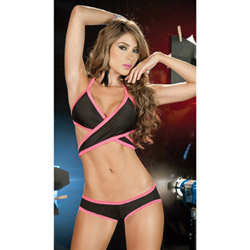 Black criss cross top and panty set
Bra and panty set by Espiral
Warming It Up Like Kriss Kross
No, this isn't really a top and panty set. This isn't an every day set of undergarments that disappears under your clothing. Of course, you could tell that when you first looked at this set, couldn't you? However, if you are interested in changing things up from your normal chemise or babydoll with an affordable, wrinkle-resistant top and panty set, this one could be for you!
Published:
Pros:
Lifts your butt.
Can adjust the criss cross up or down.
Doesn't wrinkle and easy to spot clean.
Cons:
Hard to tie by yourself.
Runs a size too small.
This criss cross panty set was almost a joke order as I assumed that it would never work for my less than perfect figure. Still, someone had to take one for the team, and I figured it was my turn. To say that I was pleasantly surprised is an understatement by far.
The criss cross panty set comes in either white and black or hot pink in black. I chose the hot pink and black. It also comes in sizes S, M, L, and XL. I generally fit into the L size of lingerie, but I never feel quite comfortable, so I ordered a size up and went with the XL. I would advise that if you aren't a petite stick-like figure that you order a size up (pretty much anyone with larger breasts than their body type or a butt).
The XL measurements are:
Bust: 40
Waist: 31
Hip: 40
Generally, XL sizes are said to fit sizes 14 and 16 and from 160 to 180 lbs. I have no doubt that this would NOT fit a size 14 or size 16 woman. Although I'm around 160 lbs myself, my weight is distributed in a way that leaves me in a size 10. This set is not going to fit anyone larger than myself, and anyone smaller than a C-cup will find that the top won't be quite flattering. I am a large C-cup or small D depending on where I shop. There is not built in breast support, but even my post baby breasts looked pretty fantastic in this top with the wrap making sure that I wasn't showing side or under-boob.
The top is exceptionally hard to figure out how to tie the first few times. There are three sets of ties, with the top set already knotted together upon arrival to assist you. Take my advice, and ALWAYS leave the top knot tied together, or you will find yourself flipping this thing around a dozen times before you make it work. I felt somewhat like a bad contortionist after I untied the top and then proceeded to try to tie myself back into it. One set of ties goes around your neck. The second goes underneath of your breasts and around to the middle back. The third goes around your lower back. I know in many of the apron-style tying items the last tie goes more along the panty-line, but this last tie is higher up.
The bottoms are similar to what you see on the model in the back: VERY cheeky. Think somewhere between boyshorts and a thong. I have a large butt. This bottom was tight on me, but it also made my rear look somewhat lifted. Despite how much of my rear was actually exposed, I felt that the look was flattering. If you wear full-size grannie panties like myself normally though, you may have a hard time adjusting. In the front, you will notice that this panty covers your clitoris, and that's about the height of the front. I shave, but even I felt like I needed a good wax before posing for any boudoir photos. The funny part about this is that there seems to be the effect of an elongated torso because of this fit. My bowl-full-of-jelly belly actually looked somewhat flatter.
This set is made of 93% polyester and 7% elastic. The instructions say to hand wash and drip dry. Do not bleach. Well, there are two options:
1. Stick with those instructions based on all of the ties of the top; I can just imagine them getting twisted up in the machine into an impossible knot that you never get loose again.
2. However, the seams seem to be well-sewn, and there are really no loose threads or anything to discourage me from putting this into the washer in a lingerie bag as a second option.
Packaging is rather typical. See for yourself: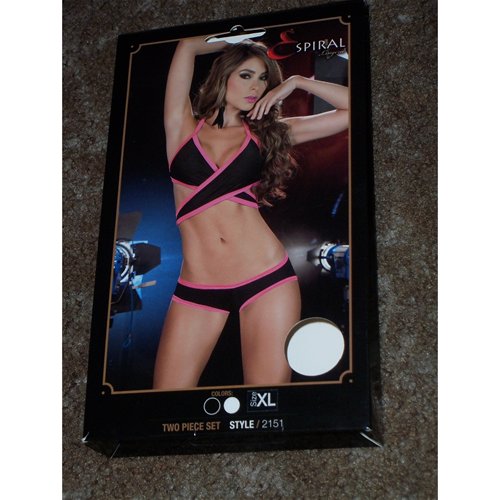 Even though I find the top flattering, it is a bit difficult to smooth out all the lines where three sets of ties are involved.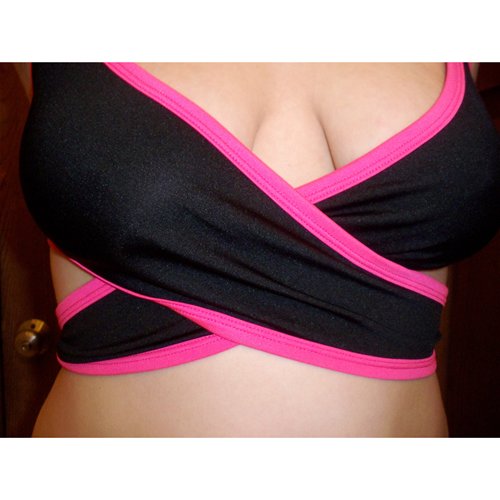 Experience
At first, I was disappointed that these boyshorts seemed small. Then, after forwarding a couple pics to an old boyfriend, I realized that these "boyshorts" are rather sexy even though they are a bit cheekier than they should be. Due to the fact that they cut a little higher than the typical shorts, there is a little lift effect that I like. With the front cutting so low though, I'm afraid I would prefer to be waxed before stepping into this set. It's not really a big deal as I've been wanting to perfect my self-waxing technique for quite some time now anyway. Just be aware that if you keep any kind of hair down there, it will be playing peek-a-boo.

Tying this by myself has given me a headache on more than one occasion, but that's my own fault as I untied the original knot for the top. I've regretted it ever since and suggest you only tighten but never leave it untied upon packaging it back up or throwing it into your delicates drawer.
Follow-up commentary
1 month after original review
After only a few times wearing this item, I noticed that I wasn't adjusting to the bottoms at all. Sure, I was getting a backside boost (more like butt cleavage), but I felt like I was broadcasting a full moon. Then the top started to stretch a little, and I found that the lack of additional support (other than the original tight wrap) left me desiring a whole lot more. Basically, this item just doesn't hold up over time. Suddenly all the flaws started to make themselves known, and I realized that if I couldn't get comfortable, I'd never look like a sex kitten in this set.
This product was provided free of charge to the reviewer. This review is in compliance with the FTC guidelines.

Thank you for viewing
Black criss cross top and panty set
– bra and panty set review page!