We'll Take The Babydoll, You Can Keep The DVD.
Looking for a cheesy, old-fashioned, 1970's 'vanilla' positions video? Yeah, me neither. They may not have chosen the right DVD, but thankfully Dreamgirl does know how to make nice lingerie. The set comes with a hot pink lace-up style babydoll and a cute g-string as well as the not-so-great "Creative Positions for Lovers: Beyond the Bedroom" video. My advice is to go straight for the babydoll before the DVD puts you to sleep.
Published:
Pros:
- Adjustable
- Stretchy
- Plus size available
Cons:
- Lame DVD
- Quality issue
The DVD
I really liked the idea of including a DVD with lingerie, sadly however I don't think it was executed very well. The movie you'll receive is called 'Creative Positions for Lovers: Beyond the Bedroom', it's about 60 minutes long. It has seven segments of positions, each with a few variants (man on top, woman on top - including reverse cowgirl, sitting positions, creative locations - the kitchen and shower, rear entry, sex toys - only swings, and oral sex). During and in-between the dull sex scenes you'll hear from 'experts' about the position, a general example being 'The woman on top means that she can control the speed'. The actors aren't very attractive, which to some could be a plus (everyday people vs. porn stars) and minimal genitals are shown. The sex scenes look like they were taken out of the 1970/80's. I watched this alone and I'm glad I did. It wasn't arousing at all, and though the video was informative I felt like it was all old news. Dreamgirl would have been better off just sticking a strictly sex video or even a link to a porn site in the box. I think if you have seen any typical porn, are open with your partner and your sexuality this video will bore you to death. This was clearly made for people who practice 'strictly vanilla' sex and have only ever done missionary.
Material/Design/Craftsmanship
The babydoll and g-string are made of 100% hot pink, stretchy, extremely sheer polyester (exclusive of trim) according to the tags. The material is soft, non-itchy, has no smell and feels great to touch. The trim and straps on this piece are elastic, they're black and have a great deal of stretch to them as well. One of the first things I noticed with this was one of the straps wasn't sewn on right in one spot and was ready to fall off. A few stitches later and it was fixed with no other problems, however I don't think this should be standard protocol and have to note that there was a quality issue early on with this piece. Other than the one incident, I've found that these are typical Dreamgirl items that are good quality for the price.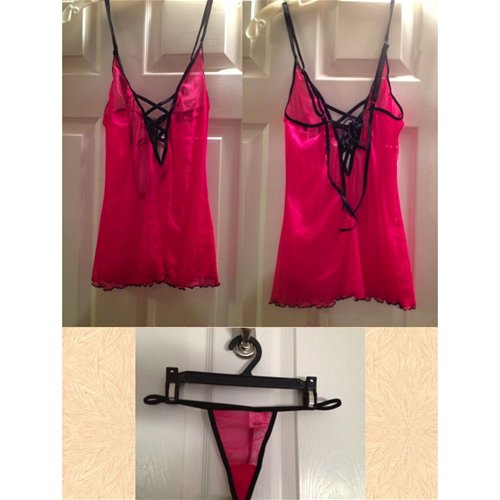 The Babydoll
This babydoll has long, adjustable shoulder straps. However, it doesn't have any defined spot for your breasts other than simply where your breasts will lay in the top. This means it doesn't have any cups or support for women with larger breasts. This isn't really a problem, though, because you can easily wear a bra underneath and still have it look nice. Between the 'breast area' is a deep V with a lace-up design that will make cleavage look great; it's not adjustable and is sewn in place. The back of this babydoll is a large open area that will expose your back like a very large keyhole would. The back does have a tie at the top to keep it from looking sloppy, but even when tied tightly it won't cover much. Along the bottom of the babydoll is black wavy trim. You could easily wear this during intercourse without any worries of it ripping.
The G-String
The g-string in this set is pretty generic. It's the same color and design as the babydoll. Although it is nice to have one the exact same color and make, it's nothing to write home about. One nice thing about this is that it does have a little cotton panel built into it. The construction on the panty is good and durable. A nice (if simple) partner to the babydoll.
Sizing
I purchased the One Size Fits All (OS) for this set, hoping that this wouldn't be too small - which it wasn't. Personally, I think the babydoll runs a little large, because it fits me perfectly without being tight anywhere. The plus size would have been baggy on me, which is uncommon because I have multiple sets of Dreamgirl costumes and lingerie all in the Queen One Size. The Dreamgirl's OS size chart measurements are as follows in inches (mine in parentheses).
Size: 2 - 14 (16-18)
Cup: B - C (D)
Bust: 32 - 38 (38)
Waist: 24 - 32 (34)
Hip 34 - 40 (44-46)
Care
The only instructions on this set is to hand wash in cold water and line dry. This may bother some people, however I'm not putting it as a con because I think it's standard for lingerie.
Experience
Even though I will only be using one of the three pieces included in this set, I still think it was worth buying. Including the DVD was a nice idea (though they could have chosen a better one), and because it didn't seem to affect the price, I wasn't upset that it was a flop. I can't fit into the panties, so sadly I can't wear them. The babydoll for this set was really this set's main selling point. It doesn't really feel like lingerie to me, but more like a see-through and revealing tank top, which isn't a bad thing. I am wearing a nude/pinkish bra in the pictures.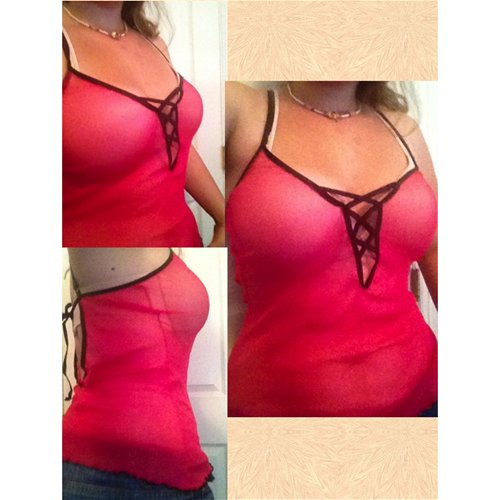 Overall
If you're not afraid the sheerness of this piece, then I would recommend this to you no matter what your size (OS or Plus). This is a stretchy, adjustable and easy to fit into piece, but it's sheer and therefor not very forgiving. If you have a large stomach or rolls you're trying to hide, this probably won't be right for you. I'm giving this set a 3 out of 5. The babydoll is pretty well made and is very cute, but I just wasn't wowed with it. For the price and what you get, Dreamgirl is onto something with the combo idea. I only hope they invest in some better DVD's!
Follow-up commentary
2 months after original review
As before, the DVD is still pretty useless. The babydoll has held up alright despite the couple quality issues that I've had with it. If this weren't so sheer I would probably wear it outside of the bedroom. It's certainly possible to do so, seeing that it's built more like a tank top/spaghetti strap shirt.

I believe that my original rating of 3 out of 5 stars is still accurate. As stated in the review, I was only really able to use one out of three pieces (the babydoll) to this set. And that piece wasn't as well made as I had hoped it would be (still completely useable though). My recommendation would be to skip this set unless you're just in love with the babydoll and have taken into account what you will look like in bright sheer pink.
This content is the opinion of the submitting contributor and is not endorsed by EdenFantasys.com

Thank you for viewing
Babydoll g-string and dvd
– babydoll and panty set review page!