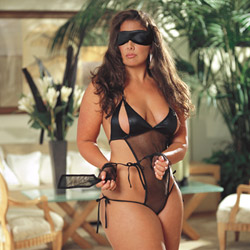 Fishnet open cup teddy
Peek a boo teddy
by DreamGirl
We Love A Kinky Looking Teddy
This Open Cup Fishnet Teddy is a very fun little outfit that will complement many figures for people who enjoy the bondage look. With the blindfold, the paddle, the ties to restrain the hands, and the erotic appearance of the open cup and the fishnet, this is a winner.
Published:
Pros
Very sexy BDSM outfit for fun.
Cons
None for what it is.
When we saw that EF had some new plus size lingerie to review, we immediately jumped at the chance, and told JR to send us whatever he wanted. EF sent us the peek-a-boo Open Cup Teddy. The Teddy is very erotically designed. When Mrs. Lust got the package, she could not wait to try it on. The Teddy comes packaged in Dreamgirl's usual plastic box with a model wearing the product that is inside. As such, the package is not safe to just leave around for inquiring minds.

The first thing we checked on was sizing. The package stated "Queen" size, and states that it will fit people from 165-250 pounds. Mrs. Lust typically wears a 2x. She therefore felt that the Teddy would fit, so we opened the package and she went to change. The Teddy is made of polyester and fishnet. The polyester is made to look like leather, and it does give that appearance for much cheaper than the same outfit would cost, plus its machine washable.

As you can see from the product image, there are four main design areas. First, it has an open cup top that allows the breasts and nipples to be played with. I love easy access to Mrs. Lust's very nice breasts, so this is a plus.
Second, it has a fishnet stomach area that comes from below the breasts all the way down to the pubic area. This allows for nice texture for playtime. You can see through to the skin. Third, it has an open back so that the derriere is exposed for spanking, caressing, kissing, etc. Finally, the Teddy comes with fishnet gloves and a blindfold. As you can further tell from the product images, the Teddy is secured by simple ties. This allows people of varying sizes to fit nicely into the Teddy. One ties around the neck, then two others tie around the thighs. This is a positive design decision, as the user can adjust the Teddy in several ways to fit their particular body without pinching or pulling.
Experience
A few minutes later, Mrs. Lust returned, and my jaw dropped! She looked HOT in this outfit. It fit her 2x figure perfectly. As you will note, it features both the teddy as well as a pair of gloves and a small spanking paddle. Mrs. Lust definitely has a BDSM side, and this little outfit brought that out in her. She had on the gloves, and was tapping the little paddle against her thigh. Playtime was instantly "on". I was able to caress and tease her all over her front, and her delicious back area was open as well. The fishnet was comfortable for both of us to have our skin against. This Teddy also features ties on each side so that the wearer's hands can be tied against their side. I decided that it was only appropriate to try this. I tied Mrs. Lust's hands with the straps, and then proceeded to indulge in a bit of erotic temptation while her hands were secured.

It should be noted that the Teddy is clearly not for hard bondage play, as it is just polyester and fishnet. The ties would cut into the hands if someone were thrashing or pulling hard. Such an action would also tear the Teddy. However, for light play and fun, it is perfect.

Later, when it was time for penetration, first with a toy and then with my penis, all that was required was to untie the Teddy's straps from around Mrs. Lust's thighs. The G-string thong part of the Teddy then simply lifted away from her vulva. We were therefore able to have full intercourse while she was still wearing the Teddy, which was visually exciting.

The blindfold is simple black fabric that is not going to fully block light, but is more for fun sensation. It is very light though, and someone could use it as a sleeping blindfold if desired.

The paddle is made of a light gauge wire frame that is covered by the fishnet material. It is very light, and is definitely not for real spanking. We both tried it on each other, and noted that while is stings just a little due to the wire frame, it does not actually hurt. Further, since it is made with a light gauge wire frame, it bends when it is used. We cannot therefore recommend it for actually spanking or flogging. However, it is fun to play with, and it feels good being run over the body.

Later, after playtime was over, we both agreed that this Teddy was a great addition to our erotic lingerie collection. We both really liked how it looked on her, and how comfortable it was during playtime. However, Mrs. Lust pointed out that it would not be comfortable for sleeping, as the ties around the thighs would likely dig in during sleep as she turned.

We then put the Teddy into the lingerie bag with some other lingerie and ran it through the washer and dryer on gentle cycle as we do with any lingerie. The Teddy came out looking and feeling perfect.

As we have just gotten it, we cannot offer any input into the long-term durability of the Teddy. We will report back in a few months on that.
This product was provided free of charge to the reviewer. This review is in compliance with the FTC guidelines.
Thank you for viewing
Fishnet open cup teddy
– peek a boo teddy review page!