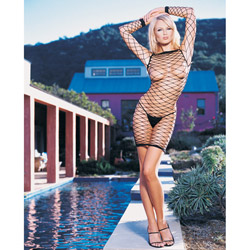 Fencenet mini dress
Mini dress by Leg Avenue
Web of Lust
An impressively understated product, this dress looks awesome and feels awesome to wear, and will accommodate a huge range of body types, shapes and sizes.
Published:
Pros:
An inexpensive, flattering and well made bedroom dress.
Cons:
The cuffs could be a bit bigger.
The Fencenet Mini Dress is exactly what it claims to be - nothing more and nothing less. It comes in a thin box, reminiscent of a pantyhose box, and by golly, it sure looks like a pair of fishnet pantyhose when you first pull it out. Unraveling it from the cardboard insert that it comes wrapped around quickly reveals the shape of the dress - a central tube with one end completely finished off, the other finished by attaching arms and a neck hole.

In total, there are four "ends" of the fencenet finished with cuffs: neck, wrists and bottom of dress. These cuffs are made of good quality knit nylon - either woven with elastic or just knit in a very elastic weave. They are soft and stretchy, but generally a little snug. The fencenet is attached securely to the elastic cuffs, and the neck and wrists cuffs have no other seam. The elastic cuff around the bottom of the dress has a small unobtrusive seam that rests on the side when worn. There are two seams from fencenet to fencenet where the arms are attached, and they too are unobtrusive yet secure. Overall, the dress seems to be exceptionally well made.

Putting the dress on can be a bit of a challenge, and it is smart to do a bit of preparation first. Take off all you "stuff" - glasses, earrings, whatever - because the fencenet will catch on everything. And yes, this does include catching on your nipples while you orient the dress properly in place. I found that rather nice, personally. As well, do be careful with your body piercings. put your arms in with your hands formed in a semi close fist with the important part being your fingers tucked in. If you have any rings, turn them into your hand, or take them off first. The wrist cuffs fit snug at your wrists. Once both arms are in place, carefully gather up the rest of the dress in a circle and slip it over your head, slowing working to put in in place as your lower it down your body. Simply tugging just isn't going to work - there is so much stretch in the fencenet. The bottom of the dress will really sit wherever you choose - I was able to pull it to almost knee, and I am 5'11. Removing the dress is thankfully much faster - simply gather up the bottom of the dress and gather upwards, collecting as you go. It slithers right off.

Not that you should be taking this dress off in a hurry. That's the beauty of fencenet - you get to show off and to play without taking it off.

Size wise, this dress fit me with plenty of room to spare, and I am a tall size 12 with long arms. The fencenet stretches out to look fabulous in the amount of terrain it has to work with, so it really will fit a huge range of sizes. However, the cuffs felt a bit snug to me (which is always my beef with pantyhose) at first, although they do stretch out somewhat and get comfortable with wear. To clean the Fencenet Mini Dress, treat it as you would any pair of tights: hand wash and drip dry. If you note any small rips or tears forming at the edges of seams, fixing them right away will really extend the life of this dress.
Experience
I'm not sure I'm personally in love with the mini dress concept on me, if you know what I'm saying, but what is nice about this dress is that I can position its bottom hem exactly where I feel is the most flattering...and it looks pretty awesome. I am also pretty happy that the arms are long enough for me, because as a tall girl arms and legs in "one size" products are often too short.
Follow-up commentary
21 months after original review
This dress was hot - smoking hot - but it ripped when I took it off the fifth time I wore it. I guess the web wasn't really all that strong, or something. A real disappointment!
This product was provided at a discounted price in exchange for an unbiased review. This review is in compliance with the FTC guidelines.

Thank you for viewing
Fencenet mini dress
review page!