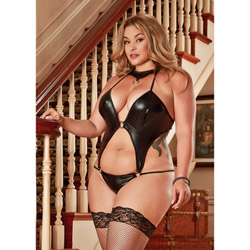 Black teddy with rings queen size
Teddy by Magic Silk
Welcome to the Black Parade!
I was a bit concerned with this piece. Yes, a lot of skin is going to show and no, none of us have perfect bodies. However, I have a blast in this outfit and it is so revealing and intense, I love how I look in it. Ignore your minor flaws and live in the moment! Slap on some crimson red lipstick, some fishnets and show your partner that you mean business.
Published:
Pros:
Plus size, sexy, great for roleplaying,
Cons:
Not in any other sizes, possible feeling of insecurity due to exposure
Ahhh, Magic Silk. I think you may be my new best friend.
So, first off there's pictures. Yes, I feel that hot in this. If I could, I would drop the mic. However, this is a review.
So this is the black teddy with rings. The company's name is Magic Silk, and this teddy comes in Plus Size and LXL. If you want this in red, the red comes in Plus size, LXL and SM. However, in the black those two sizes are the only ones optional. I picked this out of curiosity, and 2012 I told myself I would step out of my comfort zone. This is definitely out of my comfort zone. Cutout, halter top with no underwire and exposing most of my problem zones? Yeah, so out there. However, I don't have any bad things to say about it.
This piece definitely screams to the roleplayer in me. Depending on how you dress it up or down, you can be either dominant or submissive in it. I'm a submissive so some crotch less fishnets and docile manner will do for my accessories.
Despite the complex look, I decided to take a risk on this teddy. The teddy starts out with a black collar that velcros in the back. The collar has a ring on it, so you could essentially be put on a leash but too much tugging would probably result in the velcro coming apart. This is a very low cut halter top and there's another ring that will rest between your breasts. The lack of fabric really is noticeable because the sides and a majority of the abdomen will be exposed. One of my biggest problem areas are my love handles and stomach, I dislike them a lot. Finally, the bottom has two straps (That you must step into, it was tricky) that create the bottom piece with the thong. There are two rings on each side of the hip completing the whole ensemble. Two things I really liked about this piece: The straps to close the back where not velcro but these plastic clips, sort of like a bra you would close in front. They were VERY easy to clasp shut solo behind my back. Another thing I like was the adjustable thong, it wasn't pre-determined and you could slide one of the strings either way you wanted it.
So I'm pretty sure you guys want a sizing chart right? Well, that is a little difficult. EF hasn't placed one up there and when you go the Magic Silk directly, I cannot find one. Another site offers the lingerie chart so here it is:
So I think Magic Silk is sort of doing a basic Plus Size sort of deal and all I know is the plus size is meant to fit sizes 20-24. I could've gotten the LXL to fit sizes 12-18 but it may have been a tight squeeze. There is a little bit of space, but since it IS so revealing I'm glad nothing is scrunched up in my ass or anywhere else uncomfortable.
The lovely Beck has a different size chart on her review, you should
check it out!
I followed this one when ordering although hers has a lot more detail. Hopefully, EF will past one chart and we can all work from there. Well, your resident Amazon thinks this teddy should fit about anyone who wants to be shockingly hot to their lovers. I'm 5'11 and this teddy is about 19 inches unstretched. Stretched out, I didn't have any obnoxious camel toe or ridiculous flossing, so I consider this a plus. No, my bod isn't like the models but the reaction I received was so overwhelming, plus when I put it on I felt incredibly hot. It's all about perception. My sister who is 5'7 and has DDD's filled it out more, so petite and perky you'd definitely win with this one. The price isn't bad so I don't see any issue with giving this a try.
Experience
This is made out of polyester and spandex, I don't know the percentages cause they aren't mentioned. You should hand-wash this and hang it to dry. I personally wiped it down and washed the crotch and thong liner cause that's the only spots that would really get dirty. However, a warm washcloth should help you get rid of any other strains that you may come across.

I hope Magic Silk continues putting out items. I also hope there is material information plus a solid size chart. I give this four stars because of how sexy it is, but it loses a star because of lack of information about their products. I have more pictures and more measurements if they are wanted, and I hope some other Edenites take this bold chance into something sexy.
This content is the opinion of the submitting contributor and is not endorsed by EdenFantasys.com

Thank you for viewing
Black teddy with rings queen size
review page!