Well despite all my hopes, I guess I'm not a "One Size Fits Most" girl anymore!
Let's just say, this dress knocked my confidence down a notch or two... I don't know what Spice considers "Most" people size the be, but it sure isn't mine!
Published:
Pros:
Well constructed with stitching and fabric is not scratchy or itchy.
Cons:
"ONE SIZE FITS MOST" needs some type of reference.
I've never had the quintessential perfect shape, but for many a year, I had a really good figure! Unfortunately, I don't think that I will have a late in life career opportunity as a lingerie model...BUMMER!
This is the very first package I had ever received from Eden Fantasys, so I was super excited to see what I've got! This dress looked cute on the model and I wanted to try something red out (I'm susceptible to advise columns and advertising that make proclamations about things like attraction, what can I say?).
The cello wrapper was in perfect shape, I assume, the dress was removed from the original packaging? Not having the box that most things like these come in is a bonus if you are worried about what types of things you throw out! It looked like any other stretchy thing I have ever purchased, way too small to ever reach the potential you know it can! The sleeves are VERY fitted, so be careful of the fabric when trying to get the dress on with the seams in all the right places! Even though I got it on without ripping it, the overall look was definitely not becoming for me. Unfortunately, I ended up looking like an overstuffed sausage in this dress.
For reference sake, I am 5'7", 150 pounds, 38-B bra size, 40" hips and 30" waist. My shoulders are pretty broad for a woman and as a result, I have had to jump up to a size 12 dress in regular clothing to fit my upper body and have the rest tailored. I usually wear a Large in shirts depending on the cut and brand and size 8-10 in jeans. With all those boring stats out of the way, and without further ado, I make my debut in a terrible picture to demonstrate what an "overstuffed sausage" I looked like!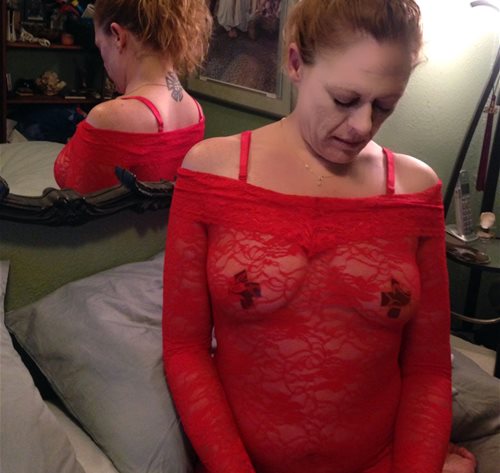 Experience
Perhaps because this dress was just too tight for me, it resulted in other, shall we say, "wardrobe issues" that were definitely undesirable. If you had not noticed it in the first picture, my tits look like they have deflated. This is actually because they are so squashed in there that any sports bra would have proud! Secondly, because of my broad shoulders and probably because the rest of the dress is clinging together for dear life, the collar of the dress immediately did this: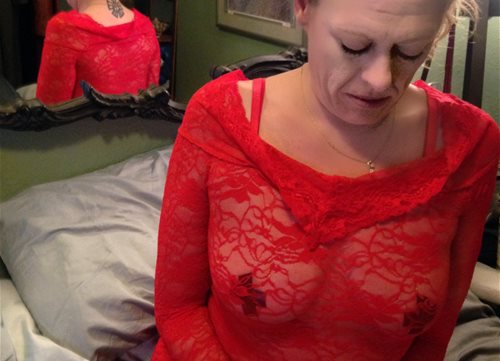 The only way to keep it down was to have someone else position it and then STAY PERFECTLY STILL! Considering the fact that I could barely breathe, I had cucumber tits, and the Flying Nun Collar thing going on, we ditched the dress in favor of some good old-fashioned naked fun. Perhaps this would have been a very positive review if the dress had fit me! Overall, the fabric was of decent quality and didn't itch (you know the type I'm talking about). The seams were well stitched because lesser garments would have bust at the seams just trying to get into it. I would love to see another review with a smaller person to determine if the collar was a design flaw, or just that I had no business stuffing myself into this thing!
This product was provided free of charge to the reviewer. This review is in compliance with the FTC guidelines.

Thank you for viewing
Spice lace dress
– mini dress review page!