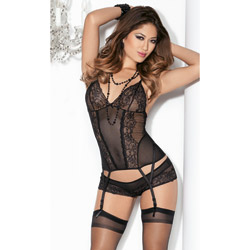 Cami garter set
Camisole set by Escante
Well hot damn. (S)
This cami, boyshort, and stocking set with garters can be worn under clothes and revealed for a sexy surprise for your partner. In a variety of sizes, and with an adjustable top, anyone can wear this. There is little, if anything I would change about this garment.
Published:
Pros:
cami is adjustable, not a thong, unique, comfortable, sexy, comes with stockings, comes as pictured
Cons:
string dangling, garters nonremovable & created a gap on my back where they attached, no underwire
My partner and I loved this cami set by Escante as soon as we saw it. When I first tried it on, I said to my partner, "I want to live in this cami."
This is a cami, boyshort, and garter set that includes nylon stockings. It is black and sheer, between a soft mesh and lace that creates a pretty design. I ordered the size small, because I am a size 2, 32C cup, and I have a 26" waist.
It arrived to me on a hanger in a plastic cover: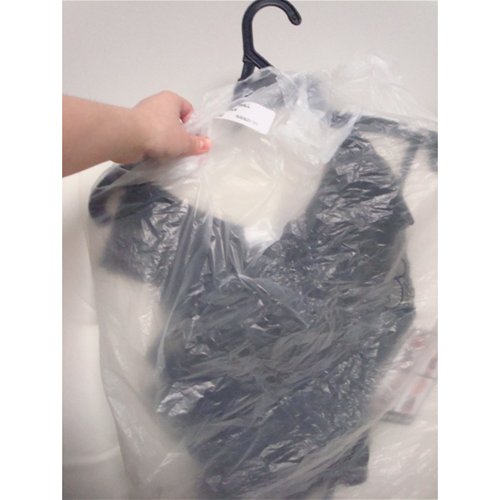 It's 91% nylon and 9% elastane and can be machine washed on a gentle cycle.
I will break the review into three parts, one section for each piece, to make this easier to read.
Cami:
Triangle tops - 5" on each side, 6" along the bottom
Total length from triangle tip - 14"
Width not including adjustable back - 11"
Garters from bottom of cami - 5" at shortest, 6" at longest
Straps - 8" at shortest, 16" at longest
This cami is very soft, stretchy, and adjustable. If you're in between sizes on the size chart, go with what you need for the bottoms, because the top has corset-like lacing in the back that can be adjusted. It is already laced with black ribbon when it arrives. I tightened it a bit for my body and that helped bring it in closer under my bust. It does not have boning, but it clings to the body really tightly. It will show everything. If you are very self-conscious about your body, this may not be the best piece for you. However, I am self-conscious about certain things and I still really love how this looks.
There is no support in these cups, so beware. I think any C cup are best for these cups, because they fit me great as a small C. I think smaller breasts would look smaller and larger breasts would not feel supported.
The cami is very comfortable and the set could easily be worn under clothes. It won't flatter my chest the way a bra might, but I think it will be worth it to wear it under a dress to surprise my partner after dinner.
The garters are attached to the cami. They are easy to fasten, though I had some difficulty with the back. I solved that by pulling the cami down around my waist so I could use my hands for fastening instead of stretching. This worked well and I was able to get them fastened quickly. Once I put it on I walked around the room for a while, sat, jumped, and so forth, and they did not snap open like another set of garters I have. I wish they were removable in case I wanted to wear this under pants or I need to wear sweater tights in the snow, but as a femme I'm really into dresses anyway and am happy to wear a pair of thigh highs to ensure that my partner's eyeballs pop out upon seeing me later even if I'm a little cold on the walk into the restaurant.
One issue I had with the garters is that in the back, it stuck up a bit because of how they are attached. It isn't that big of a deal, but would look better if the garter would just lay flat. I hope that with some more adjusting and messing with it over time, I'll figure out a way to make it lay flat. It only does that on one side, so I should be able to manage that task.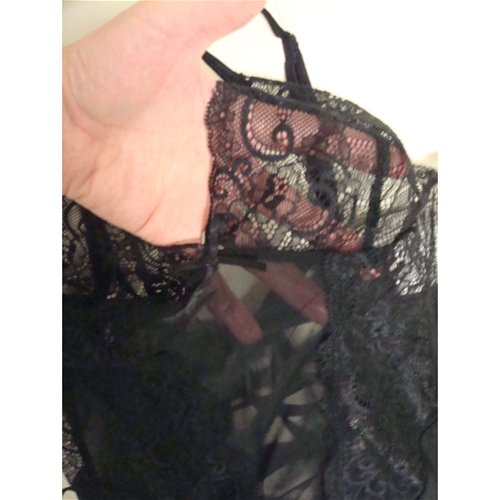 Boyshorts:
Waist laying flat - 11" unstretched, 19" stretched
Sides (what sits on the hip - 4"
Leg holes - 8.5"
Liner length - 5"
Liner width - 2" at its narrowest
Experience
(cont.)
The boyshorts expose a lot, but I found them comfortable to wear all day long. The liner is really substantial and worked for its purpose. I didn't find myself digging at my crotch all day like some uncomfortable boyshorts can make me do. They're made of the same material as the cami. They have a wavy cut for the leg holes. I'll be happy to wear these with or without the cami, for daily wear or just showing off to my partner. They fit well and make my ass look great, so I don't have any complaints!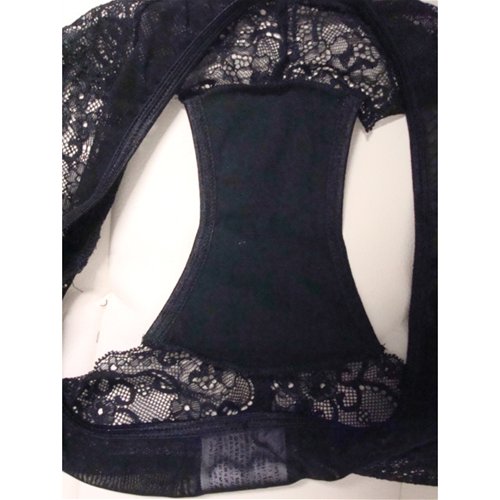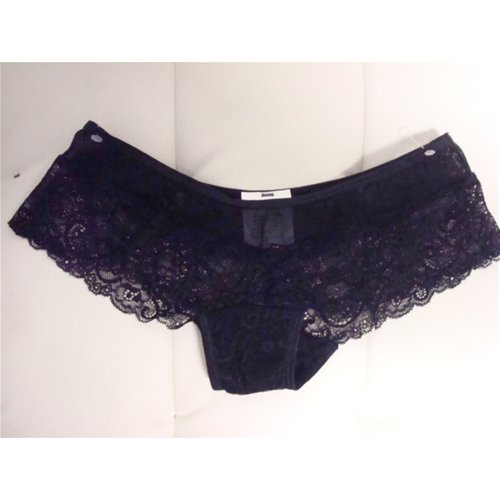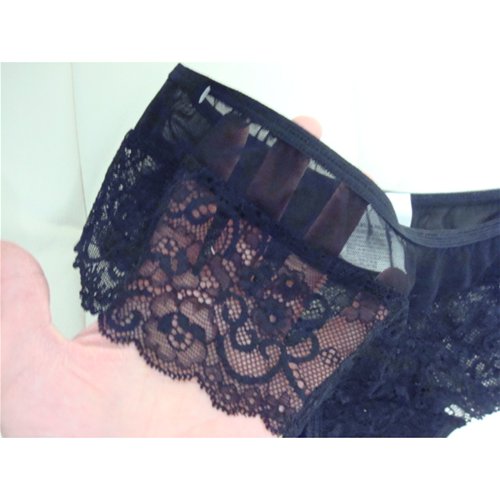 Stockings:
Width at toe - 3" unstretched; 6" stretched
Width at top - 4.5" unstretched; 6.5" stretched
Length - 16" unstretched; 38" stretched
These aren't the greatest, but they'll hold up for a few uses. They don't shrink after they've been put on, so I was really careful not to stretch them too much so that they'll last at least for my first round with my partner. They're really thin, soft, and have reinforced toes. I don't really know why they need to be reinforced, because they're not nice enough to be used for too long to the point that they'd rip in the toes. The stockings don't stay up well by themselves because there is no silicone, elastic, or anything else to reinforce them, but with the garters that isn't a big deal.
My only complaint is that in order to use this set for play, I'll probably put the stockings and cami on, attach the garters, and then pull on the boyshorts so if I need to take them off for sex, I can do so without unsnapping the garters. My partner loves stockings, so I really would like to keep them on to make them happy. I hate pulling underwear aside and really need to take it off, so it will benefit both of us if I wear it that way. If the garters were removable it would be nice too, but in all honesty I doubt I would take them off since my partner loves stockings so much anyway.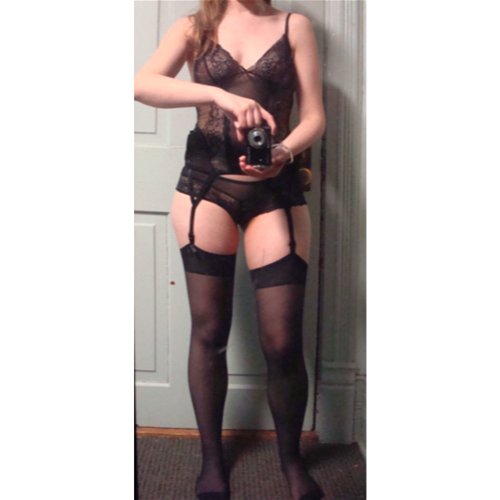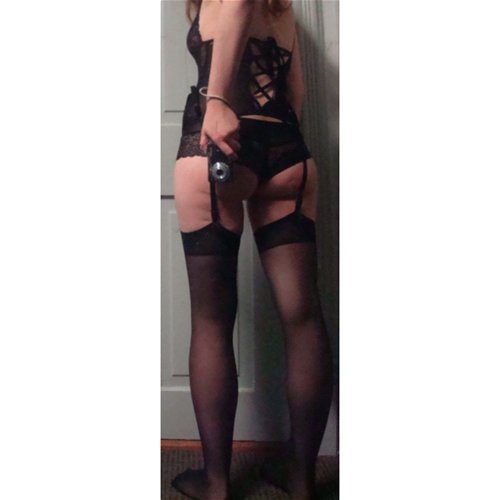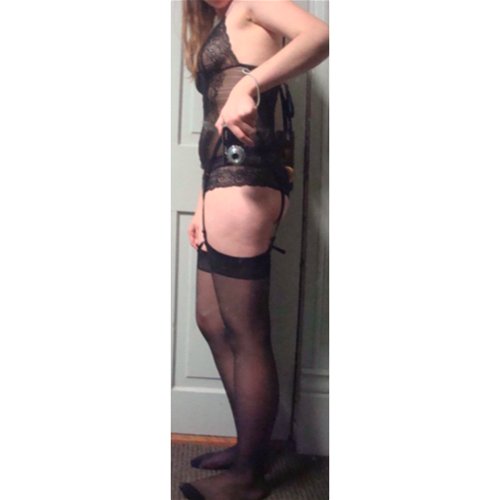 This piece seems well made, but it didn't stop me from finding a string like so: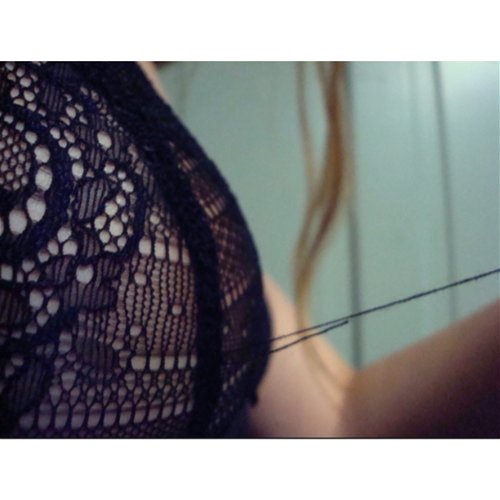 Overall, this set fit great and I'm really excited to show it off to my partner, who is currently out of town. I am almost positive it will be a success though, and I plan to make it a surprise revealing after a nice dinner date. I'll have to let you all know how that goes in the follow-up review...for now, I'm giving it 5 stars because I like it so much, and I don't think the problems are big enough to warrant a knocked off star. It also comes in so many sizes and is adjustable, so anyone can wear it, not just little me.
This product was provided at a discounted price in exchange for an unbiased review. This review is in compliance with the FTC guidelines.

Thank you for viewing
Cami garter set
– camisole set review page!