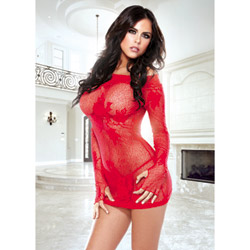 Long sleeve mini dress
Mini dress
by Fantasy Lingerie
Well, It's Certainly Breezy
Have you ever heard of fashion that is made of trash? They call it trashion, and this might be the perfect example of a lackluster dress for someone crafty to turn into something great. The price is cheap (so is the dress), and don't believe there's enough material here for more than a shirt. Overall, this is not something that I could recommend to anyone as is. A serious change in design is in order to make this item functionable, but if you're up for the challenge, enjoy!
Published:
Pros
Price.
G-string.
Color.
Cons
Cheap Material.
One Size Fits Most.
Seams Don't Align On Arms.
Too Short For A Dress.
First and foremost, let me preface this review by stating that upon seeing the new and inexpensive "dresses" added to EF, I could not wait to review one! However, there was a certain hesitation. After all, how quality can a dress be for $15.74, and what is up with this one size fits most craze? It seems like you might have to be a risk junky in order to appreciate that kind of sizing really. Still, twenty or so other items were not available for review, so...
Shame on me. Shame on me for continuing to be cheap even though it's proven to be a bad idea in the past. This long sleeve mini dress has all the red flags, but as in relationships, somehow one retains a sick form of hope that this one will be better than the last. I wore this dress (or rather tried it on) a whopping two times before my armpit received additional ventilation as shown in the picture below.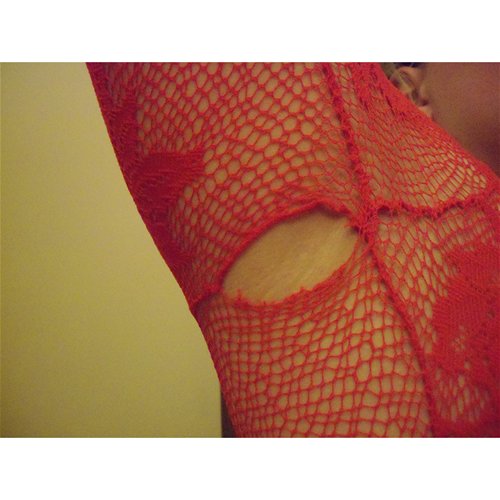 Don't get me wrong...a rip at the seams is hardly enough to detract 3 stars. This dress had issues galore. For one, it wasn't long enough to cover my clit, let alone my bottom. It's really closer to shirt length. It also had a seam that seemed to be detaching from the shoulder. Finally, the seams on the arms just did not line up...they were diagonal and crooked. Due to this, the thumb holes never lined up. Basically the seams should have run straight down the arms, but they didn't. I apologize for the quality of the following picture, but taking a picture of my shoulder was more difficult than expected in this dress.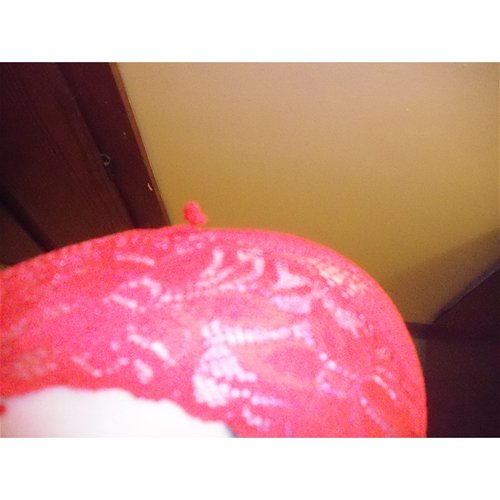 Sizing
This is a one size fits most item by Fantasy Lingerie, which always tends to be an issue. The sizing chart is as follows:
One size Size:6 - 12 Bust (in):36 - 40½ Waist (in):27½ - 31½ Hip (in):38½ - 43½
Basically, I'm at the edge for all of these measurements, though I haven't measured myself since my weight gain (thanks, birth control). Generally speaking, I fall between a size Large and XL for most of the lingerie, and I wear a size 10 or 12. I found this dress to be quite snug, though not in the body. Rather, the sleeves seemed to run small. I would not recommend that anyone over a size 10 purchase this item or anyone with large arms. I think the dress itself may work for a smaller size than recommended, but perhaps the panties would not. Out of this entire outfit, I found the g-string to fit the most comfortably and to hold up the best.
Packaging
The packaging is a very standard cardboard box with a picture of a woman in the dress on the front and the words "Live the Fantasy" and "Fantasy Lingerie" on the front. I'm not exactly sure how short this model is, but I'm 5 ft 5, and my body is not nearly as covered by this dress as hers is. The packaging also lets us know this dress is 100% nylon. This is what Eden has to say about nylon:
"Nylons are generally strong, tough, and resilient polymers which offer good barrier and high fatigue properties. They are hypo-allergenic and offer good resistance to oils, greases and solvents. They have good resistance to a wide range of chemicals and a high abrasion and weathering resistance."
Here is what I say...nylon is cheap, the stretch isn't great, and the lace pattern of this dress leaves it open for lots of snagging and holes. There are no cleaning instructions on the packaging or on the item itself, but it is delicate, so I would not recommend anything besides hand washing.
Summary of Rating
Cheap material, weak seams, too short, no breast support, tight sleeves, etc. On the other hand, I thought the dress was pretty and loved the color, the g-string was actually decent, and the price is super low. This item could use some tweaks and have better features. Two stars.
Follow-up commentary
19 days after original review
I think it's safe to say that this dress has made it's way to it's final resting place by now. I attempted to alter the dress by making it sleeveless, and it looked fine. Still, trying to find something to layer underneath it to make it functional as a shirt (since it's not long enough for a dress) was way too difficult. I eventually lost all interest, and cut my losses. It's a shame that I am not a better seamstress or perhaps it could have been recycled into something else, as the pattern is beautiful.
This product was provided free of charge to the reviewer. This review is in compliance with the FTC guidelines.
Thank you for viewing
Long sleeve mini dress
review page!