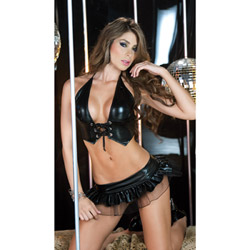 Wet look tie front set
Top
by Espiral
Wet Look Tie Front Set (XL) Review
Are you looking for something that's dark and sexy at the same time? This wet look outfit is both! I adore the look of the top of this outfit, though the skirt leaves something to be desired. The skirt flares out and looks a bit silly and "costume-y", but it's sexy nonetheless. Even though I'm not crazy about the skirt, the cleavage that the top offers me makes this outfit so worthwhile!
Published:
Pros:
Comfortable top, Provides great cleavage, Sexy look
Cons:
Skirt flares out, Ruffle trim can be itchy, Looks "worn" when stretched
This is my first wet look piece, and while I'm not completely in love with it.. it's pretty nice. I purchased this outfit as it seemed to combine aspects that my boyfriend and I look for in lingerie. He wants dark and dirty pieces, I want pretty and sexy. I felt like the wetlook, mini skirt, and sexy top would qualify as dark and dirty, but I also thought that the little tulle trim on the skirt qualified as pretty. In person, I don't really think that this is a pretty set, but it's definitely dark, dirty AND sexy.

Basics:
This sexy outfit is made by Espiral. It includes two pieces: the wet look lace up halter top, and the matching skirt. There is no g-string or thong included.

Material & Care:
This set is made out of 93% Polyester and 7% Elastene, exclusive of the trim. The trim on this set includes the little tulle (ruffle) trim on the skirt, and the little metal o-rings on the top.

The wet look material is very smooth to the touch. It's surprisingly flexible, and breathable. This is most likely due to the fact that the material is so thin. The material is also very stretchy, although if you stretch it too much the wet look fabric begins to look cheap and worn. For this reason, I don't recommend that you stretch this far at all.

The area inside of the cups on the top is not made out of the wet look material. Rather, this area is very soft and smooth.

The ruffle trim on the skirt, which I believe is made out of tulle, is very durable. I have tugged on that trim many times, and it's yet to snag. Unfortunately the tulle is also fairly itchy, which makes it so that I almost don't want to wear the skirt.

To care for this item, I would recommend that you hand wash it in cold water, and then allow it to line dry.

Sizing:
Espiral has made this set available in four different sizes: small, medium, large, and extra large. I typically order a large, but I have found that Espiral seems to size down a lot. For this reason, I purchased the extra large.

According to the size chart, this should fit someone with a 40" bust, 31" waist, and 40" hips. For this set, the waist measurement is irrelevant.

I wear a large C/small D cup, and have a 32" underbust. My hips measure 40".

This set fits me well. I don't believe that this set will fit anyone with hips larger than 40" -- at least, not well! The skirt may stretch for larger hips, but the waistband is likely to start looking worn very quickly.

I took the following measurements with the piece laying flat:
Across the waistband of the skirt: 16" (unstretched), 20" (stretched -- at this point it starts to look worn)
Skirt length: 6" (not including trim), 8" (including trim)


As for the top, I found it difficult to get measurements due to the style. That being said, the top is highly adjustable, due to both the lacing in the front, and the halter neck. This fit my breasts just fine, and I believe that it'd fit DD's perfectly, as well. Bigger or smaller may be able to fit, but smaller breasts may feel that they get lost in this, while larger ones will likely have more cleavage.

Design:
The top is designed so that it ties halter neck style. To put it on, slip the top over your head, and then tie the halter neck. At this point, you're going to want to adjust the lacing in the front.

The lacing in the front is excellent. You can adjust it so that it gives you more cleavage by tying it tighter, or you can tie it loosely. I prefer to keep this tied tightly, as doing so offers me more support. The lacing goes in a crisscross pattern, being woven through small golden o-rings. The lacing is knotted on the ends, so it won't slip out of the o-rings.

Most of the bust support seems to come from the lacing, and the halter neck. There is no underwire, and absolutely no padding. Still, it provides a decent amount of support.

The skirt has a thick waistband, and then flares out into two layers. The top layer consists of the wet look material, whereas the second layer is tulle. I love the design of the skirt, but I hate that it kind of flares outward as opposed to laying flat. I think it would be much sexier if the skirt laid a bit flatter.
Experience
Packaging:
This comes packaged in a basic cardboard case. The cardboard case displays a photograph of the model, and minimal information about the outfit. The packaging could be used for storage, but I feel like it just takes up more room than I have to offer. For this reason, I have recycled the packaging.

Quality:
The quality on this set is okay. I didn't notice any loose threads, or areas with poor sewing. That said, the wet look material looks a bit cheap with you tug on it, which makes me feel like this set will not hold up to the test of time.

I'm giving this set a rating of 3.
Follow-up commentary
2 months after original review
I still like this, but it's not my favorite piece. The tulle still itches, but I love that both pieces can be worn with other outfits. I have worn the top with several other lingerie skirts to create new looks. I've also paired the skirt with several other tops for bedroom play.
This product was provided at a discounted price in exchange for an unbiased review. This review is in compliance with the FTC guidelines.

Thank you for viewing
Wet look tie front set
– top review page!