When having an Affair is perfectly fine.
Floral pattern plus combination of black and light-beige creates an exquisite, almost classy look. However, there is a hidden secret on the backside: don't be shy and show off your curves with the sheer lace on the back of the panties. Fantasy Lingerie could have done a better job with the sizing, but overall, this is a nice, beautiful and durable set!
Published:
Pros:
* beautiful non-itchy lace;
* almost invisible under clothing;
* makes boobs look bigger.
Cons:
* sizing is a bit off;
* panties has no cotton liner;
* bra may cover too much.
Sexy lingerie is my favorite subject for reviewing, so when it became once again available for a monthly assignment I was as excited as the most of my fellow reviewers. With all those new gorgeous sets Eden Fantasys now carries, it was quite hard to choose. Then I saw Nude Affair bra and panty set by Fantasy Lingerie and thought: oh,
this
is it! I used to have panties with sheer lace on the back before and I really love the way it exposes the cheeks. Moreover, dark lingerie is not so easily soiled, so that lingerie also looked as a promising set for everyday wear. I was a bit worried about ordering a bra online, though, because it rarely fits me and usually appears too big on my small boobs. But I took the risk and I'm actually glad I did.
The set's color is not very true to the pictures on the
product's page
, nor do my self-made photos show how it exactly looks. It's not as white as it seems, but more like beige or nude as it's promised.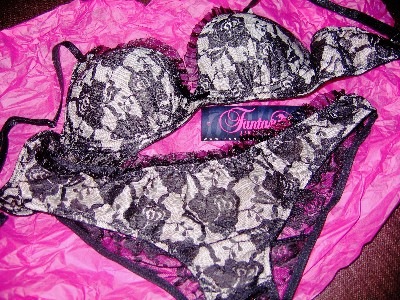 My Nude Affair came without a package, it was simply wrapped in a bright pink paper. I've already received some things from Eden Fantasys wrapped in that paper before and I really like it this way. Lingerie cardboard boxes normally end up in a trash, while this paper can be reused, which is nice and environmentally friendly. For example, you can use it for crafting. Or if you're buying lingerie as a gift, you can take any regular gift bag, wrap your present carefully and put it inside so that some paper sticks out like this: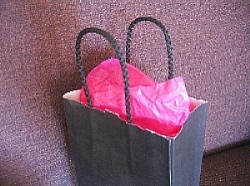 Even though there is no packaging, you can find all the necessary information on the tags. According to the tags, it is 100%
nylon
(exclusive of decorations). Nylon is a rather strong synthetic fiber which is resistant to oils and greases and is quite easy to care for. Wash this set in a warm water, but be gentle: no twisting or wringing is recommended. If you're going to use a washing machine, remember to choose a suitable setting ("delicate" or something similar to it). Also, as this set is dark-colored, washing separately from light clothings is preferable. And finally, it should be tumbled dry low and removed promptly.
Design and construction
Overall, this is a wonderful-looking and good-quality set. I'm not sure if it's reasonably priced for the US market, but in my country less than 40 dollars is an amazingly great price for such a thing. It includes padded bra and a pair of panties. Let's start the description with
panties
. Nude Affair panties have quite a low rise and thus they will sit on your hips. Please, note that they don't stretch in height and from a waistband to a lower part it measures approximately 7.6". The waistband is accented by half-inch wide sheer black ruffles and measures about 14.2" while flat unstretched, although it stretches up to 18". There are 2 layers of fabric in front: black
lace
with flower pattern over nude
satin
. The back made of an absolutely gorgeous see-through lace.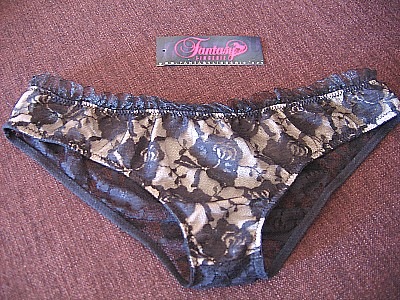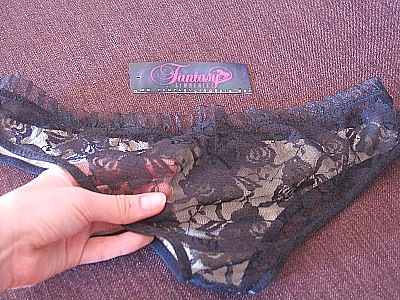 The lace is 100% not itchy and quite pleasant to touch. However, I did expect panties to have a cotton liner which they don't. This makes Nude Affair panties a bad choice for daily wear, because you know how synthetic fabrics can breed bacteria and yeast.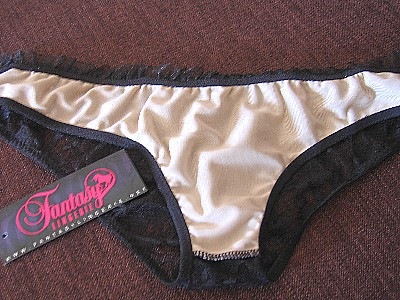 As for Nude Affair
bra
, I would describe its style as full support bra, because it covers the boobs completely, has a good strong underwire and is padded. The type of closure is hook and eye. There are 3 rows with 2 eyes, so there is a room for adjustment. The whole underbust part is 27" long and also stretches a bit. An upper portion of each cup is accented with the same ruffles as the panties are and also there is a small black bow between them.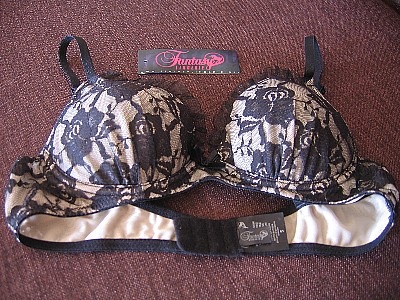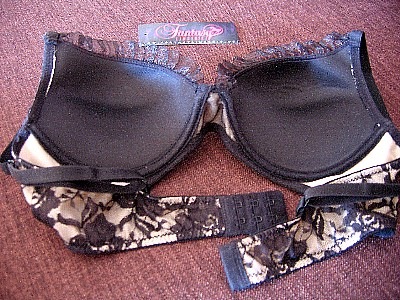 As you can see, there is the same nude satin covered by black lace with flower pattern. Adjustable straps are black, smooth on the outside and a bit velvety on the inside. Their length ranges between 9"-17.3".
Experience
Fit
Nude Affair padded bra and panty set is available in Small, Medium and Large. I got size
Small
, which according to Fantasy Lingerie
size chart
requires:
- 6-8 dress size;
- 35-37" bust;
- 26.5-28.5" waist;
- 37.5-39.5" hips.
Based on my experience with different lingerie brands, I would say that this measurements are more of a Medium than Small, so I was rather worried about it being way too large for me. I have 24.5" waist, 36" hips, normally wear 32A bra and 4-6 US dress size. I've never purchased anything from Fantasy Lingerie before, but - for instance - many people say that Coquette runs small and I often order their products in S. So you see what I'm talking about here. But Nude Affair bra fit me surprisingly well, while panties could even be slightly bigger.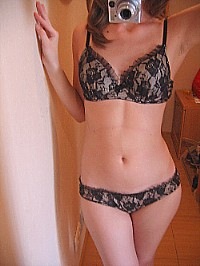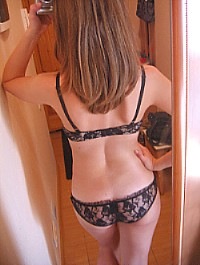 So, in my opinion, size Small of this set would actually require the following measurements:
- dress size: 4-6;
- 32.5-34.5" bust;
- 34.5-36.5" hips.
Personal experience and other thoughts
I think that kind of bra is good for both bigger (because it provides enough support) and smaller breasts. Unfortunately, it's not your choice for creating a sexy cleavage, but on the other hand it seems to visually enhance the breasts' size. Also I often have a situation, when there's some space left between my boobs and the bra cups (even 32A ones, which I guess has something to do with different bra styles). But Nude Affair bra covers my breasts enough not to let that happen. Also considering that the bra was almost invisible under even rather tight tops, I think I'm going to use it as one of my everyday bras.
While the bra is appropriate for casual wear, it didn't work as a sexy bedroom lingerie piece in my case. Keeping things short: my partner didn't seem to like it. When I said I've got new lingerie, he wondered: "Is it new? How new? Ah, okay". However, he loves the sheer back of these panties as much as I do. I guess, that's just my showing buttocks are turning him on.
Conclusion
As I've already mentioned, I think that Nude Affair bra can be best used as an everyday bra, while panties lack the cotton liner and are more suitable for a sexy night. This saddens me a bit, but I guess you can still wear it occasionally for the dates or nights out.
And I would definitely recommend ordering a size up
.
Follow-up commentary
1 month after original review
Unfortunately, this one will hardly ever work for me as a set. I still love the panties, they are absolutely gorgeous. But the bra turned out to be completely useless for me. In my original review I recommended it for 32.5-34.5" busts, but apparently size Small here doesn't work with A-cups. After continuous wear I've noticed that this bra doesn't hug my breasts as it is supposed to, moves around and thus annoys me a lot. So unless you usually wear B-cup bras, you'd better stay away from it. Moreover, Nude Affair covers too much of a cleavage, which prevents me from wearing most of my tops, even those with a moderately low cut.
This product was provided free of charge to the reviewer. This review is in compliance with the FTC guidelines.

Thank you for viewing
Nude affair padded bra & panty
– bra and panty set review page!