White wedding!
If this piece had been shorter for me, this would have worked perfectly. I had to deduct a star for that. Also, the ankles have loose lace around them. I am sure that if I had purchased the OS and not the one size Queen, it would've worked better.

The piece itself is very standout in a bright white. It looks really good with a tan, and in fact, if you are very tan or have a darker skin tone, your skin will really set this outfit off, and it does have the wow factor.
Published:
Pros:
Beautiful lace, Nice design
Cons:
Too long, loose around ankles
Let me start off by saying that this piece could be perfect for the wedding night -- IF you are above 5'5"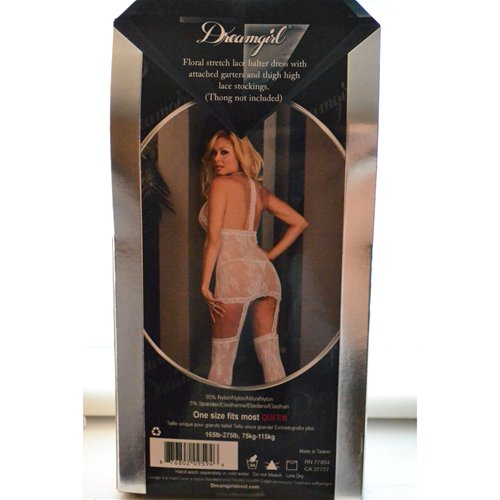 I had my suspicions that this was going to be a miss, and I was right. I am about 5'1"- 5'2"-ish. Once I started to try it on, I stepped into the top part first, and then I didn't pull it all of the way up, that way I could get my legs into the thigh highs. That worked perfectly for me, so make sure to slide into the top area first, and don't take it too far up, so you can get your legs in through the thigh highs. Once I got the thigh highs up, let me tell you, they were HOT! Once I pulled up the body piece, I knew that I had a problem... The length of the body part was very long, and for me to pull it up like I needed it, it left the top part bunched up at my neck.
The body part was very stretchy for the plus size, and it actually fit me loose around my waist area. The breast area fit well.
This will definitely be the perfect fit for someone who is above 5'5, and above 1X. If you think that you are plus size but shorter, I would pass on this outfit. I did not let this deter me, though.
I took off the outfit and pulled up the thigh highs to look at the seams. They were sewn onto the other lace garters with a thin stitch. I snipped all of the threads holding them together, and I had a very cute pair of thigh highs on my hands.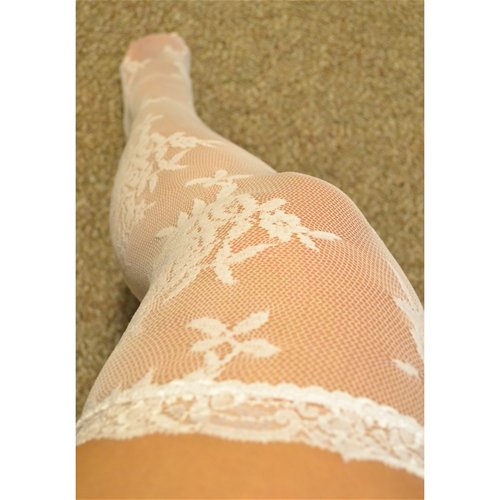 Next, I snipped off the garters from the body of the dress. This was very easy. I used a pair of small scissors, and it worked great. That left me with a cute piece of lingerie. Now I could maneuver the length of the lingerie itself into a better fitting item. I will still probably have to adjust the waist area, and the piece of lace on the back, but for now this works. I put on the thigh highs and the dress part, and it looked much better than with the garters. This would be a sexy piece for a wedding night if you added a necklace, a bracelet, and some stilettos. The only other problem that I had with the thigh highs were that they were more loose near my ankles than the rest of the whole area. It was a loose fit on the whole thigh high, but it's not too loose to hinder me wearing them. At the ankle area, though, they were very large. I will attach some photos to show.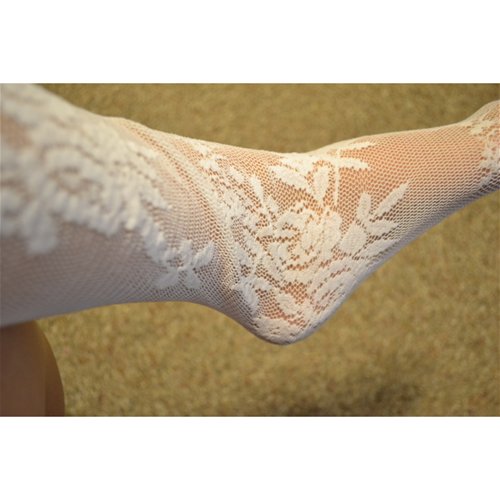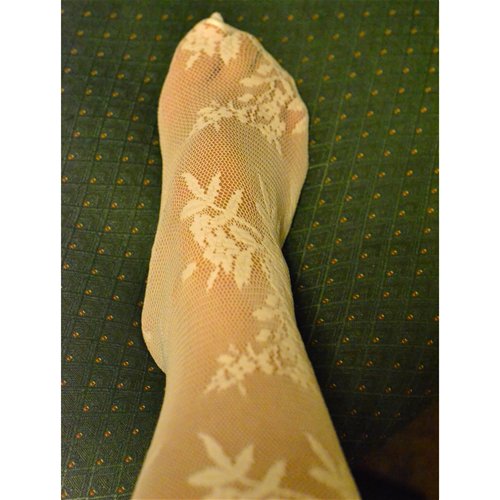 I am going to try to dry them for about 5 minutes on a low setting to see if that works for doing any shrinking. There is no reinforced toe sewn in, but the seam there seems like it will hold up well. The lace in the thigh high area is well made, and it is the same as the body of the dress.
The Florence is made of 95% Nylon and 5% Spandex. I purchased the One size fits most- Queen.
I purchased the queen size because of my bust area, which is 38DDD/F, and this was still very large on me.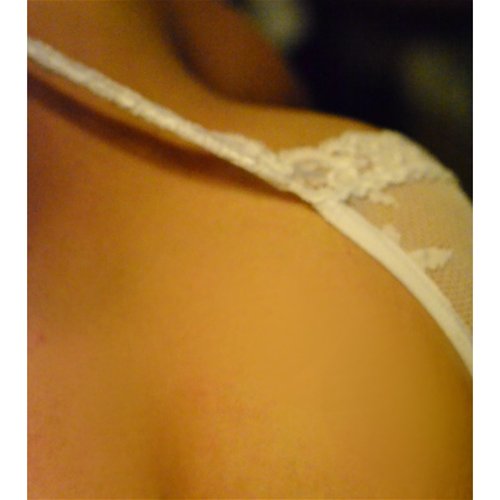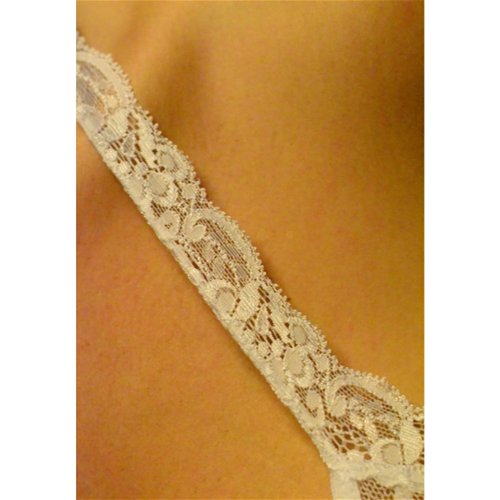 The care instructions are to hand wash separately in cold water. Do not bleach. Line dry.
There are no underwires, and the material is sheer. It is a lace flower pattern throughout the outfit. It is a very pretty white color. The Florence is lightweight and weighs 0.2lb. The manufacturer brand is Dreamgirl.
The length of the dress part, from the top of the lace in the back to the bottom lace, is 32 inches. It can stretch out to 46 inches long. The waist part is 14 inches wide unstretched. It stretches to 27 inches wide at the widest part of the waist. The garters measure 6 inches unstretched, and they stretch out to 11.5 inches long. The Thigh highs measure 27.5 inches long unstretched, and they measure 36 inches long stretched out. The top cuff on the lace band on the thigh high measures 8 1/4 inches unstretched. They are 13.5 inches stretched out to the max. If you need additional measurements, send me a message and I will get those for you.
Experience
If I was taller, I would have definitely purchased this in the black. This would be too sexy to pass up. I like it how it is now that I have removed the garters; it still gives the great sexual appeal, but without looking hideously large on my body. I can't stress enough that petite women under 5'4 need to steer clear of this outfit.... Unless you can do as I did and remove the garters, but who wants to have to work on your lingerie as soon as you receive it, right? As for me, it was not a bother. I love to sew and I am a very creative, so I took it as a challenge to see what I could come up with instead of trashing this beautiful piece. My fiance said this was something that he would like to see me in on our wedding night, so I guess it couldn't look "that" bad now, could it? I have included a photo of the thigh highs after being cut.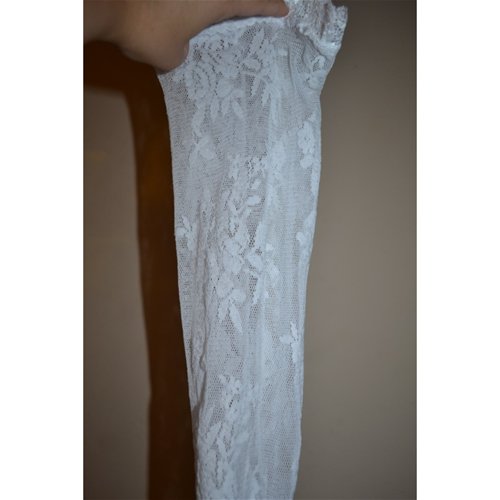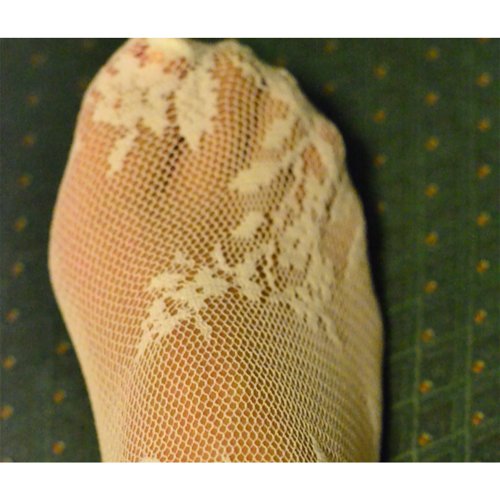 Follow-up commentary
1 day after original review
No use in waiting 2 months when I tried it on tonight and wore it around some more and I liked it better than the first time that I tried it on. It screams wedding night.
This product was provided at a discounted price in exchange for an unbiased review. This review is in compliance with the FTC guidelines.

Thank you for viewing
Florence white
– gartered mini dress review page!