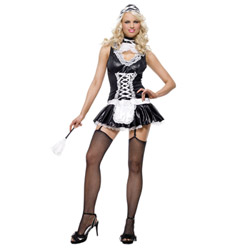 Naughty maid
Costume
by Leg Avenue
Who Doesn't Like A Naughty Maid En Baisant?
This naughty maid outfit is one of the sexiest costumes from Leg Avenue that you can buy. It's like half French-maid, and half baby doll-lolita, with all the fixings that you need for one hot and sexy role-playing fantasy!
Published:
Pros:
Well-fitted, very sexy, well-made, includes headpiece, choker, and feather duster.
Cons:
Nothing.
I absolutely love collecting role-playing costumes, just as much as I love collecting sex toys; and just like my toys, I can't really get sick of them or ever let them go. I'm especially dedicated to owning costumes by Leg Avenue. In fact most, if not all, of my costumes in my role-playing wardrobe is by them.

Naturally, I was super excited to finally get my hands on a naughty-maid costume. Though I expected the costume to be great, I was completely impressed by what I saw: something cute, something simple, something familiar, and yet absolutely hot in more ways than one.

Basically, this is the most adorable and sexiest maid costume I have ever seen, and have the pleasure of owning it. It is made of seductive 'n' shiny black and white polyester and decorated with ruffles; along the V-front, the stomach area, the front apron, and even underneath the mini skirt.

The most appealing centerpiece of the costume is the lace up front, that you can tighten and form into cute little bows. You can even create what I call "bondage lace cuffs", by simply wrapping each side of the lace around the wrists. It comes with a headband where you attach the thrilly laced bonnet hat, an absolutely cute choker (that has lace which daintily hangs along the collar bone), and a feather duster. Along the mini skirt are also garter straps (stockings and shoes are not included), which is definitely a plus for those who love stocking play.

One of the reasons why I love Leg Avenue's costumes is that their measurements are just exact and fit most sizes. It is sometimes hard to find a size that fits my petite frame, but Leg Avenue never goes wrong. This costume fit me perfectly.

The moment I tried it on, I was enamored by how I looked like a baby doll. I instantly imagined myself just wearing the costume alone, minus the other accessories that make it a maid's outfit, and becoming a porcelain doll; or a clown. It indeed left something to the imagination; naturally, my partner was going to LOVE it.

The mini dress was short enough to leave something to the imagination (by bending over, your partner can see a little bit of your panties, just a little bit to get him drooling). When I put on the choker, I thought to myself "Damn, this is just too cute". Though the collar felt a little bit loose around my petite little neck, that little bit of looseness made it more comfortable for me to wear.

The thrilly lace also gave off this sense of innocence, without it looking tacky or slutty; I LOVED it. The headpiece was also such a doll-like accessory; though I personally can't stand wearing headbands (unless it is for wearing it with cat ears), I actually liked the little bonnet. It pretty much is the final accessory to make the maid costume complete.

For some reason I was surprised that the feather duster was of good quality; there are a lot of feathers, all soft and fluffy, and the stem is made out of slim plastic. All I could imagine was how my partner would cram it up my asshole or pussy as a way to "punish" his naughty maid (I mean, isn't it what it is REALLY meant for?).

To finish off everything, I slipped on a pair of my cream colored ballerina-style stockings, attaching them to the garter straps. The garter straps are in tip-top shape; it is strong and sturdy, and will probably last for years as long as you don't wear them out. Without a doubt, my partner thought I looked absolutely cute, naughty, minxy, and fuckable.

As mentioned before, with this costume you can incorporate the accessories as props for your role-playing session/fantasies. My partner tied the laces at the front around my wrists, so tight that I couldn't get out of my bondage. And when I got really naughty, he crammed the feather duster up my butt, and boy didn't it feel GOOD.

In the future, I will probably sew in some sort of really tough string and make a loop so I can attach a leash to the choker (I just love it that much and want to add some spice to it!). Naturally, one can easily add their own personal touch to this costume, like something as simple as wearing different colored stockings and shoes, wearing a different collar of your choice, wearing latex/vinyl gloves, sporting a wig or heavy eye makeup, etc.

This naughty maid outfit basically fulfills everything that you need for a hot and steamy naughty maid/baby doll lolita fantasy, all in one, and at a decent price tag. Not to mention that it is simply loads of fun. Enjoy!
Experience
Naturally, one of the best uses of this costume is wearing it while cleaning up the house, washing the dishes, doing laundry, and cooking dinner, while your partner is watching; it makes the "fantasy" more like a reality. Role-playing aside, this also makes a very fun and flirtatious Halloween costume.

I have friends who have worn this very same costume to Japanese-themed tea parties, and in photo shoots with dolls. It is overall a versatile costume that doesn't have to just lie in the closet, and get used for only role playing with your partner. Not to mention that it is seriously so fucking adorable and horny, that you may just want to show it off at any occasion that seems fit.
This product was provided free of charge to the reviewer. This review is in compliance with the FTC guidelines.

Thank you for viewing
Naughty maid
– costume review page!