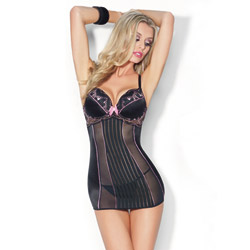 Couture chemise
Chemise
by Escante
Who knew I was this sexy?
This is perfect for everyone. It is sexy and modest at the same time. For me, it highlights my "assets" while covering what I am self conscious about (tummy/middle torso). It is low maintanence and well made. It should be around to turn on your partner for quite some time!!
Published:
Pros:
gorgeous, well made, comfortable, sexy, good breast support
Cons:
runs very small so a size 3X is more like an XL, does not specify fabric or washing instructions
You need to know a few things up front. My experience with lingerie I have ordered from EF is that it always runs small. It doesn't matter what company manufactures the lingerie, it is always smaller than the measurements. This sexy "Couture chemise" from Escante is no different. I ordered the size 2X. If you look at the Excante size chart, I should wear a size 18/20; 46/48 DD; waist 48/52 and hips that measure 54/58. I should also weigh between 200/225 pounds. I am not even close!!

Granted, I've gained about 15 pounds this year, but my measurements are size 14/16; 38/40 D; waist 35" and hips 41". I weigh 165/170 and I am 5'4" tall. According to the Escante size chart I am closer to a large/X-large. If I wanted to wear the chemise as I see it on the model, I suppose I would need the size large so it would be very form fitting, but for a woman my size that would not be a look I would feel comfortable wearing and I don't think it would flatter my body type. I do not consider myself a very large woman, but I am certainly not teeny weeny.

OK, now you have an understanding where I am coming from. I love this chemise. It is now my favorite piece of lingerie. It is so pretty. Overall, it looks like the pictures on the EF page, but the details do not show up well so I will try to describe them to you. The cups look solid with some lace in the picture but they actually are soft and have no padding. The top half of the cups and what would be the bra band is actually black and pink lace with an abstract design. It is sheer. The underwire and the 2 rows of hook/eye closures (with 3 size adjustments) gives my saggy breasts nice support. The shoulder straps are adjustable elastic.

The skirt/dress part of the chemise reaches about 3" below my vaginal area, which is sexy and a bit modest at the same time. It isn't modest like I would let anyone but my sweetie see me wearing it, but it is modest enough for me and sexy enough for him. There is an opening at the bottom back that shows my cheeks off. I like showing my butt rather than my front tummy. There is an elastic band running around the entire skirt so that the opening does not fly away. Above the peek-a-boo is the same abstract pink/black lace that trims the bra portion of the chemise.

As the picture shows, the chemise has alternating panels of sheer and opaque nylon with four pink ribbons and a pink ribbon between the cups. There is another pink bow above the lace in back. Above the lace and below the bra closure there is a large keyhole exposing the back--again, a very sexy, but modest design detail. Along with my description, the picture should give you an accurate idea of what to expect from this item. When choosing the size, remember it does run small so I would order up 2 sizes if you want it loose (but not flowy like a babydoll) or up 1 size if you want it fitted but not tight.
Experience
A standard sheer G-string comes with this chemise. There is a small cotton liner, but I don't wear it except for a few minutes. I don't like G-strings and always wear hi-cut or bikini undies with my clothes.

EF says this is nylon and elastic, which sounds right, but no where on the chemise is there any identifying information. This is sturdy enough that I washed it in the machine and tossed it in the dryer and it came out fine. I did use a dryer sheet because I thought it would have alot of static cling if I did not. The black material, ribbons and lace are allvery soft. The nonsheer black fabric has a medium amount of shine.

This is comfortable to wear for a long period of time ans also to sleep in it. I have always been happy with Escante's quality and designs.
Follow-up commentary
20 days after original review
I love the look, feel and fit of this sexy (unexpectadly so!) chemise. It washes very well in the machine. Of course, I make sure it is inside a pillow case and tied or a lingerie net bag. This is a great choice.
This product was provided free of charge to the reviewer. This review is in compliance with the FTC guidelines.

Thank you for viewing
Couture chemise
review page!