Why Betty Lost.
This is an inexpensive, but elegant bustier that highlights the beauty of the wearer. It's frilly and dainty, but sturdy and comfortable to boot. Just be aware of the size restrictions and how difficult it is to fasten.
Published:
Pros:
Comfortable.
Tight for the torso, roomy in the cups.
Beautiful.
Cons:
Hard to put on.
Not for anyone above a size 16.
For this review, we'll be doing something different, reviewing lingerie that I didn't have to wear myself. This is the Veronica bustier and thong – bustier by Seven 'Til Midnight. It's an extra-large, which according to the chart is for sizes 14-16. The wearer, my girlfriend, known as Science CatGirl in my reviews (yes, Science CatGirl is an actual person and not just a character for the reviews) is around a size 16. To consider the many facets of this item, we'll be dividing it into numerous sections, size, fit, ease of wear, material, cost and design.
Size
This was an extra-large, which, according to the size charts here (https://www.edenfantasys.com/ProductControls/LingerieSizeCharts.aspx#Seven-%27til-Midnight) should fit anyone from size 14-16. As mentioned, Science CatGirl is a size 16 and she just barely squeezed in.
From the initial use, four important things were learned about the bustier.
The first is that the size chart is quite accurate, size 14-16 really means size 14-16.
Second, while size 16 fits, it's a tighter fit, requiring extra work to be discussed in the ease of use section. For those on the upper end of a size, it might be wise to buy the next largest size, if it's available.
Three, this is yet another piece of lingerie not available for the plus sized woman, anyone larger than size 16 will need to look elsewhere.
Four, the cups work very well on the well enboobered. The extra-large is supposed to fit D-DD and according to SCG it does so quite comfortably.
Fit.
According to SCG it was snug, but comfortable. There was plenty of room for her breasts, it didn't pinch or twinge. Further, while it was snug, it kept everything together; her belly didn't droop or swish during movement. Nor did the snugness prevent any normal range of movement.
During the lacing, she felt like a Victorian woman, in an amusing way, although, as to be discussed, the effort in wearing makes this a very occasional item.
The thong also fit, but wasn't very remarkable, a basic thong.
Material and care
The material is nylon and spandex and the boning is plastic. It was soft to the touch and when worn. Spandex is known to be elastic, while nylon is strong, making this a moderately stretchable and strong material. The materials cannot handle high temperatures, or scouring powders. A light to medium soap in warm or cold water is recommended, machine wash might be doable, but hand is probably safer. Never use bleach.
Ease of wear.
Look at this picture; this is the back of the bustier, which hooks quite similarly to a bra. Except for how many hooks there are.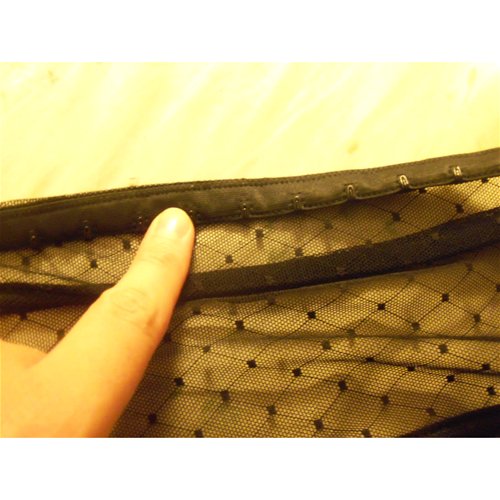 Why are there so many hooks??? The brochure said there'd only be a few hooks!
Don't bother counting; there are 17 hooks, each one that has to be hooked in order for this to fit right. This is the main reason that it isn't 5 stars, despite the soon to be discussed beautiful appearance. So many hooks necessitates that someone helps to tie it up, which creates problems.
She needed help pulling the sides together for connecting the hooks, which meant individually connecting all 7 hooks. By the time I was finished going them, the mood was killed and required rekindling before continuing. Unless someone fits into this so perfectly that they're able to connect the hooks without a partner, it will kill the mood. The extra effort places this bustier squarely in the "occasional" pile.
Cost.
At $23.99 this is definitely on the cheaper side for bustiers and corsets, although there is some disadvantage to that. Normal corsets and bustiers are usually more solid, while this is mesh with plastic boning, definitely more fragile than most expensive corsets and bustiers. However if this is only worn sparingly then it shouldn't matter. Plus since it is not a firm, it's less likely to bend or break, but remember, it is fragile.
Design.
In terms of the design, consider from the pictures.
Here it is lying out (pardon the blurriness).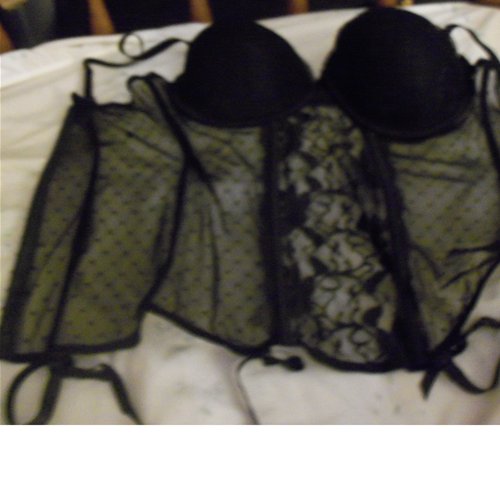 Here are the cups from the inside, as clearly visible; there is indeed ample room for the breasts.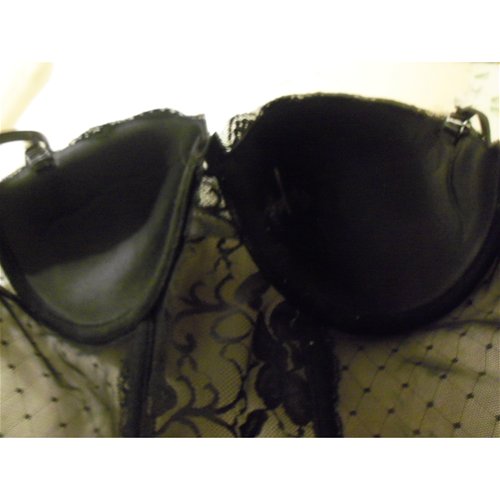 From the outside, note the lacy pattern that begins on the cups of the bustier and continues to the very bottom.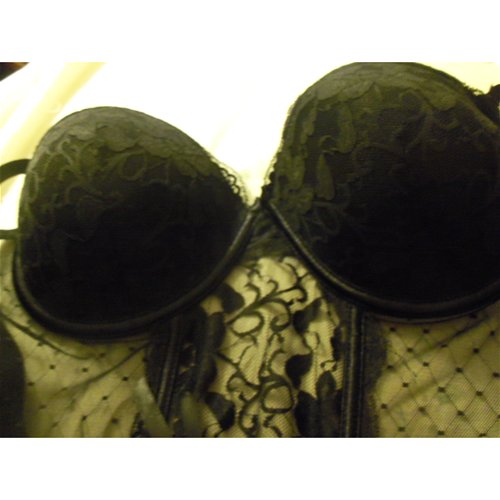 The center is split into sections. The middle is a continuation of the lacy pattern from the cups, while the sides are a crisscross of mesh.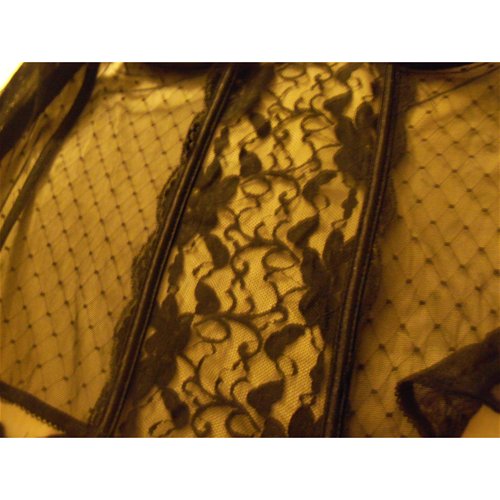 Much of design is subjective; however, we both thought this was quite beautiful. It clung to her curves, didn't cover a bit of her butt (except for the thong) and showcased her exquisite belly. So yes, from personal experience, 5 stars for appearance, 4 overall. It's a delicate, lacy frame to magnify a woman's natural beauty.
This content is the opinion of the submitting contributor and is not endorsed by EdenFantasys.com

Thank you for viewing
Veronica bustier and thong set
review page!