Worth getting in multiple colors!
I am pretty fond of this set. So much so, that I am probably going to get it in black also. It is a OS item that I think fits XS-M women. It is comfortable enough to wear to bed. It is feminine and delicate. The construction isn't the best, but for the price, you can't beat it.
Published:
Pros:
Comfortable
Color Options
Design
Cons:
Construction is Good-Fair
OS
I have this knit babydoll and thong in fuchsia ... and now I am thinking about getting it in black too! Does that make me crazy? Two of the exact same pieces, when there is so much else out there? Well, just read my review and find out why I love it so much, and then let me know in the comments if I am! *wink*
Packaging: Neat box
The knit babydoll and thong by Dreamgirl came in this uniquely shaped box that seems to be a Dreamgirl style of package. I've gotten a few items recently from them, and all of them have this weird box shape. It is almost like a corset, it cinches in the middle. It would be impossible to wrap – I guess you'd have to put it in a gift bag to save the trouble, or if it was a Christmas surprise, just stuff it in the stocking, it is slender enough!
Inside the box, the items come wrapped in a plastic bag. The two items that this includes are the babydoll and the thong. The packaging isn't that ideal for re-use or storage. I threw them out. Now the items are neatly placed in my lingerie drawer, okay one of my many lingerie drawers, I have a few!
Made in: China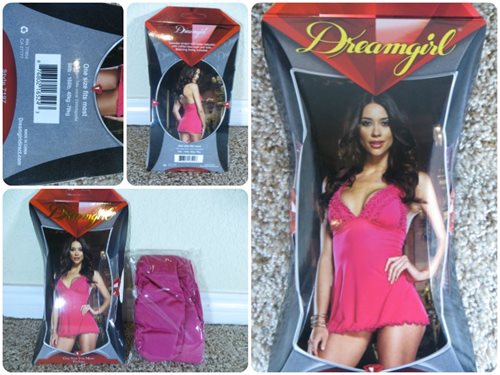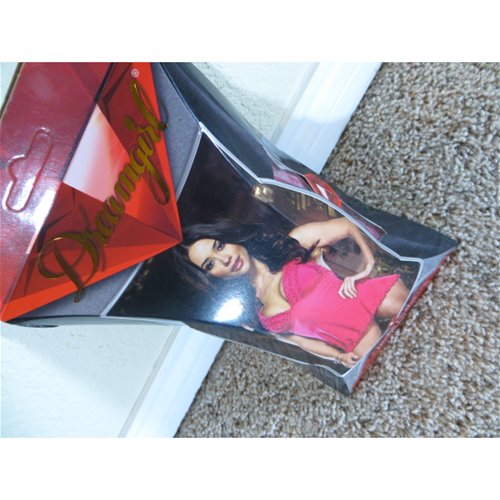 Care/ Maintenance: Be aware of care.
The care instructions for this item are listed on the tag inside the babydoll and on the thong. The care that is suggested: hand wash in cold water and line dry. I have washed this on the delicate cycle in the laundry machine inside a lingerie bag. The items are still as good as new. I have not dried it in the dryer, and will always line dry because it feels too delicate to throw in the dryer.
As for storing this item, I have it in the original plastic package. I threw out the cardboard box piece.
Size: X Small-Medium
This is one of those pieces that is only available in OS.
Dreamgirl recommends size: 90lbs – 160lbs for OS.
I am typically a size small-medium. I wear size 4-6 in dresses and jeans. I have a 34D bust. The rest of my exact measurements can be found on my
profile page.
Measurements I took:
Laying flat across – 15 inches (30 inches circumference)
Laying flat top of cups to bottom hem length – 2o inches
Thong band unstretched – 26 inches
Thong band stretched – 34 inches
The one size fit me well. I am about the middle of the recommended size (I currently weigh 135lbs). I think that the size recommendation is about right. The item is stretchy enough to fit the larger end, but also is slender enough that it won't look baggy on the little ladies. As for the bust area – this could look great on A-C. I am a D and was popping out of it, but it is lingerie, so I am okay with it.
Overall, in my opinion this would best fit the sizes: XS-Medium, 90lbs – 160lbs, A-C cups.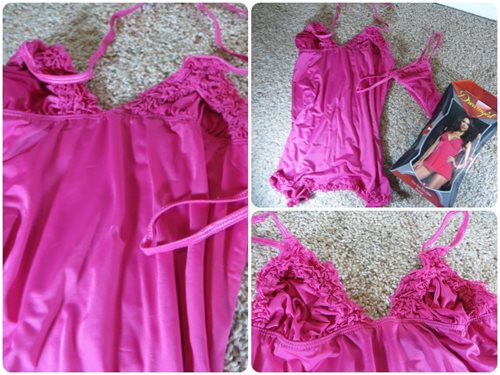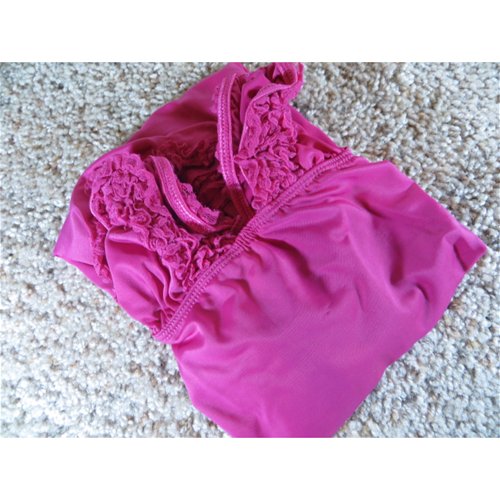 Design/Shape: Feminine and fun
This item comes in the colors: Fuchsia and Black
This set is very attractive. It has a lot of girly features. The cups are ruffled and rusched. This is a nice feminine touch. This is also really nice if you don't have a lot going on up there, you don't have to fill it completely because it has texture and it isn't a solid cup you need to fill.
The frilly touches are also on the top of the thong. This is nice and gives the thong some personality, when usually thongs are pretty boring and bland. The thong is comfortable and has an inside cotton panty liner piece for sanitary protection. It is a thicker thong, not the g-string type.
The top is a halter style and is adjustable tie. There is a band underneath the cups that is stretchy elastic and then the fabric flows down from there. At the bottom of the top you will find the frilly rusching accent again on the front side of the hem. The back of the babydoll has one seam down the center. It is a low-mid back cut and flows down from there.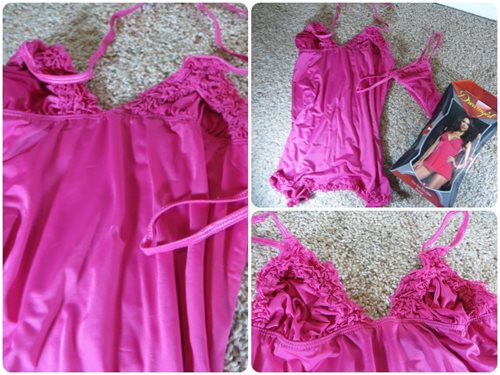 Experience
Material/Texture: Good to fair construction
The product page says this item is nylon and spandex.
The item tag says this item is 90% polyester and 10% spandex
None-the-less, this is a very comfortable set. It is very soft and smooth. I love running my hands against it. It is light weight and flowy. It is great for the spring and summer. It is stretchy and semi-see through.
The fabric does catch easily. It is like nylon in this way. I had a broken nail and it snagged the babydoll and caused a pull in the fabric. It is not a run like nylons, just a little fabric tag. Now I know to be a little more careful!
As for the construction of this item, I would say it is good to fair. I noticed the tags are sewn on crooked. There are also places where the sewing machine went over twice, and some places only once. There are a few loose strings that I had to cut off. It is by no means perfect, but unless you are looking for it, the mistakes aren't that noticeable.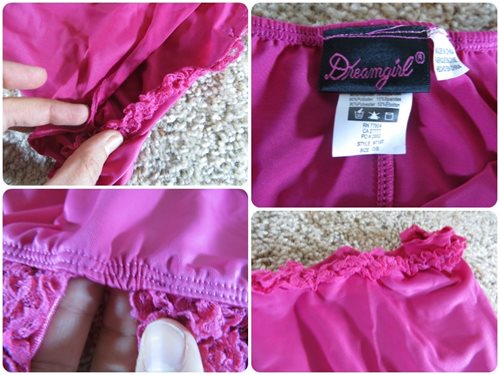 Personal Experience : I like it...
Like I said in the beginning of this review, I am considering getting the black knit babydoll and thong as well. I like this piece a lot, despite some of its flaws. I like the way it looks on. It is comfortable to wear and sleep in. I love the fabric and the design. I think this is one of those pieces I find myself wearing more than my super sexy pieces, because it is easy and simple, yet still sexy. I don't have to put a lot of effort into it ya know?
It is a nice set and I would recommend it to anyone in the size group that I mentioned above, and the price is unbeatable... so what are you waiting for?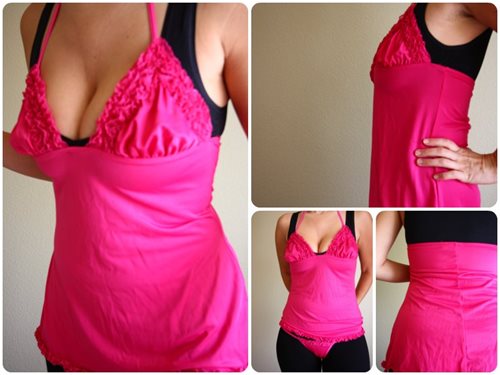 This content is the opinion of the submitting contributor and is not endorsed by EdenFantasys.com

Thank you for viewing
Knit babydoll and thong
– babydoll and panty set review page!