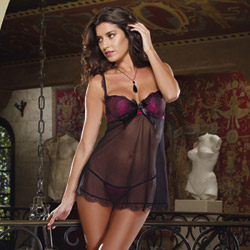 Elegant interlude babydoll and thong
Babydoll and panty set
by DreamGirl
(XL) A Big Girl's Dream Babydoll!
The Elegant Interlude Babydoll and Thong is an amazing piece for a girl like me who has a good bit of "extra" on my hips, waist, breasts, and otherwise. Though it's translucent, it looks amazing on my body type (and others) provided that you are comfortable with yourself being exposed. It is surprisingly comfortable and stretchy enough to accommodate many shapes and sizes so long as you don't normally wear anything too far above an XL. This is a great piece and I heartily recommend it.
Published:
Pros:
- Simple, beautiful, and elegant
- Comfortable
- Suitable for different body types
Cons:
- Cups meant for bigger breasts
- Dry-clean only
- No sizes beyond XL
DISCLAIMER: If you don't want to see pictures of a big girl in lingerie, you might want to skip this review.

Use
There are modest babydolls with opaque fabric and then there's the Elegant Interlude Babydoll and Thong. It is anything but "covering" with its mesh-like, translucent material but never fear because the shape of it is very flattering, even on bigger girls, if you're comfortable with your body being shown. Personally, I think it enhances my curves by giving them a slight "mystery" and adding to the effect so that it's almost like I'm wearing a bra and panties but not quite. This set of lingerie is perfect for intercourse or masturbation but wouldn't work well under clothing (unless your clothing were particularly baggy). If you wanted to wear a garter belt and stockings with this, you would have no problem because the shape is really loose.

Care and Maintenance
The Elegant Interlude Babydoll and Thong was made in China. The "shell", which I'm unsure what they mean by that, is made of 100% polyamide. The trim and thong are made out of 95% polyester and 5% spandex. The cups and back strap, based on the product page description, are made of satin. The bow may also be made of satin. I don't think that the thong is made of satin, though, because it feels a little rougher so it's probably made of what I stated earlier. The overlay on the cups is described as lace on the product page description. According to the tags on each piece, this set is supposed to be dry-clean only. However, I believe that if you were gentle and used cold water and a mild detergent, you could hand-wash this lingerie. I wouldn't really recommend washing this lingerie in a washer or drying it but if you did, use a pillowcase/lingerie bag on the gentle cycle and tumble dry (or air-dry) it. You could store this anywhere, such as in your lingerie drawer, and it folds fairly well but the cups do maintain their shape so you may need to flatten them. You could also hang this up by its straps, as well as the thong.

I adore the materials in this piece. The mesh looks like it would be scratchy and if you're too rough with it, it can be a little grating but with lighter touches, it is soft and it actually feels quite nice. The back strap and bow are silky-feeling and thong is also pretty silky (more so on the outside than the inside) but not quite as much, as stated earlier. The lace part isn't too rough and the inside of the cups are smooth and comfortable. Overall, the materials feel great and basically everything is stretchy so there is a little give in the band and straps and the black mesh should hold up to a little tugging and pulling.

Design/Shape/Size
I absolutely love the design of the Elegant Interlude Babydoll and Thong. It is simple yet elegant and suitable for a large range of body types, provided that you have the breasts to fill out the cups since they're a little on the bigger side (which was a God-sent for me). Much of the piece is black, such as the mesh, straps, bow, lace detailing, clasps, inside of the cups, and thong trim/straps. Some of it, though, is a gorgeous raspberry color that closely resembles what is shown on the product page. In particular, the outside of the cups (behind the lace detailing), back straps, and thong are all raspberry. This is really nice because it helps the color pop more and the thong is more noticable behind the black mesh because of this. There is some lace-like detailing on the bottom of the babydoll, as well as under the cups and on the straps. The latter two are more prevalent than they appear to be in the product page's pictures but I actually think the effect is quite nice.

There is an underwire below the cups so this paired with the slight padding of the cups makes for some decent support (though my breasts were still quite "bouncy" if I moved a lot). The back of the babydoll is closed with a hook-and-eye enclosure. It has three different settings so on top of the material being slightly stretchy, you should probably be able to fit in this lingerie just fine if you size it correctly and have ample enough breasts. I cannot stress enough that this piece will NOT work on smaller-breasted women. Your boobs will be swimming in the cups if you don't have much in the "upstairs" department. If one of your complaints about lingerie, however, is that the cups aren't usually big enough for you, this may be the piece for you.
Experience
Design/Shape/Size -Continued-
- Dreamgirl Size Chart (XL)
Size: 14-16
Cup: D/E (I assume the E is a DD)
Bust: 38"-40"
Waist: 31"-33"
Hip: 40"-42"
Inseam: 36"
Rise: 8.5"-9"
Weight: 160-180 lb.
- My Measurements
Size: 16
Cup: DD
Bust: 44 1/2"
Waist: 41 1/2"
Hip: 45"
Inseam: 27"
Rise: 9"
Weight: 170 lb.
The straps of the babydoll (measuring under the cups) extend to about 34 1/4" from enclosure to enclosure. The babydoll itself is about 21" length-wise (measured from between the cups) and extends about 35 1/2" (when laid flat). The straps can be loosened to as far as 18 1/2" or tightened to as close as 13 3/4" (so hopefully you don't have short shoulders). The cups are about 5" from top to bottom and 9" wide. The hook-and-eye enclosure can add or subtract 1/2" twice (since there are three sets of hooks) so there's a little room for tightening and loosening.
The measurements for the thong were taken when it was laying flat so if you want to know how long it is all the way around, you should double the measurements. The length measured at 8 1/2" and the width was 15 1/2". The back of the thong, the part that goes between your butt-cheeks, measured at 1 3/8".
Performance
The Elegant Interlude Babydoll and Thong performed fantastically. They were comfortable during sex, normal wearing, and otherwise. The underwire isn't all that uncomfortable, like some tends to be, and the mesh really isn't as scratchy as you'd think it would be. My breasts fit into the cups without any spillage so other ladies with DD breasts and similar should be completely fine in this department. The thong was a joy to wear and it doesn't hang like the thong that I got with the Fuchsia Stocks and Bondage Bustier Set. That 1/2" less of fabric must have made all of the difference. The babydoll, as stated, stretches where it needs to but is very loose on the bottom so that it hangs gracefully around me. It made my body look amazing and I just absolutely love this piece.
Experience
I got the Elegant Interlude Babydoll and Thong as a free assignment but had I known I was going to love it so much, I would have gladly paid full price for it in a second. My boyfriend loves it, too, though he was a bit disappointed with the translucent material (he's crazy like that) since we were looking forward to getting a different, opaque babydoll but he still loves it on me. I have gotten nothing but compliments for this piece at the cam site I work on and I have been told that I look "hot", "sexy", "nice", and "mmm" in it so I'm sure that whomever you're wearing it for will just absolutely love it, provided you fit the criteria I mentioned numerous times earlier. Most importantly, I feel incredibly sexy in this piece and so long as you're not shy, you should to.
Worn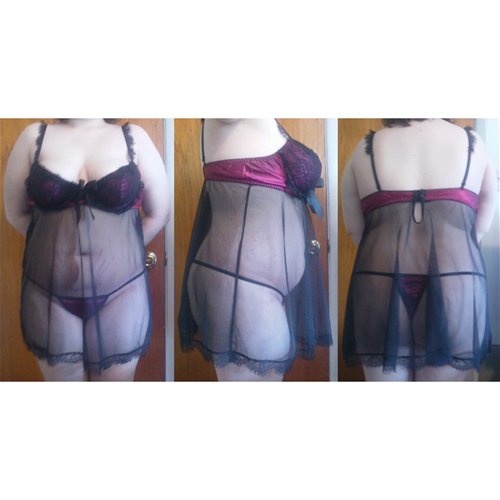 Babydoll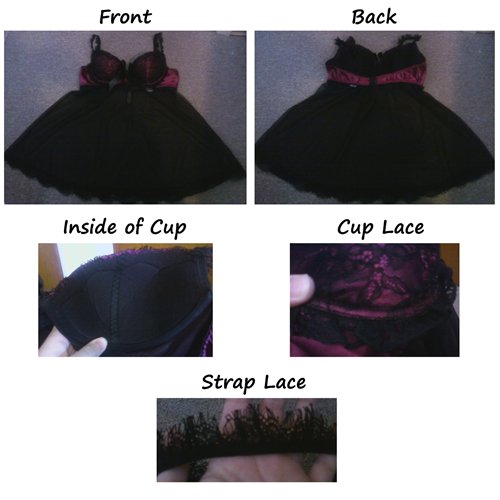 Thong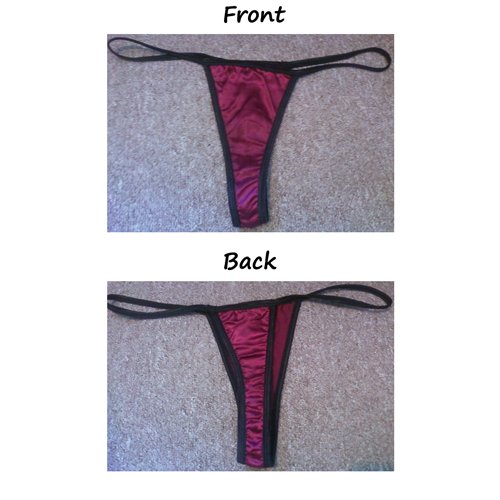 Please note that there is more information in the beginning of the Comments section of this review, if you'd like to read it. It would not fit in the main section.
This product was provided free of charge to the reviewer. This review is in compliance with the FTC guidelines.

Thank you for viewing
Elegant interlude babydoll and thong
– babydoll and panty set review page!