(XL) Midnight Mischief
Modesty is for the meek and the Midnight Mistress Babydoll is for the bold. If you buy this piece, be prepared to bear it all as it offers very little in coverage. It makes for a sexy piece, though, and is sure to spice up whatever activity you get it for. It doesn't support breasts very well and bigger tummies may cause it to rise up in the front but overall, you can't go too wrong with the Midnight Mistress Babydoll.
Published:
Pros:
- Simple and attractive
- Relatively comfortable
- Suitable for different body types
Cons:
- Unsupportive cups better for small breasts
- No sizes beyond XL
Use
The Midnight Mistress Babydoll is not for the shy and modest. From the flyaway front to the slightly translucent mesh-like material, there is nowhere to run and nowhere to hide. That's okay, though, because as long as you're confident, you are sure to look fierce in this little number. This piece of lingerie is perfect for a special night with that special someone. You can even wear it during masturbation if you want to spice it up a bit. It would look great with a garter belt and stockings but it likely wouldn't hide well under clothing unless they were really baggy.
Material/Care and Maintence
The Midnight Mistress Babydoll was made in China. The "shell", which I'm unsure what they mean by that (though I believe they mean the main piece), is made of 93%
polyamide
and 7%
spandex
. The trim and thong are made of 92%
polyamide
and 8%
spandex
. According to the tags on each piece, this set can only be hand-washed in cold water and line-dried. You may be able to machine-wash this on the gentle cycle in a lingerie bag and maybe tumble-dry it on low. You could store this anywhere, such as in your lingerie drawer, and it folds well because there is no foam support or otherwise in the cups. You could also hang this up by its straps, as well as the thong.
The material on this babydoll is not my absolute favorite but it's also not my least. It is stretchy and accommodating, overall comfy, and the lace isn't the scratchiest I've ever encountered, especially on the inside where it's worn. Unfortunately, the lace IS still a little scratchy, particularly on the outside of it (which means it could bother your partner). Also, because it's so stretchy, it tends to ride up and fold over but that will be explained further in the Performance section. Overall, it's pretty comfortable and it should allow for even slightly larger bodies than mine to fit because of how stretchy the material is.
Design/Shape/Size
The design of the Midnight Mistress Babydoll is VERY simple. It's pretty much like any other black lace/mesh babydoll. But simple isn't always a bad thing. There is beauty in simplicity. If you're looking for something that will make you look sexy without all of the frills and hullabaloo, then this is the piece for you. The lace on the cups, the back straps, and partially on the front feature a floral design (pretty typical of any other you've probably seen) and add a little something to this otherwise plain black mesh babydoll. The straps are removable. The thong is a triangle-style thong that is made out of the same floral lace as the cups. Overall, it's a very pretty piece and you won't likely regret getting it for yourself.
I have fairly bountiful DD breasts and while this piece does hold them in somewhat (with some spillage), it doesn't really support them. There is literally ZERO padding with this piece since your breasts are held in by lace and the underwire below the cups does little to add any support. If this would be a problem for you, I wouldn't suggest getting the Midnight Mistress Babydoll. The back is closed with a hook-and-eye enclosure that has three settings so there's a bit of room for adjustment. The thong is fairly stretchy and could fit slightly bigger girls but it'll likely cause some unwanted "bubbling" of the hips. It has a cotton liner on the inside which is good for long-term wearing and also to insert a bullet into.
- Dreamgirl Size Chart (XL)
Size: 14-16
Cup: D/E (I assume the E is a DD)
Bust: 38"-40"
Waist: 31"-33"
Hip: 40"-42"
Inseam: 36"
Rise: 8.5"-9"
Weight: 160-180 lb.
- My Measurements
Size: 16
Cup: DD
Bust: 44 1/2"
Waist: 41 1/2"
Hip: 45"
Inseam: 27"
Rise: 9"
Weight: 170 lb.
The back straps of the babydoll (measuring under the cups) extend to about 34 3/4" from enclosure to enclosure. The babydoll itself is about 21 1/2" length-wise (measured from between the cups) and extends about 31" (when laid flat). The shoulder straps can be loosened to as far as 17" or tightened to as close as 9". The cups are about 5" from top to bottom and 9" wide. The hook-and-eye enclosure can add or subtract 1/2" twice (since there are three sets of hooks) so there's a little room for tightening and loosening.
The measurements for the thong were taken when it was laying flat so if you want to know how long it is all the way around, you should double the measurements. The length measured at 8 1/2" and the width was about 16". The back of the thong is just a "string" that measures at about 1/4".
Experience
Performance
The Midnight Mistress Babydoll did not perform flawlessly but it did perform well enough. It is overall pretty comfortable and the mesh isn't as scratchy as one might think. The underwire isn't horribly uncomfortable and the thong isn't the absolute worst. But it isn't the best thong, either, at least for those who are not used to triangle-style thongs. I don't wear thongs except for RARE special occasions and when I'm wearing lingerie so if they're not comfortable, I notice. The other thongs I own have thicker strips of fabric and are more comfortable to wear, especially during longer uses. Since this one just has a "string" going from one triangle to the other, it's very noticeable. It may not bother some but if you're sensitive to that kind of thing, I wouldn't necessarily look for another lingerie set but you might want to look for another bottom piece. My final complaint with this piece of lingerie is that the fabric under the cups often rides up and looks unflattering, as well as being slightly uncomfortable. I frequently have to pull it back down to make it normal again. I believe the reason it does this (tied with the stretchy material) is because I have a bit of a belly. If you've a flatter stomach than I do, this might not affect you.
Experience
I got the Midnight Mistress Babydoll as a free assignment. Honestly, while this would have been on my wishlist, I don't think I would have gotten it for a while. It's just so plain-looking in the pictures and I wasn't sure that it would be worth the money of actually buying it. I can assure you, though, that it is worth it. I think it looks much better in person than it does in the pictures and aside from the problems mentioned earlier, it's deceptively comfortable. My boyfriend likes it and I've gotten compliments about it on the cam site that I work on. If you're not shy about your body and the previously stated problems wouldn't bother you, you're sure to love wearing this piece.
Packaging
The Midnight Mistress Babydoll came hanging on a plain black hanger that reads "Dreamgirl" on the middle in silver font. It came covered in a clear, plastic bag which I thought was nice because it kept it clean on the journey here and will everyday afterwards, provided that I continue to keep it. There was one tag, I believe, on the lingerie (though I don't remember where) that displays, on the front of it, the model in the product page's pictures wearing the lingerie, along with the company's logo, and various information on the back, such as the logo again, "Style: 7942", "Color: Black", and "Size: XL", as well as a bar code and the company's website, which is www.Dreamgirldirect.com.
Worn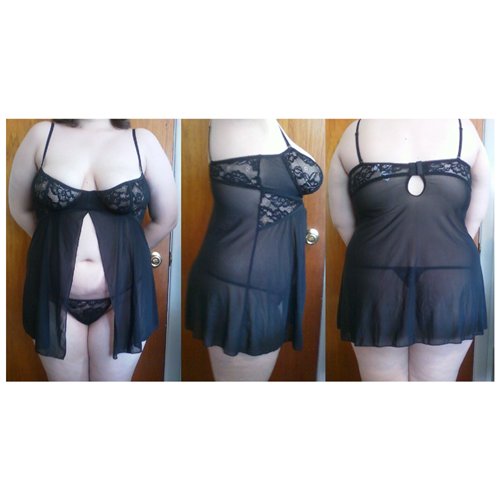 Babydoll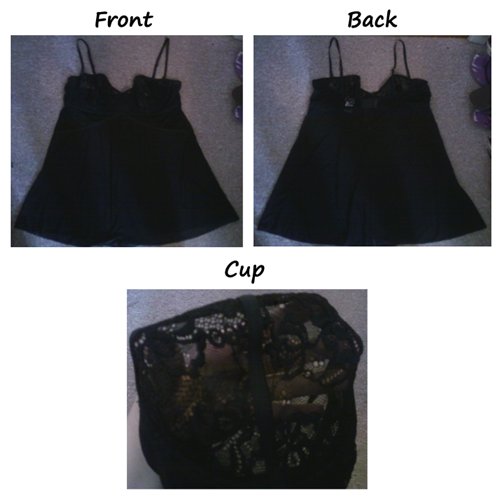 Thong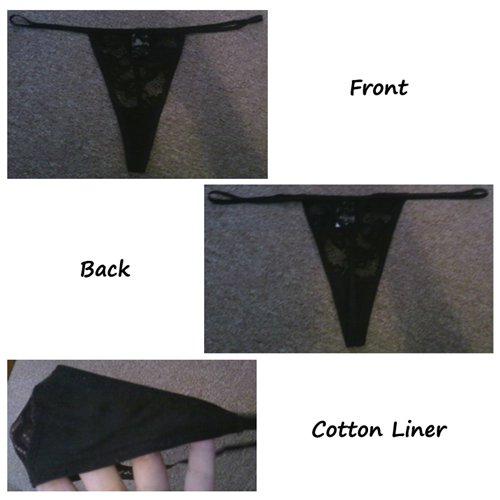 Please note that there is more information in the beginning of the Comments section of this review, if you'd like to read it. It would not fit in the main section.
This product was provided free of charge to the reviewer. This review is in compliance with the FTC guidelines.

Thank you for viewing
Midnight mistress babydoll
– babydoll and panty set review page!