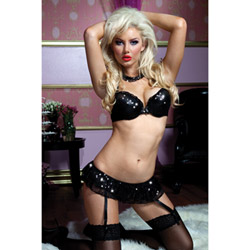 All that glitters bra, skirt and g-string
Bra and panty set
by Seven 'til Midnight
(XL) No glitter, but sequins galore
I wasn't sure what to expect from the "glitter" on this piece. It could have been glued on rhinestones, lamé fabric, or - worse of all - actual glitter. I was very glad to see it was sewn on sequins, as it gives the sparkle effect while being secure and attractive. The skirt is delightful, but the bra is a molded cup that will not fit small or large breasts, and it has a tie-on back that isn't nearly cute enough to make up for being so impractical.
Published:
Pros:
Removable garters
Cute ruffly garter belt
Sequins
Cons:
Tie back bra
"Skirt" is rather an exaggeration
Molded bra cups for medium size breasts only
What it is … how to wear it

The All That Glitters set is three pieces - a bra, a ruffled garter belt, and the obligatory G-string. The bra is almost suitable for everyday wear, but because it has a ribbon tie in the back instead of the more usual type of bra hooks, I would not consider it secure enough to provide support throughout the day. I'd be worried that the ties would slip enough to come undone at the worst possible time. It would probably last for an evening out, if you wanted to wear it on a date. The ruffled garter belt is best worn under a loose skirt or dress so the ruffles don't make bulges under the outerwear. As for G-strings, I have never yet found an appropriate time to wear butt-floss and don't expect that to change.

Design

The photoshopped product photos don't make it clear exactly where the "glitter" is coming from with this design. The bra cups and the top layer of the garter belt ruffle are covered in black sequins, sewn on. I've tried to get some photos to show it better, but it is difficult to catch on camera. Along the top of each cup is a fine mesh ruffle, about 3/4" in height. The ruffle is a very soft fabric and not at all itchy. The bra cups are molded, with about 1/4" thick foam. Because of this, it probably is only going to fit B-C cups, or maybe a small D. A cups will have too much space to fill, and larger girls are going to end up spilling out. The bra straps are the typical adjustable type, but the back ties shut with a ribbon instead of using bra hooks. While this has the advantage of coming off easily during foreplay, it's a pain to get tied so that it's not too tight or too loose. I will not be purchasing this style of bra again.

The garter skirt is my favourite part of this outfit. It has a narrow elastic waist band with two layers of ruffles coming down from it. The lower ruffle is longer, and is a soft lace, and the upper layer is the same sequins used on the bra. The garters are removable and attach to the elastic on the inside. Because the skirt is only held up by elastic, I would not use these with stockings that will apply too much downward pressure on the garters, in case they pulled the skirt down.

The G-string has a triangular panel made from the lace on the garter skirt and is the T-back style.

Packaging

The set comes wrapped in clear plastic.

Material & Care

90% nylon 10% spandex
Hand wash cold, line dry, do not bleach, do not iron

Due to the sequins sewn in on this piece, I would obey these instructions and hand wash only. However, the G-string has no sequins and I think could be safely laundered.

Sizing & Fit

I am pear-shaped, with a rather large belly and hips compared to my bust.

My measurements:
5'3" height
150 lbs weight
40B cups
41" bust
38" waist
44" hips

For this piece, I recommend going by the bust measurement to choose your size.

Specific Measurements

underbust 28" traditional bra band + 2 ribbons of 14" length sewn on each end to tie shut
width of cup 6" across flat, 8" across the molded cup
length of cup 5"
strap length and width adjustable from 9" to 16 1/2" long, 1/2" wide

hip 33" circumference unstretched
length of ruffles top ruffle 3 1/2", bottom ruffle 5"
garter length adjustable 6 1/2" to 11", attaching to the elastic on the inside waist

G-string/thong description

I do not wear thongs or G-strings, so I am providing the measurements only.

hip 31 1/2"
leg width 28"
panel length 8"
panel width at widest point 6 1/2"
Experience
Comfort and Wearability
Despite the sequins and ruffles, this ensemble is perfectly comfortable. It isn't terribly practical outside the bedroom, so don't expect to get everyday use out of it.
Quality
I did not find any imperfections or mismatched seams, though there were a couple of loose threads to snip.
Photos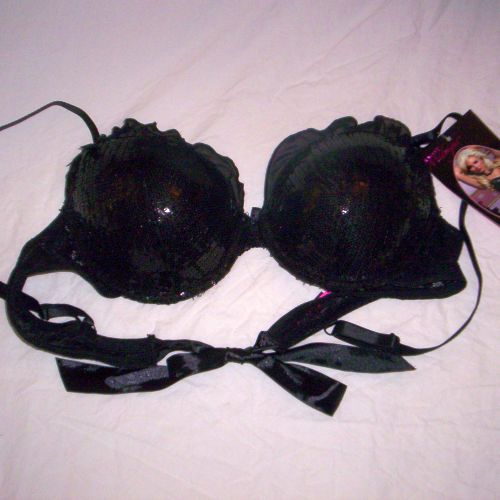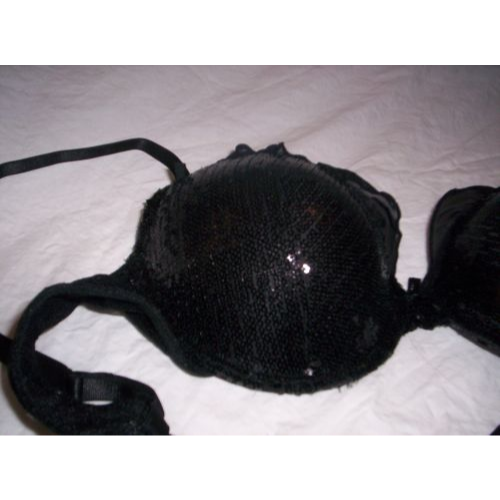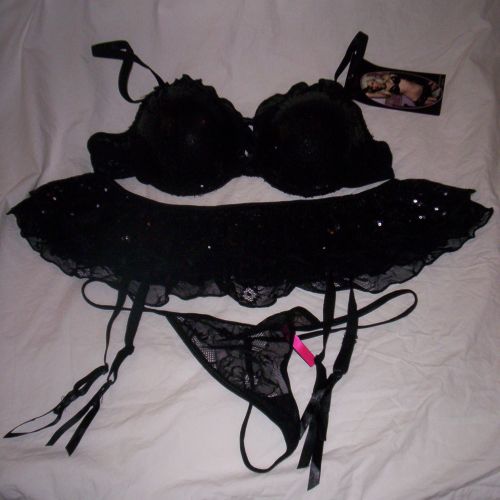 Final Thoughts
For a fun and flirty bedroom ensemble for an affordable price, I think this piece is great. It loses a star for the ridiculous ties on the bra.
This product was provided free of charge to the reviewer. This review is in compliance with the FTC guidelines.
Thank you for viewing
All that glitters bra, skirt and g-string
– bra and panty set review page!