(XL) Pretty Pink Pinstripes!
If you're looking to get more bang for your buck, the Fuchsia Stocks and Bondage Bustier Set may interest you. The matching three-piece set looks both pretty and sexy and it should compliment smaller bodies nicely. While bigger gals will have to look elsewhere (or deal with the unflattering look on an XL girl), it should please S-L people. If you're not concerned with modesty, don't pass this set up. It looks amazing, it feels amazing, and the price isn't half bad, either.
Published:
Pros:
- Three-piece set
- Stretchy material can fit different sizes
- Material feels nice
Cons:
- Shape is unflattering for larger bodies
- Uncomfortable boning
- Cups offer little support
DISCLAIMER: If you don't want to see pictures of a big girl in lingerie, you might want to skip this review.
Use
If you're looking for a lingerie set that shows a lot of skin, the Fuchsia Stocks and Bondage Bustier Set is for you. There is little modesty to this set so if you're embarrassed to bare it all, I would look elsewhere. I'm a big girl myself, as you can tell considering I ordered an XL. I don't have a "flawless" body. I have stretch marks and cellulite and my body curves in more places than just that classic "hourglass" shape. But I love myself the way I am (even though I've packed on a few pounds over the last year), and my boyfriend finds me irresistible. So even though this lingerie set wasn't exactly "flattering" to my body type, I don't regret getting it. I feel sexy in it, regardless, and my boyfriend loves me in it. But I digress. The Fuchsia Stocks and Bondage Bustier Set is perfect for sexual intercourse, or to spice up your masturbation. It doesn't seem to have been made to be worn under clothing, because with the plastic boning and ruffles, it would stick out under thin clothing. You might be able to get away with it if you wear looser clothing, though, or if you just wear the bottom parts. You can wear it with or without the garter belt, depending on your mood. It really is a sexy piece and despite some minor flaws, I love it.
Material/Care and Maintenance
The Fuchsia Stocks and Bondage Bustier Set was made in China. The entire set is made out of 88%
nylon
, 9%
polyester
, and 3%
spandex
. The cups are made of
lace
, the ruffles are made of
mesh
, and the bows are made of
satin
. According to the tags on each piece, this set can only be hand-washed in cold water and line-dried. You could possibly get away with washing them in a machine washer, if you placed them inside a pillow case, or lingerie bag on a gentle cycle. I suppose you could also tumble dry them in a machine dryer but to be safe, I would air-dry them.
You can store this set anywhere, and they would look lovely beside your other delicates in a drawer. You could also hang them up, however. The straps on the bustier are easy to use for hanging, there are fabric loops inside the garter belt that can used to hang, and I'm sure you could put the thong on a hanger, as well. As for the material of the set, I loved it. It's smooth and silky-feeling, but also incredibly stretchy. It could easily fit a girl a bit bigger than myself, but I warn you, the material is also close-fitting and it WILL show your every single curve, good or bad. That's why this set isn't necessarily flattering for me, but I like it, anyway. You may want to pass it up, though, if your body is like mine and you're worried about this.
Design/Shape/Size
I really like the design of this lingerie set. The entire set is bright pink with black pinstripes going down it vertically. The detailing, such as the cups, ruffles, bows, and garter belt straps, is black. The ruffles go along the tops and bottoms of the bustier and garter belt. There are also two vertical lines of ruffles on the front of the bustier, as well as the front and back of the garter belt. There are no ruffles on the thong. There are no bows on the thong, but there is a bow on the top of the front of the garter belt in the middle, and also between the cups of the bustier.
There is some plastic princess seam boning on the bustier. The boning exists in the ruffles on the front and roughly the same place on the back. The back of the bustier and the garter belt is closed with a hook-and-eye enclosure. The straps on the garter belt are non-removable so if you don't want to wear stockings or have straps hanging, you'll have to not wear the garter belt. The cups of the bustier do have under-wire, but it only adds minimal support. The garter belt straps are clipped by a rubber nub clasp. They were a little hard to clasp at first by myself, but they stayed clasped well and the soft rubber didn't ruin my stockings.
- Dreamgirl Size Chart (XL)
Size: 14-16
Cup: D/E (I assume the E is a DD)
Bust: 38"-40"
Waist: 31"-33"
Hip: 40"-42"
Inseam: 36"
Rise: 8.5"-9"
Weight: 160-180 lb.
- My Measurements
Size: 16
Cup: DD
Bust: 44 1/2"
Waist: 41 1/2"
Hip: 45"
Inseam: 27"
Rise: 9"
Weight: 170 lb.
Experience
Design/Shape/Size -Continued-
The bustier measured at 10" length-wise and 31 1/2" from enclosure to enclosure. The straps can be loosened to as far as 17 1/4" or tightened to as close as 9 1/4". The cups are about 5 1/2" from top to bottom and 9" wide. The hook-and-eye enclosure can add or subtract 6/8" so there's a little room for tightening and loosening.
The garter belt's length measured at 2 1/2" at its shortest height and 5" at its longest height (near the straps). The width, from enclosure to enclosure, is 36 1/2". The straps of the garter belt can be loosened to as far as 7 1/2" or tightened to as close as 4 3/4".
The measurements for the thong were taken when it was laying flat so if you want to know how long it is all the way around, you should double the measurements. The length measured at 9" and the width was 17". The back of the thong, the part that goes between your butt-cheeks, measured at 1 1/4".
Performance
Here's where we address the minor flaws of this lingerie. There were a few, but they weren't enough to deter me from using the set again. For starters, the boning on the back has a habit of being uncomfortable. Sometimes it digs into my back if I bend back a little and it's not the most pleasant experience. I have a bit of a big "back-end" so if you have a smaller butt than I do, this may not affect you or at least bother you as much. Another complaint I had was with the cups. My breasts do fit in them (with a bit of spillage) but there is almost no support. The under-wire doesn't do much and the lace doesn't keep them from bouncing all over the place. If you like this effect, then it's good for you but if you don't want your girls flopping around, this will bother you. A third grievance I had was that the thong was a little too loose for me. It sometimes hangs below my crotch which isn't a very sexy effect. This likely won't happen to everyone but it did to me so I thought I'd point it out. Finally, the garter belt doesn't offer much support as a garter belt. The stretchy material is great for fitting many people but it's not great for holding up a pair of stockings. It slipped down quite a bit whenever I would move out of a standing-up position. This might not happen if you have bigger hips or set your stockings higher, though. Other than all of that, the Fuchsia Stocks and Bondage Bustier Set worked wonderfully for modelling in front of my boyfriend and also for sexual intercourse. I wore the entire set with some stockings during sex and it really spiced up the evening. I would recommend this set to any person who isn't shy about their body and who wants more bang for their buck.
Worn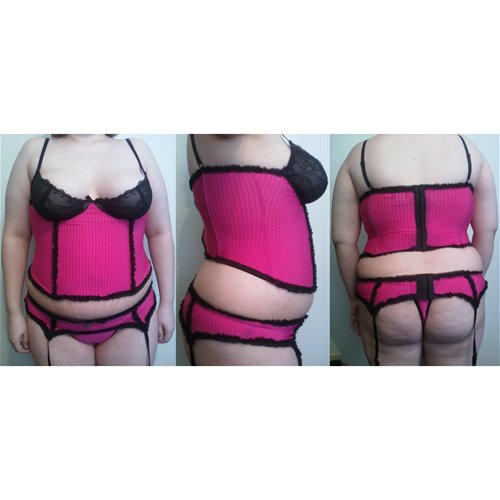 Bustier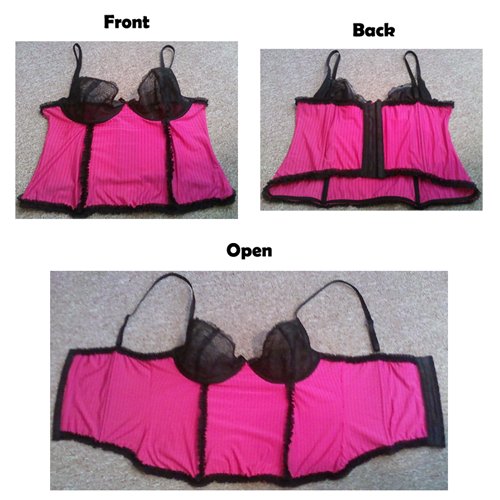 Garter Belt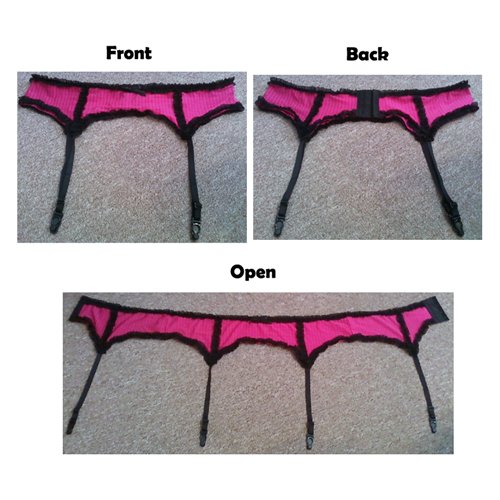 Thong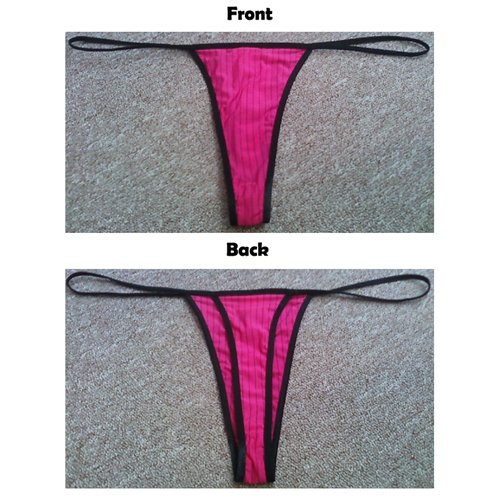 This product was provided free of charge to the reviewer. This review is in compliance with the FTC guidelines.

Thank you for viewing
Fuchsia stocks and bondage bustier set
review page!