Yays for non-itchy lace, nays for misleading pictures!
This bodystocking can be a great addition to someone's collection as well as a nice introduction to such kind of hosiery. It's probably way too revealing to combine with other clothing and wear out, but works great for the bedroom. You can actually spend long hours in it, because it won't make you itch or cause any other discomfort.
Published:
Pros:
* comfortable, non-itchy lace!
* convenient open crotch
* nice gift
Cons:
* one size
* cheap rhinestone buckle
* different from the pic
Overview
: meet your new hosiery garment
Bodystockings are one-piece garments that normally extend from neck to toes and come in a variety of styles, colors, with different types of necklines, sleeve designs and trimmings. Lace Floral Deep-V Front Bodystocking by Fantasy Lingerie is a part of its Desire Hosiery collection and I received it as a lovely gift from my Secret Santa on
Eden Fantasys
. Please note that in this review I'm describing a
One Size
garment.
Material and care
: non-itchy lace exists!
This super sexy bodystocking is made of sheer black lace, but the pattern is not really what I had expected. It is more abstract than floral, but you can actually see small flowers and leaf-like figures there. A close-up of my thighs is in the picture below.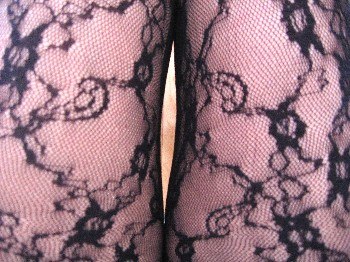 The material is 100%
nylon
, exclusive of decorations. It's very stretchy and surprisingly soft (something that you don't normally expect from lace). Nylon hosiery should be handled with extra care. According to the tags, this bodystocking is allowed to be machine-washed at a gentle setting. Do not twist or wring it and better leave it to dry on its own. Also, remember that darks should be washed separately.
Design and construction
: product pictures lie!
As any other bodystockings, this one extends from neck to toes and I had expected it to cover most of my torso except for the bust line. However, neither
product page
pictures nor product's package package was right about the construction. They featured a regular top, not a halter-style. Here is how it was pictured: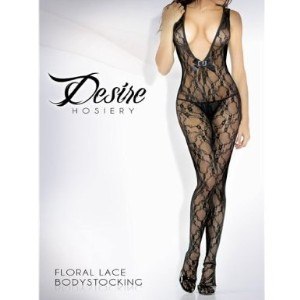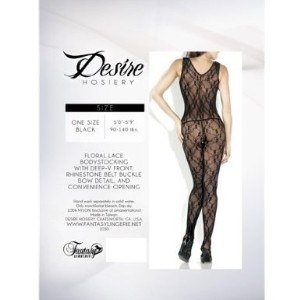 And that's how it actually looks: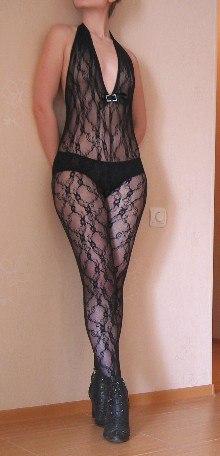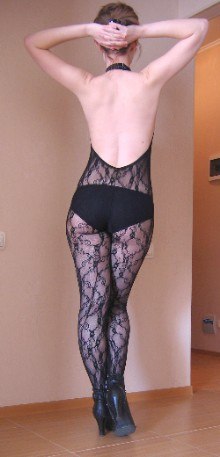 The
top portion
is sleeveless and halter-style and it goes behind your neck. There are no ties, though, which means no possibility for adjustment. There is a thick seam where two "straps" meet and form that "loop", with two tags attached. You can't remove those tags completely as they are sewn into the seam, but you can cut them to make less noticeable.
Deep v-neck cut is decorated with a lace 5" bow and a rhinestone buckle in a center of it. The whole construction looks a bit cheap and I would rather remove it, but it is, unfortunately, glued to the fabric. I'm too scared to end up with uncovered glue-stained front to actually do anything with it. Each "strap" that comes all the way up to cover the breasts measures 12.5" unstretched and approximately 21.5" when stretched to the limit. They narrow down as they go towards your neck. All edges are finished with a half-inch elastic band.
From the bow down to the crotch opening, it measures 10.3" unstretched. The opening itself is well-positioned and conveniently large, measuring about 5" in diameter. It has some weird seam endings, though, and I would really prefer them not to be there. As for the
bottom portion
, it measures 37.8" inseam unstretched and 57.9" stretched to its limit.
I wouldn't worry much about the width as this garment is very stretchy, but anyway: top portion is 12.5" across (not around!) when laid flat and unstretched; thighs - 6.7" each; ankles - 3.9" each. All these numbers double with stretching.
Sizing and fit
: one size never fits all
This Lace Floral Bodystocking is available in One size and Plus size. Here is the company's hosiery size chart: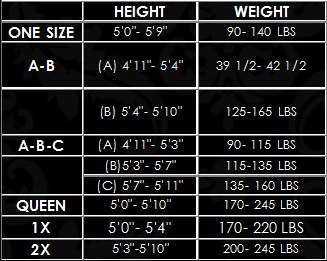 Short info on
product page
doesn't specify "Plus size" and - as you can see - there are several of them. For this bodystocking you should look at "Queen".
I am 5'6" (168 cm) and weight around 125 lbs (57 kg), so I got it in One Size, which is supposed to fit anyone from 90 to 140 lbs and from 5'0" to 5'9". Strangely, even though One Size ends at 140 lbs, Queen Size starts with 170. As this bodystocking is very stretchy, I assume that OS can actually fit up to 160 lbs.
I have put on some weight recently, so my measurements here might differ from those listed in my earlier reviews: 37" hips, 25.5" waist, 27.5" underbust, 31" bust and A cup. This bodystocking fits me just fine and there's actually plenty of room left. However, I'm afraid that just as any other One Size, this one won't fit everyone equally well. It doesn't stretch in height as good as in width (especially the top), so those higher than 5'7" might experience some discomfort. Shorter individuals or those with thinner legs and ankles, on contrary, might find it a little bit baggy.
I guess, the best fit would be 5'5"-5'7" and 120-140 lbs.
Experience
Accessory and style suggestions
: mix and match
What I really love about bodystockings is that, apart from being a bedroom accessory, they can be actually worn outside of the house. And not just can they stay hidden under your clothes as a sexy surprise, but also act as a self-sufficient garment.
Bodystockings are absolutely great for layering or additional warmth during cold seasons: you can wear them with a skirt or trousers, under a dress, or combine it with a solid tube top, knit top, sweater or anything else, really. Here are some inspirational pictures that I've found on the Net: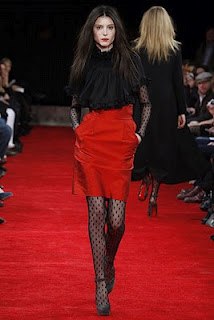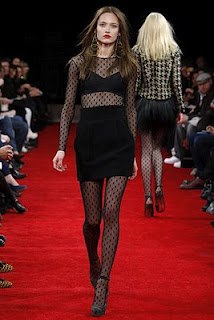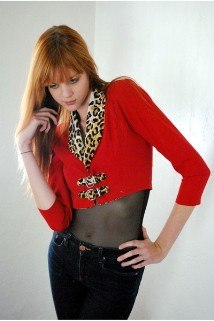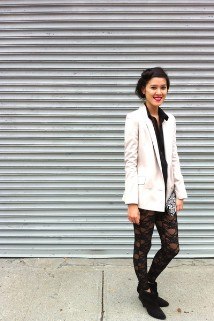 Lace Floral Deep-V Front Bodystocking by Fantasy Lingerie is a bit too revealing to be worn out and, turns out, halter style is not the most functional one. But it actually still can be used as outerwear with the right clothing. I figured out at least one outfit to work with it: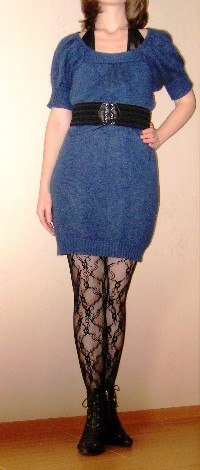 I'm wearing it under a knit dress which is a bit see-through if examined closely, so one additional layer underneath is quite nice.
As for wearing it in bedroom, it's much more easier to find matching accessories. G-strings, hipsters or crotchless panties - anything will go depending on a desired look. You can also combine it with a tutu like
this
, place some
pasties
underneath or come up with some other ideas.
Conclusion
: worth trying
This is a really cool and comfy bodystocking. I love to wear it: it doesn't itch, it hugs my body nicely and, having A-cups, I can even wear it without a bra. However, I would love to be able to wear it out more and with its deep v-neck, open back and halter top my options are limited. I think, I should have chosen something like
this
, or
this
, or even
this one
.
Anyway, Lace Floral Deep-V Front Bodystocking by Fantasy Lingerie is good enough for giving it 4 out of 5 stars.
This content is the opinion of the submitting contributor and is not endorsed by EdenFantasys.com

Thank you for viewing
Lace floral deep-v front bodystocking with rhinestone
– teddy and stockings set review page!