Yeahhh... I won't be romping around anytime soon in this...
If you plan to get feisty in this Broadway romper I would recommend you be a smaller gal, in both the breasts and hips, but if so, then I do not recommend you do anything but just stand there and try to look pretty. For you smaller sized girls, I know you would have no issues romping away on Broadway in this little getup.
Published:
Pros:
Great for taking exotic pictures, Beautiful color, Comfortable fabric
Cons:
No breast support, causes camel toe, breasts fall out bottom, Not meant for big breasted girls
When I first received this package I was excited to rip it open and try it on, thinking, "Yay, another sexy outfit to add to my growing collection." At the same time, I was a little fearful of what it would look like on me, being a larger woman. Well after reading below and seeing the pictures, you will see there are positive and negative points with this outfit and being a larger woman.
To begin, the packaging is not discreet at all, with a few different views of women wearing the product on both front and back of the packaging.
Style-
Bottom style: Panty
Lingerie closure: Ties
Pattern: Solid
Top style: Halter
Lingerie special features: No underwire
Material: Polyester / Spandex
Weight: 0.2 lb.
Components-
*Polyester is a category of polymers, or, more specifically condensation polymers, which contain the ester functional group in their main chain. Usually, polyester refers to cloth woven from polyester fiber.
*Spandex is a synthetic fiber known for its exceptional elasticity (stretch ability).
Properties-
*Polyester is the material that has low absorbency. It is combustible but due to its thermoplastic nature, it tends to shrink away from the flame source and often self-extinguishes.
*Spandex is very strong and durable material, able to be stretched repetitively and still recover original length. It is resistant to body oils, perspiration, lotions, and detergents with no static or pilling problems.
Hygiene And Maintenance-
*Polyester may be hand-washed in tepid water with the addition of gentle detergent. It can be ironed at low temperatures, stands up to abrasion and wears well.
*Spandex cannot stand high temperatures so never soak, boil or bleach this material. Wash in tepid water and allow drying in an airy place.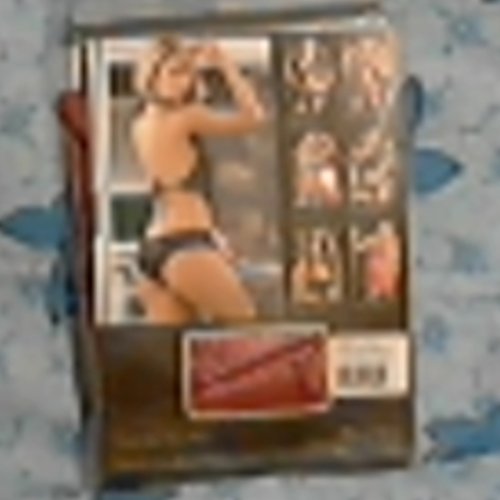 Espiral lingerie
Bust (in) / Waist (in) / Hip (in)
Small 34 / 25 / 34
Medium 36 / 27 / 36
Large 38 / 29 / 38
XLarge 40 / 31 / 40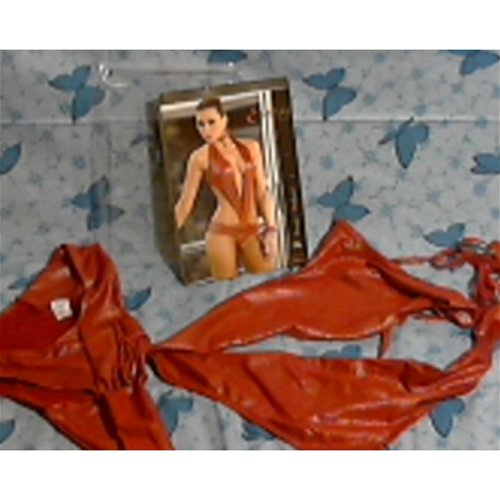 After taking all the needed pictures of the packaging and opening it, I will admit that it was a little confusing at first. The panties portion was easy to figure out, but I raised my brow in wonder once it came to tying up my breasts. Well, I fought to tie it up and keep my breasts from falling out, which itself was a job. Once I had it tied up, I had to fight with the fact that there was no breast support whatsoever, but it did seem to do ok on my ass. With every move, whether it be small or large my breasts kept slipping out the bottom/sides of the outfit, not forgetting to mention, my nipples as well. It had not much vaginal lip coverage whatsoever so I had to be careful on how I moved while taking pictures to make sure there were no accidental pussy shots.
Taking the pictures you see was harder than I ever thought it would be. I took a few shots while wearing it in its specified manner, as seen on the front of the package, and then I fiddled around with it a little hoping to figure out a way to add extra support to my rather large breasts. I did find a way to make it work by crossing the outfit right at the neckline, but it didn't add as much support as I needed, unfortunately.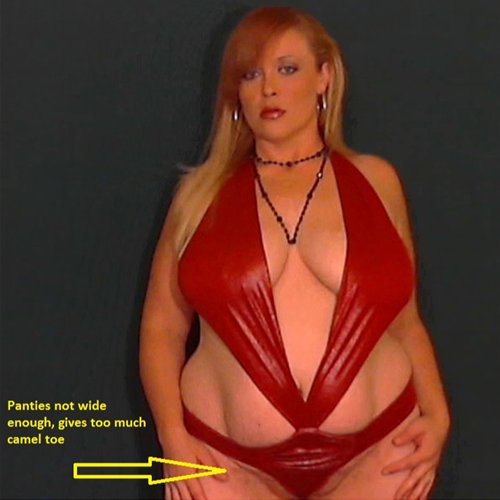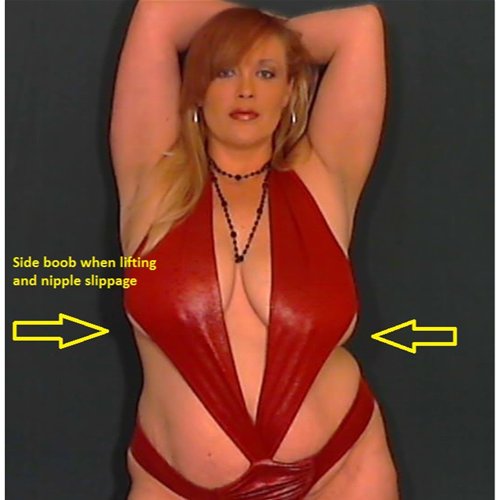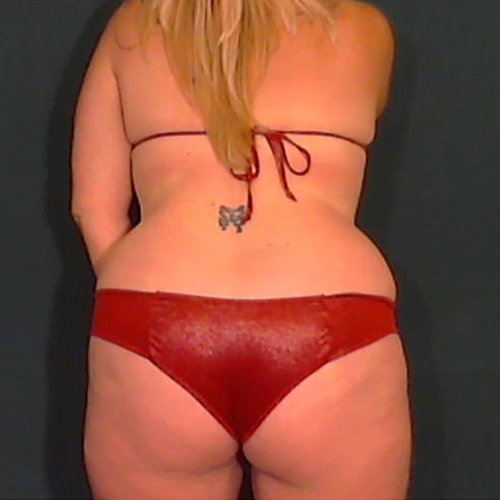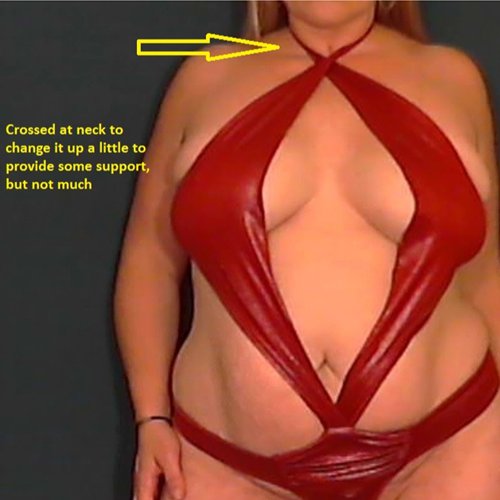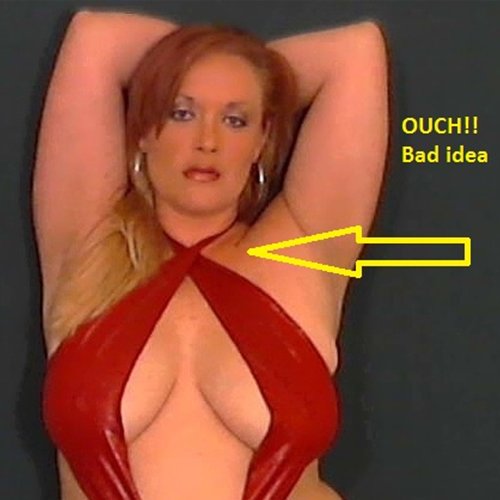 If I can find a way to alter the product to work with me then maybe I would use it. But with all these pictures, and with how much I had to fight to get the product to look not so sloppy on me, with the way the product is, and without altering it, I will not be using this product again, or until I lose a little weight and get a boob lift.
For all of you who are wondering just so you can have an idea on whether it will fit you or not, I ordered the XL Red Broadway romper. I am currently 210 lbs. and I stand 5' 6" with a bra size of 36 DDD. So if you are smaller than I am then you should have a better chance of it working for you.
Follow-up commentary
2 months after original review
If I hadn't already worn this, I would have sent it back so someone else with much smaller ta-tas than mine could get some use out of it. But unfortunately that is not the case and it is still hanging in my closet, collecting dust. I am in the process of trying to look into altering it somehow but I haven't had the chance recently. If and when I do, I will find a way to post pictures on here for all of you larger-breasted women out there so that you can also enjoy romping around in the bedroom without fuss--unless of course you like to show how saggy your ta-tas are. If so, then go for broke and get yourself one of these.
This product was provided free of charge to the reviewer. This review is in compliance with the FTC guidelines.

Thank you for viewing
Red broadway romper
– teddy review page!