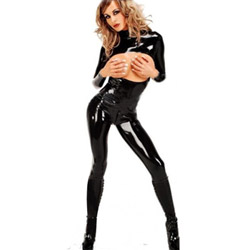 Cat suit
Bodystockings by Charm Wear
Yes, Mistress. How may I please you?
Are you looking for an outfit that lets you express your inner dominatrix? This costume is bound to take your fantasy to reality. This open breasted catsuit lets you tease your partner, and the crotch zipper is made for easy access. This tight suit flatters your curves and lets you look absolutely stunning. It is simple to put on, a unique design and, it is very sexy. It works out well for a hot night of BDSM domination.
Published:
Pros:
Sexy, BDSM themed, crotch zipper, tight neckpiece
Cons:
Tight neck piece, slightly too tight for comfortable seating
Packaging:
This catsuit arrives in a plain cardboard box with your name and address and WEB MERCHANT INC. with the company's address. Inside the box are two little air-pillow which prevent the product from shifting while in transit. The product itself is inside a clear plastic bag.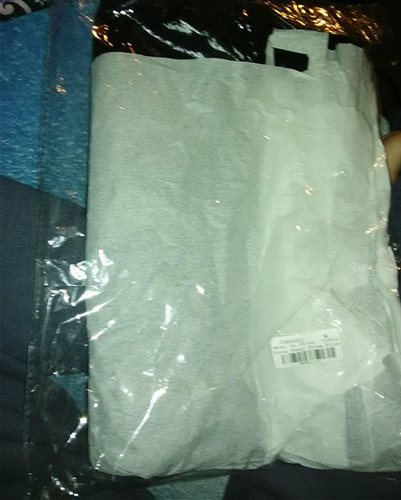 suit in bag
Out of bag impression:
When opening the bag, there was a smooth faux leather-like material to it. The smoothness was exciting and is the perfect idea for someone interested in having a BDSM outfit. When it was entirely pulled out the first thing that was noticeable was the open breast feature. The open breast design would allow you to show some sexiness off and get a nice tease out of it. When turning the costume over, there are two different zippers. One is for the back of the suit, and the other is for the crotch area. These two are connected. However, You can have the back zipped all the way up and then up un-zipping the crotch area if you want to have sex or be eaten out.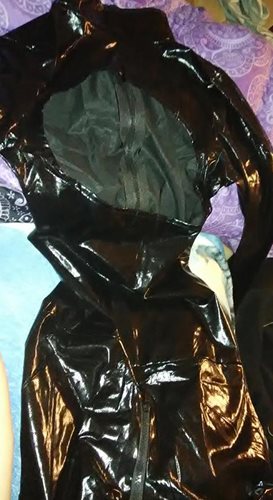 costume laid out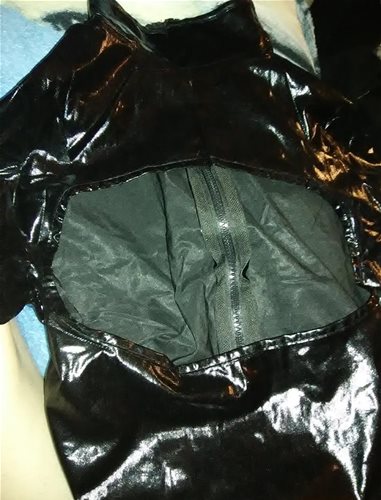 Open breast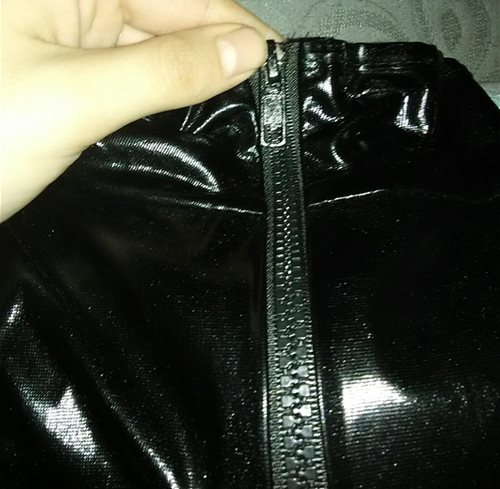 Back zipper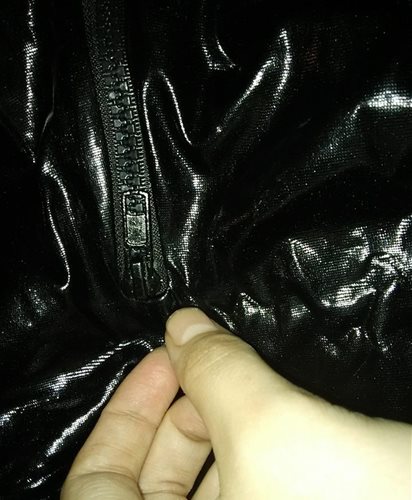 Crotch zipper
Trying it on:
Trying it on may require a second person to zip you all the way up. It was simple to put on and didn't take much to figure out which direction each part went. You pulled them on as you would pants and place your arms through the long sleeves.Then pull the zipper up.The breast feature allows you to slide into it very comfortably.Once you get your arms, legs, and breast into their proper compartments, you can pull the zipper all the way to the top. The neck piece you have to pull it out a bit to ensure that all of it is there and hasn't rolled inwards.The neck portion may be slightly tight for some to fix this don't zip it all the way up.
Sitting, standing or laying:
This catsuit is very tight. The most comfortable I have found in this outfit is standing. You can sit or even lay down in it, though it might put more pressure on your neck. For those who enjoy the neck pressure than it works out well for any placement.
Care for this product:
This product is made up of Polyester and spandex which means you need to wash it out by hand in either luke warm or cold water with a mild detergent.Make sure you clean the crotch zipper well after use if any bodily fluids got on them. After this product is clean, You can grab a hanger and hang it out to dry. Do not bleach, wash them in a washing machine or throw them in a dryer. These actions will damage your lingerie and may make you have to throw it in the trash.
Some ways to use this product:
Eating out session: Suprise your partner/submissive with this sexy outfit and have them please you as you tease them. Walking in after a long day at work your partner would love to see this sexy outfit on you. You can lure them in for a little teasing with your beast hanging out or stroke your finger over the zipper to captive their taste buds.
Dominatrix Roleplay:
In a BDSM session surprising your submissive with this cute little outfit will excite them. If you want to have them eat you for a scene, you pull down the zipper and when they misbehave pulling the zipper back up.You can use this costume to get in sync with your inner mistress.You can use this costume as you roleplay as a dominatrix and get kinky with it. That would be bound for a night of fun.
Submissive Roleplay:
You can use this as a submissive roleplay to please your dominant. As your master/mistress walk into the dungeon, you could be sitting waiting for them to direct you. As you are given different orders, the costume would make it possible to follow through most sexiness way possible. They would enjoy seeing your exposed breast and being able to tease different areas without having to remove the costume.
Follow-up commentary
21 months after original review
I have gained a little weight since I originally got this costume. The material doesn't like to stretch, which can be a downside. It is very tight and can be hard to get into.
This product was provided free of charge to the reviewer. This review is in compliance with the FTC guidelines.

Thank you for viewing
Cat suit
– bodystockings review page!