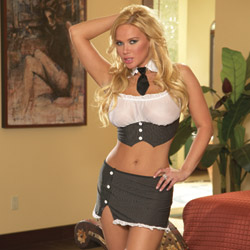 Office tramp
Costume
by DreamGirl
You Could Be an Office Tramp, a Sexy Secretary, or Even a Naughty Librarian!
This item was definitely worth the time and I found it to be exciting. When I got my outfit nothing was wrong. Sometimes you'll receive an item with threads hanging or buttons falling off or maybe even some snags but mine didn't. I was very pleased! I absolutely adore this item.
Published:
Pros:
Great fit, sexy, cheap (if you buy it), four pieces, and could be used as a few different costumes!
Cons:
Honestly I had no complaints with this item.
When I saw the Office tramp outfit I fell in love with it. It's just so cute! The outfit comes in sizes one fits most and XL. I'm a bigger girl so I decided to go with the XL size to insure comfort and correct fit as for my top half is smaller than my bottom. I bought some fake glasses to go along with the outfit and I thought it brought it together very well; I was going for more of a librarian than an office worker though. I honestly had no issues with the outfit, everything was very well in tact and attached.
The outfit includes: a top, skirt, collar with attached necktie and matching thong. The necktie is made of 100% polyester. As for everything else, they are made of 95% polyester and 5% spandex. The outfit is black with white pin stripes and some layers of ruffles in some areas.
Details of color and measurements on the outfit are as follows:
Collar/Necktie
The collar is white and has a circumference of 18 inches. The attached necktie is black and is 6 ½ inches in length. So not very long and in the way of your breasts! Also the necktie connects with a Velcro strap in the back.
Top
The top has what they call spaghetti straps and is white ruffles until right under your breasts and is somewhat see through depending on the lighting. From underneath your breasts to the bottom of the top is black and white pin striped with three cute and well-attached buttons. The back of the top is all black and white pin striped. Shoulder strap length is 13 inches; width above chest is 15 ½ inches, underneath the ruffles measures about 16 ½ inches. The length of ruffles is 4 ½ inches, under the ruffles measures 3 inches, the entire top in the front is 7 ½ inches long and the back is just less than 6 ½ inches long.
Skirt
The front of the skirt is mostly black and white pin striped. On the right side of the skirt it has three buttons (matching the tops buttons) and underneath the buttons is a slit that's about 4 ½ inches long. On the left side about midway down there's layers of white ruffles and the bottom of the skirt is laced with the same white ruffles. The back of the skirt is black and white pin striped and about 2 inches from the top of the skirt to the bottom are layers of white ruffles semi see through. The length of the skirt is 12 inches, the waistband of the skirt is 16 inches and stretched out as much as it could be is 29 inches.
Thong
The thong is black and white pin striped and has an all black liner as all panties do. The waistband on the thong is 14 ½ inches and stretched to the max is 28 inches. The front of the thong is 5 ½ inches wide and the back is a little more than 2 ½ inches wide.
I'm 5'5 ½ and currently about 223lbs (also 39 weeks pregnant) this outfit fit me great in length and in width. It stretched around my baby bump very well. My bust size is a 42D and my breasts had plenty of room to breathe and the cut of the top was perfect, I did wear a strapless bra with the outfit just to pump up my cleavage. The skirt was perfect it wasn't very clingy or tight and ended right above my bum revealing the very bottom of my bum that I liked because it was more of a tease. My neck only measures at 15 inches in circumference and the necktie is 18 inches so I had plenty of room and I love the length of the necktie because it ended just above my breasts and complimented them very nice! As for the thong, it fit great it was a little long for my area but may not be for others. I also cut the tags off because I just hate the feelings of a tag rubbing against me anywhere!
You should hand wash this item in cold water with mild soap and then line dry (or you could hang it on your shower curtain as I did, seeing how I don't have a clothes line). The material should most definitely not be machine washed or dried as for the material may not hold up and could possibly shrink.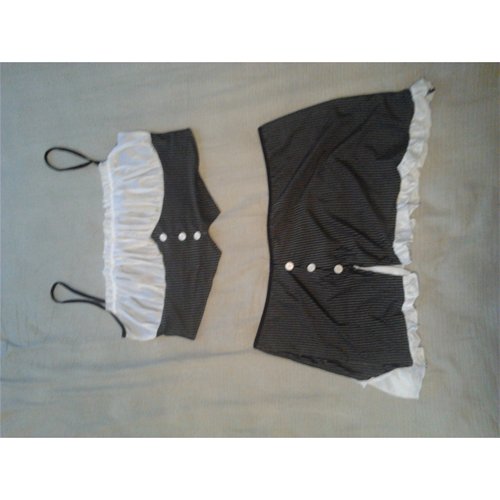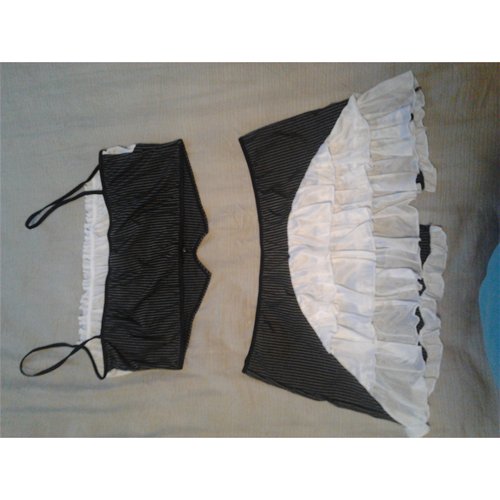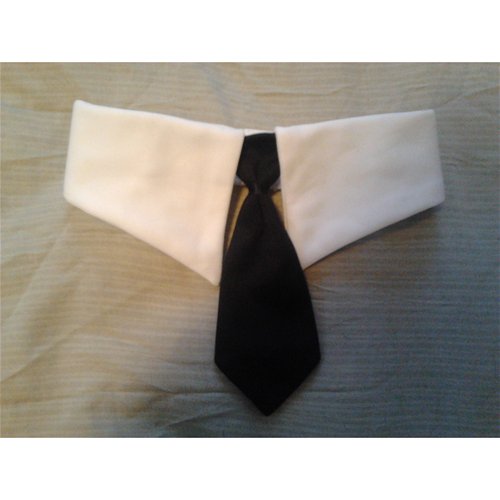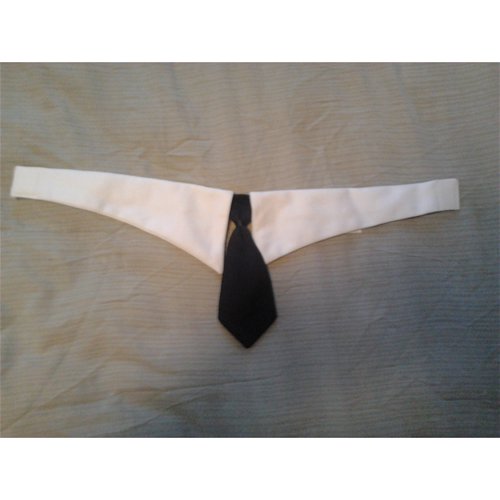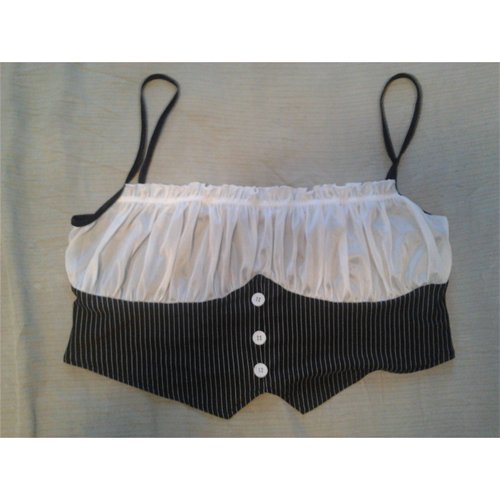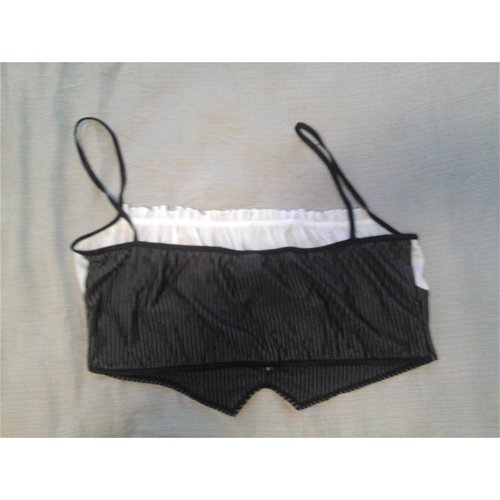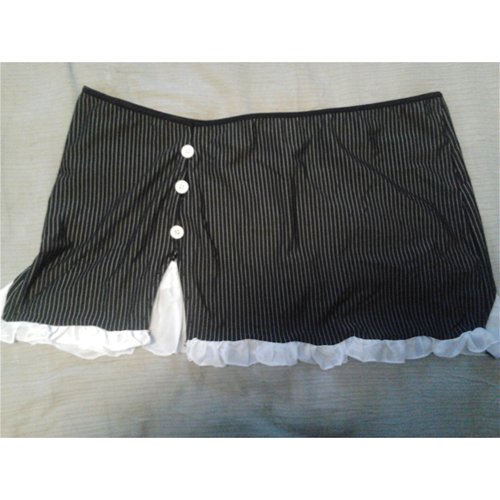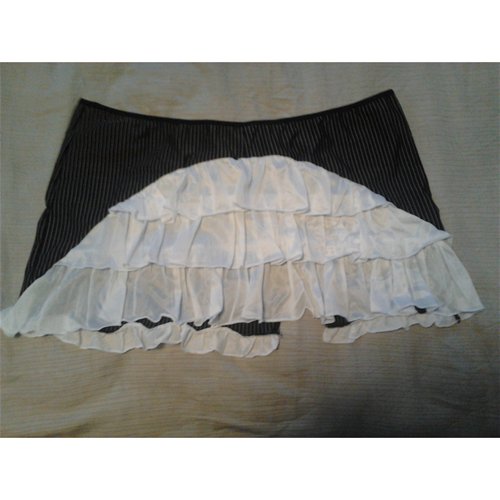 Experience
I had a great experience with this item. I was very pleased with the material and the fact that everything was in tact. This outfit fit perfect and made me feel very sexy. Like I stated I bought fake glasses to go with the item and I also wore white thigh highs and heels just to be more into the actual role playing. I must say the hubby loved it!
Follow-up commentary
2 months after original review
I have absolutely loved this from day one. It is so comfortable and sexy! Plus it couldn't get old; there's many different roles to play with this one. It's completely one of my favorite pieces.
This product was provided free of charge to the reviewer. This review is in compliance with the FTC guidelines.
Thank you for viewing
Office tramp
– costume review page!