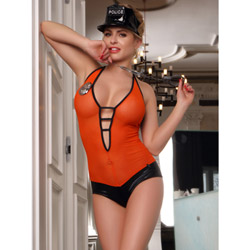 Sexy officer
Costume
by Spice Lingerie
You have the right to remain sexy!
I loved role playing with my man in this outfit. It gave me a confidence that I didn't know I had. This 'one size fits most' outfit definitely worked well for me. I'd recommend being confident and giving it a try, because why not?
Published:
Pros:
Quality material, comfortable, sexy, well fitting
Cons:
Tight-fitting material that makes up the back-side.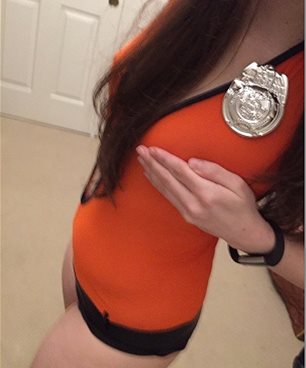 I absolutely adore this 'one size fits most' outfit! Although, I am curvy in my backside area and was initially worried about this outfit fitting me properly in that area, I was happily surprised to find that it provided me with a perfect cheeky style fit. The color of this outfit is absolutely true to the original photo as well as the ones I have provided. I love the bright orange hue of the top part of this outfit. Although the orange parts of the outfit are sheer and see-through, the color remains bright even against my skin.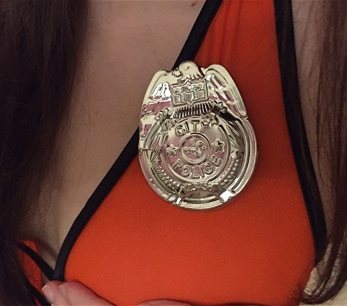 Even though this badge is very light-weight, it does not look cheap, and although I tried to bend it for reviewing purposes, I was not able to. The badge did not bend out of place or lose its shape. I think this is important to consider, especially if someone larger is going to be on top of you in bed. When I used this outfit for my man, I had the badge pinned as shown in the photo and was happy not to experience any uncomfortable poking during our love making. This I considered being another big plus for this particular piece.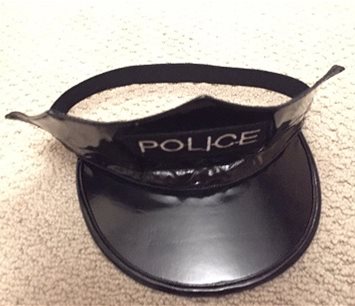 The hat is extremely comfortable and would fit both large and small heads alike. I love that this hat is open at the top and is worn as a headband. I did not have any issues with it sliding around or falling off during my bedroom activities. The front material of this hat is the same as the material around the body-suits back side and gives it a nice shiny, wet look that I love. And although the material that makes up the back-side of this outfit is a bit tight fitting, I was able to keep it on during play time by pulling the bottom part to the side for penetration.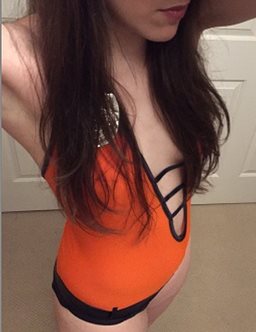 I was originally concerned about the front of this body-suit not covering my breasts properly due to being an A-cup. It was a pleasant surprise that even though my breasts are on the small size, there was no extra material bulging in odd places as I've experienced with other sheer nylon outfits. Due to the stretch that this material provides, I don't think anyone with larger breasts would have an issue with coverage either. The halter fit of this outfit allows for adjustments so that you can be sure it fits you properly. The halter is a self-tying style which I feel is better than clasps because it gives you the ability to make this outfit work for your body.
*Cleaning
I did hand-wash this outfit because of the materials used, and I would recommend you do the same as per the washing guidelines.
Experience
All in all, my man and I had a great experience while I wore this outfit and it provided us with a great fantasy play scenario. Just wearing this outfit got me in the perfect mood to try out a new role I wasn't used to. I'd definitely recommend this piece to anyone who wants to spice up the bedroom or try something new.
This product was provided free of charge to the reviewer. This review is in compliance with the FTC guidelines.

Thank you for viewing
Sexy officer
– costume review page!