Zig-zag sexy!
I loved every second I have this on. It's beautiful and I feel like a whole new kind of sexy in this. It's a simple, quick way to add some serious boom to your sexy curves without the hassle of garters, eye hooks and the like. Slip into it for a sexy nigth with a partner or wear it under clothing for some funky legs! Either way, I could live in this thing! Will buy again!
Published:
Pros:
Funky zi-zag design.
Gorgeous fit.
Comfortable.
Easy.
Cons:
Top doesn't cover. Adjustable straps would help this.
I love wearing funky leggings and body stockings are always a favorite of mine so when I saw the Zig-Zag Body Stocking it really snatched my attention. I love the unique zig-zag design and bought this for two reasons. 1. to wear under my dresses and 2. because I love the look of a body stocking with a unique pattern for bedroom fun. This goes on the body similar to putting on panty hose but it's a one piece that covers the entire body. It is easy to get in and out of.
The body stocking is available in both the one size fits all and the plus size. I went for the one size fits all as that usually fits well. The Zig-Zag Stocking seems a little longer than my others so it sort of wrinkles at my thighs, but overall it's a great fit. It has plenty of stretch to it. I would guess that the one size fits most will fit up to a medium. I'm a size 0 with a 34B chest, although one is a cup size larger causing some sag in the chest.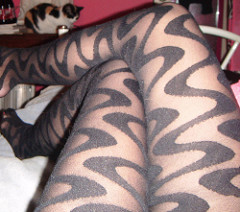 (Yes, my kitty Patsie is in the background.)
This has straps that slip over each shoulder like a cami. It's very comfortable and the straps are stretchy. The pattern is zig-zagged as the pictures show, the zig-zags run side ways throughout the entire stocking (front to back.) There is a seam that runs up the center of the front and the back. The back seam is annoying to me because it seems it's always off from my butt crack and to me, look funny that way. It isn't a big deal, but worth noting. This has no underwire or support and the straps aren't adjustable.
The Nylon material has a lot of give like most body stockings. It's soft and so comfortable! It is sligtly warm like panty hose are. My other body stocking is thicker and much warmer than this though. I find most body stockings to be very comfortable and most are flattering to my body type (to me, anyways) and this sexy zig-zagged little thing is no exception. It is crotchless and that part seems slightly tight around my crotch, but not uncomfortably so. The other stockings I have have a large crotch hole that extends all the way to my butt crack where this one doesn't. You can't tell it's crotchless until You see the front or I bend over.
The one size fits most is a perfect fit for me. The little bit of bunching due to the length and my 5 2" size, means this will be able to accomadate a few different sizes.
Measurements taken with stocking laid on the bed
Straps measure 15 inches long. They are thin (less than an inch wide) and too long for me, leaving my hoo-has exposed. This can be fixed in seconds with a sewing machine (or needle) and black thread. The plunging neckline is low. There's very little chest coverage!
Length: 20 inches long from top to hip. It will conform to the body.
Legs are 31 1/2 inches long. These will stretch at least up to a 5 2" tall. I'm really unsure as to whether or not it will stretch to accomadate someone 6 foot or taller. It would be a close fit.
Chest: 10 inches wide. Will stretch to fit a B and possibly a C. Like I said, I'm a 34 B and an A on one side. It will fit an A well and a B well. It's very low cut and it leaves my hoo-ha's exposed unless I'm tugging to pull it up. Any higher than a C and I highly doubt that it will hold up. A strapless black bra can be worn underneath to add support without standing out too much.
The sizing is correct for me, with a little more room for longer legs, but this won't fit any larger than a C and that is stretching it.
The crotch hole is 5 inches wide, unstretched and reveals my entire front top to beginning of booty.
Waist measures the same as the rest, 10 inches wide. Remember, this does stretch! It has more stretch than panty hose.
This is safe for machine washing! (The tag says so, anyways). If you do machine wash this, it should be done on a gentle cycle with warm water. Tumble dry low. I don't usually machine wash my stockings, but will probably use it on delicate for this one. It will dry much quicker than clothing like jeans so it's best to check it ever so often until it's dry. Do not twist or wring!
Experience
CONTINUED...
Body stockings can last for a long time if cared for properly. Although these are far more durable than panty hose and won't run as quickly, they should be treated as a delicate piece. Too much rough tugging or play can cause tears, but I've never had it happen. As long as you're easy getting in and out of it, store and wash it carefully, it will last. I've had one stocking for a good 8 months with no signs of wear and tear. I do recommend storing the Zig-Zag stocking away from pet hair because strangely enough, it picks it up! I ended up with a hairy zig-zagged body! A lint roller or clear tape will take care of that.

EXPERIENCE:
I was on the hunt for a sexy body stocking with a totally unique pattern for both bedroom purposes and to wear under my dresses. This design fit my style perfectly. I had made plans for my partner tomorrow night and thought this would work well for a surprise then too. This plus silk bondage rope, masks... It arrived and I tried it on and as I pulled it past my thighs my partner busted in! I had to slap a hand over his eyes so it'd still be a surprise! Body stockings are so flattering to most all figures. I did wonder if the zig-zag design would enhance curves and make me appear wider, but it really looks great! To me it does.

The fit is right on with a little extra room in the legs. The crotch hole provides the perfect amount of peek for surprise. I have to say, I am loving this better than my old trusty lace up body stocking! It conforms gently over curves while still managing to give a slim effect. I think it's completely stunning!

For those of you who want a male's opinion: Although my partner hasn't seen it full on my body, he begged me to let him see! He's been asking all day why I didn't wear it. Hee Hee! He loves the body stockings! I think he'll end up liking this one even better than my others. I will update when I get his full opinion.

Although I found the straps too long, causing my entire pepperonis to show, it isn't something I consider star-knocking material.
This content is the opinion of the submitting contributor and is not endorsed by EdenFantasys.com

Thank you for viewing
Zig zag print bodystocking
– bodystockings review page!