12 pack of juice for only $8.00, not bad at all.
This 12 pack is great for on the go, if your about to go on a trip and wanna little play time, remember to grab a pack of Economy batteries.
Published:
Pros:
Nice price, travel friendly, easy to store
Cons:
None
Economy 12 Pack Batteries by Evolved Novelties. Alkaline Batteries; LR44 / AG13 / A76. These batteries are Mercury Free and Cadmium Free. As well as 1.5 Volts. These batteries don't just have to help your toys running, they can also be used for everyday home things as needed. These do come in handy if you ever need to take a trip and want to grab a little fun with you. The Zero Tolerance Crossbones also come in LR44 batteries 6-pack for $5.00.
Zero Tolerance
Crossbones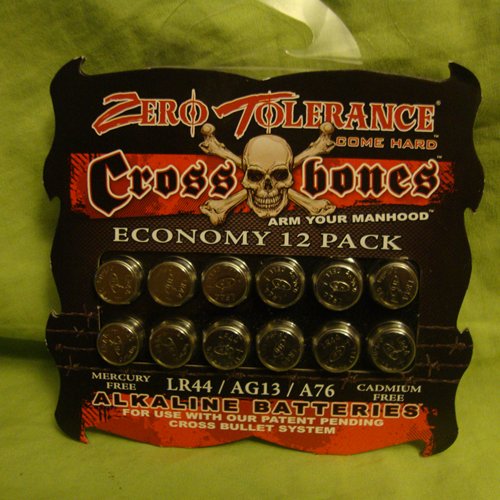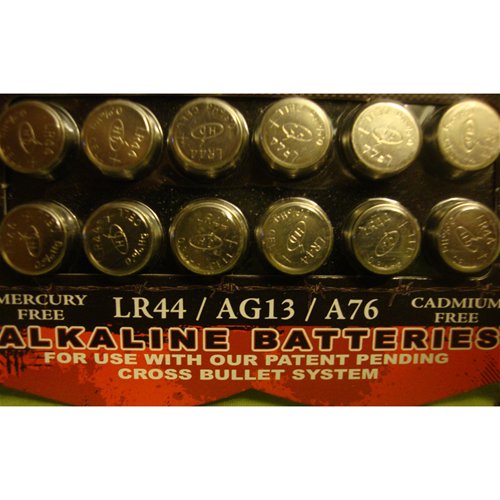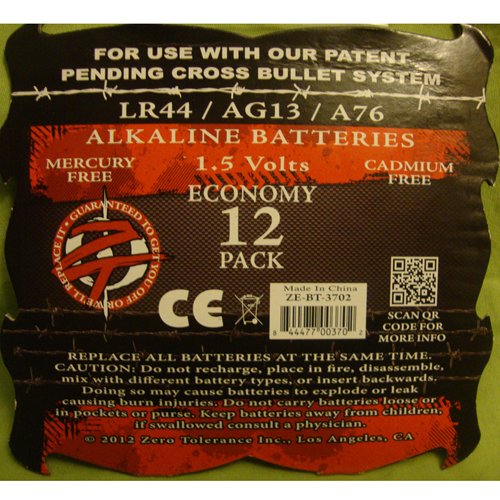 Properties
Color: Silver
Length: 11 1/2"
Weight: 1 oz
Back
Replace all batteries at the same time.
Caution: Do not recharge, place in fire, disassemble, mix with different battery types, or isert backwards.
Doing so may cause batteries to explode or leak causing burn injuries. Do not carry batteries loose or in pockets or purse. Keep batteries away from children, if swallowed consult s physician.
These batteries are really strong and powerful. They are also pretty decently priced. Plus, why go looking for batteries for your toys when Eden has them right here for you. Which is a big help since most of Edens toys do requires such batteries.
You may find many uses for these types of batteries besides the already mentioned bullets and watches, for example---Children toys, MP3 players, blood glucose/cholesterol testing meters, electronic games/instruments, some PDA's, cameras, clocks and many other electronic products. Personally I use them specifically for my vibrating bullets that require this type of battery. These batteries from Evolved Novelties seem fairly standard compared to name brand equivalent such as Duracell and Energizer. These batteries seem powerful enough to get the job done without dying out on you too fast. There are some things to take into consideration however when it comes to batteries and how long they last. Certain products, let's say bullets may have stronger motors than others, so what happens in many cases is they perform differently in different bullets. An efficient motor inside a quality bullet may offer more battery life, while a cheap "Made in China" motor may suck all the juice out quickly. The Double Decker Ring that I own specifies that each bullet will have around 90 minutes of use before the batteries go dead. The batteries that came with the bullets lasted I believe 80 or so minutes. Using the Evolved Novelties batteries I was able to squeeze around 90 to 100 minutes out of them. When it comes to sex toys, every extra minute counts in my opinion.
Follow-up commentary
3 days after original review
I still have half of the pack of 12 batteries left. I've also had the same pack for about 6-8 months.
This content is the opinion of the submitting contributor and is not endorsed by EdenFantasys.com

Thank you for viewing
LR44 batteries 12 pack
review page!