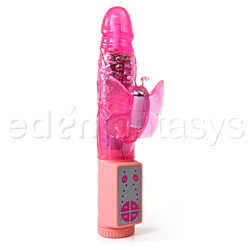 Fluttering butterfly
Rabbit vibrator
by Nasstoys
a dual action vibe for anyone who enjoys variety but especially those with hard to reach clitorises
With a plethora of intensity settings and vibration and rotation patterns, the Fluttering Butterfly can provide pleasure for most moods. The clitoral vibe's large butterfly wings allow it to hit higher placed or enlarged clits, making this a great dual action vibe for those who have previously been disappointed by this style.
Published:
Pros:
Hits hard to reach clitorises, many settings, relatively quiet, large enough for most size queens.
Cons:
Not low enough clit vibe settings, cannot be sterilized, no quick off switch.
The
Fluttering Butterfly|Fluttering butterfly
has been a pleasant surprise, assuaging my previous fears that a dual action vibe would never work for me. Between a naturally high-placed clitoris and the enlargement due to testosterone injections for years, the clitoral stimulators on dual action vibes rarely hit my clitoris directly enough to make me come. Enter Fluttering Butterfly's massive wings and bullet vibe with an adjustable neck, though, and I found a happy ending.
The clitoral stimulator comes with four settings, which range from somewhat intense to very intense. Though this is really nice for those who love strong vibration, it might be a little much to start with for those who are more sensitive, especially given that the vibe is being directly applied to the clitoris once the shaft of the toy is in. Perhaps starting with another, less intense vibe would help for those folks. The bullet also can be adjusted in any of eight patterns of vibration. Those are the standard set of clitoral vibration patterns, from a consistent vibration to patterns of short, short, long vibrations to alternating strong and weaker vibrations. I really enjoyed one vibration pattern in which it vibrated in a staccato pattern. One problem here is that once you pass on from a vibration style, you have to cycle back through the entire eight (or turn off the toy and start from the first one again) in order to get back to it.
As I said earlier, the bullet vibe is part of a neck extending from the shaft which can be bent easily while you use the
Fluttering Butterfly
to better hit your clit, wherever it might be. In addition, the butterfly's wings vibrate, as do little antennae, though I can't say I really felt the antennae vibrating.
The rotating beads also come with four intensity (in this case, speed) settings and six rotation styles. The most important factor here was that the beads could rotate either left or right. Although, when they were moving in a single direction, I couldn't feel a distinct difference in those two (once the initial moment of new direction had passed), I did really enjoy the sensation of the rotation pattern in which they switched direction periodically. The six patterns essentially involve the rotation going in each direction in different proportions: everything from all one direction to equal rotations alternating direction to going left for a second and then right for three (and the opposite).
This is one of those toys where lube and a condom make all the difference. It's big. I happen to like big toys since I enjoy the feeling of fullness they provide but I also am well aware of the less than wonderful feeling of a toy your vagina isn't quite ready for. Lube is great, as is taking your time relaxing those muscles with a smaller dildo. The Fluttering Butterfly is waterproof (hooray for shower fun!) so you'll want to use a silicone based lube with it. Also, use a condom. Jelly is incredibly absorbent and, whether or not you want to share the toy, you should keep it as dry as possible. With respect to sharing, this isn't a toy that you should be sharing with anyone you aren't comfortable sharing bodily fluids: although a condom can keep the shaft clean, the butterfly itself can also absorb fluid. You can't sterilize jelly toys, though you can clean them with toy cleaner and warm water.
The really nice thing about this toy is that it's pretty hands-free. I like being able to throw arms back and grab at pillows when I'm on the verge of coming. The tricky part of hands free orgasms, though, is that once I come, I really want it to stop. Immediately. This leads me to a downside of the fluttering butterfly—no one-click-off button. If, like me, you have the toy on the top vibration or rotation intensity (there are four levels for each) when you come, you have to pull it out completely or click four times on each off button to get it to the off setting. This is doable but annoying.
Finally, sound. The
Fluttering Butterfly dual action vibe
passed my sound test: it cannot be heard through a door if music is playing. This doesn't mean it's silent but it's more of a dull roar than the construction sounds that accompany some vibrators, particularly dual action vibes.
This product was provided free of charge to the reviewer. This review is in compliance with the FTC guidelines.

Thank you for viewing
Fluttering butterfly
– rabbit vibrator review page!