A g-spot/clitoral/perineum toy that works on... none of those spots
I am flat out horrified that this item has such high marks and is selling so well. Please, please, please learn my mistake and don't waste your money on this awful thing. It is almost guaranteed to disappoint- and it's not cheap enough to gamble on.
Published:
Pros
Don't need a condom for solo play
Safer than jelly
Cons
I don't think there is an anatomy this toy will work with, the base is minuscule
I always wanted to try a jelly toy, but due to safety concerns I've avoided them. I was excited to see something that capitalized on the nubby bits of jelly toys while staying relatively safe material-wise. (Not needing a condom since I use it solo and don't share is great too) I fell for the g-spot/clitoral/perineum claim.
Bonsai Joy is made of elastomer, (safety level 7) so you can clean it but not boil it. I use a bleach solution and there seem to be no problems. Be careful though, there is a hole in the center with a rigid straw-like tube, which could harbor bacteria if you do not remove it and clean it as well.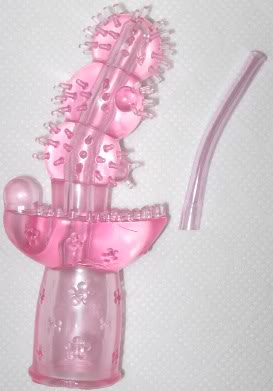 Similarly, you are also limited by the bullet you use, if it has a hole for the cord.
I actually purchased this from a maker in Japan, so I am NOT going to review the bullet specifically as mine was different. The main body is the same.
Still...
You've got to be kidding me. This toy barely hits one spot, let alone three.
I realize I don't have that many toys but this is a toy that just. doesn't. work. I tried it facing "forward" (nubby bottom bit toward the clit), "backward" (nobby bit toward the clit), "forward" with the tube reversed, "backward" with the tube reversed, "forward" with my hand pulling it toward my clit from the front, "forward" with my hand pulling it toward my anus from the back, "forward" and forced forward by holding onto the cord of the bullet, externally on my clit only, and for the sake of the review crammed entirely into my vagina, (hey, every other way wasn't working) and was underwhelmed every time. I tried it every damn way I could think of vaginally and it was just awful. I tried two different bullets. This isn't even stimulating for teasing, it feels odd but interesting for 20 seconds and then the novelty entirely wears off. Forever.
No matter HOW you pull on this toy it is not a clitoral/vaginal/perineum toy. At best, it can get your vagina (notice I'm not going with g-spot but "vagina") but if you move it to hit your clit it no longer works in the vagina, and the same goes for when you try and use it to get perineum stimulation while inserted vaginally.
I mentioned reversing the tube, if you do so you can get rid of the overall curve of the toy and make it almost completely straight.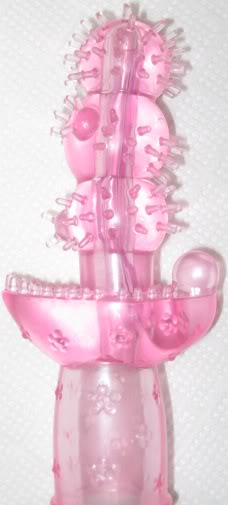 Experience
Inserted with no support, this toy is roughly the exact same size as my vaginal opening and the base just floats there barely touching my labia majora and the same goes for the labia minora as well. With the lights off and fully concentrating, I will place the amount of palpable vibrations (cranked all the way up to full power) about 2 CM into the vaginal canal, possibly 3 CM if I'm feeling generous- CERTAINLY not my g-spot.
Honestly this toy totally destroyed my self-esteem the first time I used it. Am I some kind of gigantic freak with a loose vagina? Is my clit freakishly far away from my vagina? Oh god, are there women small enough to hit all of these points at once? The base is roughly the size of my ENTIRE vaginal opening. Since then I have read up a bit on the "rule of thumb" or C-V ratio and found out that anything under 2.5 cm is "very good" when it comes to likelihood of vaginal-penetration only orgasms. And guess what, I do fall into that category... and this toy still can't hit even the bottom of my clit to the point where I can feel it.
I won't even mention perineum stimulation while inserted vaginally because I can't even imagine that it is in the realm of possibility for an adult woman.
In the "best case scenario" (when it comes to this toy) if your vagina clamps down like say, a sphincter (creepy?) or if you have vaginismus or something, you would have exactly two centimeters from the shaft to the EDGE of the base. If your vagina does not work like an anus, you have... one and a half. But even then, I would be shocked if you could angle it well to take full advantage of that. If you reverse the tube you can remove the g-spot curve a bit but I'm undecided as to whether or not that helps hit your clit any better- since it simply doesn't hit anywhere mine at all. Period.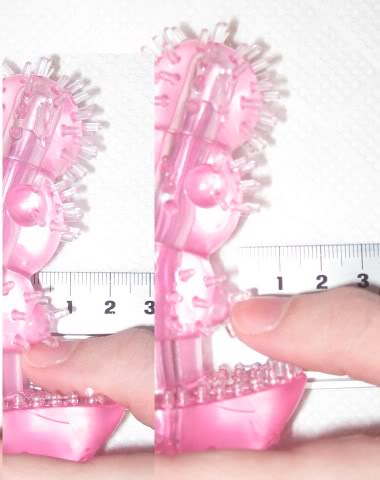 The "too long, didn't read" version:
Unless your clit is within ONE centimeter of your vaginal opening, this toy will not provide clitoral stimulation while vaginally inserted. And I am being very generous about the one centimeter thing. If you asked me, "what provides better stimulation than a vibrating jelly cactus that can only be felt about 2 CM into the vaginal canal?" I would go with "pretty damn near much anything." I would be shocked if this worked well for foreplay or teasing because on top of receiving very little stimulation, you feel pretty damn unsexy using this stupid thing. I suppose you could rip out the bullet, but just buy the bullet instead and save yourself money.
This content is the opinion of the submitting contributor and is not endorsed by EdenFantasys.com
Thank you for viewing
Bonsai joy
– g-spot rabbit vibrator review page!