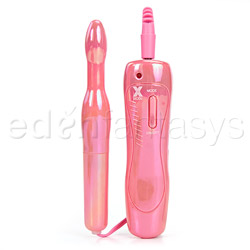 Fantasy tickler
Bullet
by WHK GmbH
A Little Pink for Your Pink
For the price, it's a great value and fabulous for introductory anal explorations with a vibrator. My advice is for a hetero girl to surprise her partner with it- show him vibes are for boys too!
Published:
Pros:
Very quiet and discreet. Very feminine looking. Good multiple settings.
Cons:
The finish may fleck over time. The intensity may be too low for some.
Tiny and sweet, if you have a vibrator "virgin" in your life, then you need to give her/him this cute & girlish tickler.
The
Fantasy Tickler
is a small pearlescent coral wand that is attached by a thin wire to a controller that you can easily manipulate in one hand. The size is the key element about this toy as it is tiny and very unassuming. I can't imagine anyone looking at it and not being like "oh, it's just a baby!". If you like your vibrator to be vaginally inserted and actually give you any feeling of fullness- this is NOT the toy for you.
However, if you are new to vibrators or would like to explore with an anal vibrator - this is a well-nigh perfect beginner's toy.
I'm not a huge fan of vibrators, so I personally use them infrequently and hence, I'm definitely sensitive to a lower level of vibration. I found this vibrator's intensity and noise level to be lower than the "standard" Hitachi-type of vibrator but it was still intense enough to give me a nice tingly feeling, especially when used anally. It's a pretty quiet vibe, perhaps 1-2 Bees and this is great for a little discreet play under the covers (so Mom doesn't hear ya).
I didn't mind the pearlescent finish on the Tickler but having used it several times now, I do wonder if eventually it may begin to fleck as it feels more "porous" now. This potential concern is easily resolved by using a condom over the wand for any actual insertion. If you are playing with a partner, this is probably a good idea anyway, especially if you are going anal to vaginal (always be wary of bacterial safety).
For the boys, this is a nice introductory anal tool. It's sized most comfortably for insertion and his face will light up when you put the setting up to "climax". The nine settings are clearly labeled and add some interest to your play as changing the speeds can assist in manipulating an orgasm.
I enjoyed simply holding it against my clit when being penetrated at the "random" setting. It kinda surprised me and made the play more spontaneous.
For the girls, specifically, if you are interested in exploring being doubly penetrated, this is a great starter for having something small vibrate anally while being vaginally penetrated.
Use this toy enough and undoubtedly you'll want to move on to bigger and more intense. However it's very cute, could incite some girlish giggles and could be a sweet surprise for your rather innocent, "vibe-curious" honey.
This product was provided free of charge to the reviewer. This review is in compliance with the FTC guidelines.

Thank you for viewing
Fantasy tickler
– bullet vibrator review page!