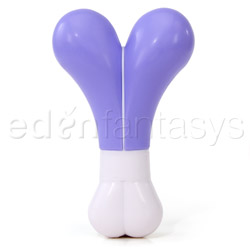 Twisted hearts desire
Discreet massager by Doc Johnson
A new twist to get your heart beating.
Looking for something unusual and different? Want to try a toy that has "no rules"? If so I would recommend giving this a try. Maybe not a "first" clit vibe, but definitely one worth experimenting with.
Published:
Pros:
Unique throbbing sensation through dual bullets. Stands out visually and physically. Waterproof.
Cons:
Too easy to accidentally change speeds. Unusual shape may not be suited for all. Low vibe power
The
Doc Johnson's Twisted Hearts Desire
is an interesting take on clitoral vibes. This vibe claims to be designed by women for women. The packaging is artistically designed. No sluty chicks making porn faces. The package has many "blurbs" about the product strategically placed throughout. Of the two color schemes I chose the purple and white because I just don't like red.
This toy is a
waterproof clitoral vibe
. I don't see a lot of waterproof clitoral vibes on the market, so that was a major draw for me. Next to be noted are the safety features. The box directly states that this toy is "made from safe non toxic Phthalate-free TPR, silicone lube compatible." They jammed all that info into a space the size of a dime. Whatever your favorite lube, as long as it's not oil based, go for it.
This has nearly no scent at all. It appears to be a plastic base with a TPR coating, giving it firmness with a soft cushion. No comment on taste as no one tasted it. It is one of the most
unusual looking toys
I have come across. It looks very different from any other type of vibe I know of. The top of this vibe is shaped like a heart. Each curve of the heart contains its own bullet.This is another one of the toys prominent claims "dual bullets". The handle is white plastic, also with a heart like shape at the base. Rotating the handle controls the vibes speed. The toy has an overall Y like shape.
My girlfriend did all the actual testing of this toy. The bulk of the review will be based on her comments. She first took it to the shower and enjoyed a brief but satisfying round of play time with it. Using one bullet to tickle her clit and the other to rub her labia, sadly she ran out of hot water before she could really experience its full potential. This toy did not leak at all. The waterproof factor makes clean up very easy. Some soapy water and your clean. She then went on to play laying in bed with the
Twisted Hearts Desire
. She gave it a good lube with Maximus and set out to find out what interesting things could be achieved with its unique design. I will quote her experience verbatim.
"Oh my god! When I held one bullet to my labia and pushed hard up against me I began to feel a rapid pulsing sensation. This got me excited. I let out a shriek! My first of several orgasms happened shortly after.
Very stimulating, exciting, left my heart pounding. I of course then tried to get this sensation with both bullets (touching her body) at once but it was just one simultaneous vibration." The best use for her came from the feeling of the pulsating bullets, it seems as though their vibrations are out of phase with one another and can couple to create what she described as an "extreme throbbing sensation"
The major draw back to the Desire is that the hard plastic handle twists just a little too easily, creating too many opportunities for a change of speed when you least want one. The vibes were fine for her, but having two bullets powered by only two AAA batteries has this toy delivering the least amount of vibration of anything in her collection. As with all TPR it cannot be sterilized so the necessary precautions need to be taken into account.
Experience
While we didn't try it, the shape of this vibe seems as if it would lend to stimulation of the clit and the cock quite nicely. This toy also claims to be insertable, due to the width we decided to let others figure that one out. With this creative design many more applications are surly waiting to be discovered.
This product was provided free of charge to the reviewer. This review is in compliance with the FTC guidelines.

Thank you for viewing
Twisted hearts desire
– discreet massager review page!