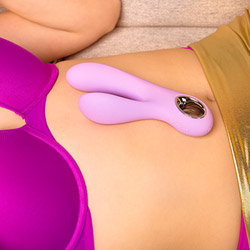 Saiph
Luxury rabbit vibrator
by EdenFantasys
A Star In The Sheets
While Saiph may be a blue star in the night sky, this lovely little purple number is a star in its own right in bed. Despite its unassuming size, it packs some powerful vibrations in both the shaft and clit stimulator. As for the clit stimulator itself, this wide, textured extension covers a lot of ground to ensure it reaches your special sweet spot to bring you out of this world pleasure!
Published:
Pros:
Large Clit Stimulator
Powerful Vibrations
Rechargeable
Cons:
Small shaft
Inability to independently control the shaft and clit vibrations
Loud high settings
First Impressions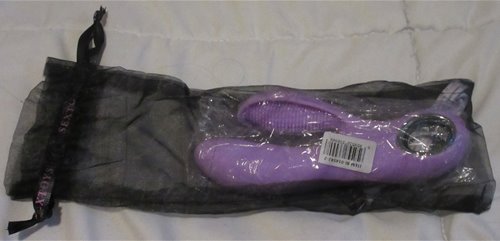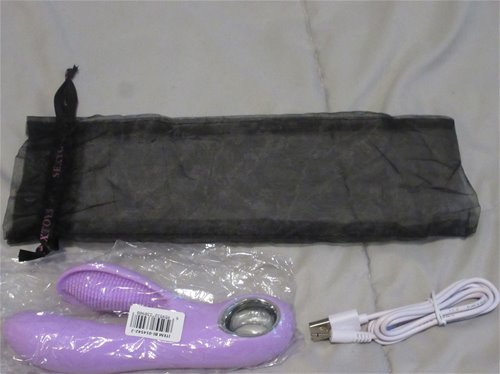 The Saiph came packed in a plastic bag inside its own personal Edenfantasys' bag, which I loved! I really like when toys come with some form of storage - be it a bag or box - to make things simpler. Along with the Saiph, the bag contained a USB charger to be used to recharge the Saiph's battery. Rechargeable toys are preferable to me over ones which take batteries, as it's much more convenient to charge the toy itself than search for fresh batteries whenever you want to use the toy.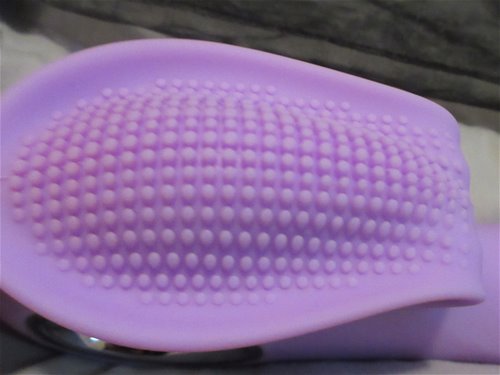 The clit stimulator - the highlight of the toy's features and design, in my opinion - bulges outwards and is covered in tiny nubs which each transmit the vibrations being generated in the clit extension's motor. This extension is incredibly flexible, bending backward with ease, which I thought was a good sign in ensuring it's able to reach and satisfy any woman's clit.
Based on appearances alone, I was most excited to see if the clit extension would live up to my expectations. I didn't have high hopes for the shaft of the toy to blow me away since I prefer toys with a little more length and girth, but I'm always open to be pleasantly surprised by the power of smaller toys.
My Experience With The Saiph
Unfortunately for me, I wasn't able to immediately get down and dirty with the Saiph due to experiencing some health troubles at the time, so I had to wait things out. It wouldn't have been fair to potentially jeopardize my enjoyment and therefore my review due to experiencing other issues unrelated to the toy that could impact the experience. And so I waited, and as they say, absence makes the heart grow fonder. The anticipation grew and grew, and when the time finally came for the Saiph's test drive, I was ready and raring to go!
Deep penetration isn't a possibility with the Saiph due to its shaft size. Despite the length of the toy reaching 6 3/4", a little over 17 centimeters, only about half of this length is insertable due to the handle which contains the toy's controls taking up half the length. Below is a size comparison alongside a tape measure and another toy from my collection of a similar size and shape, EdenFantasys' very own Sway.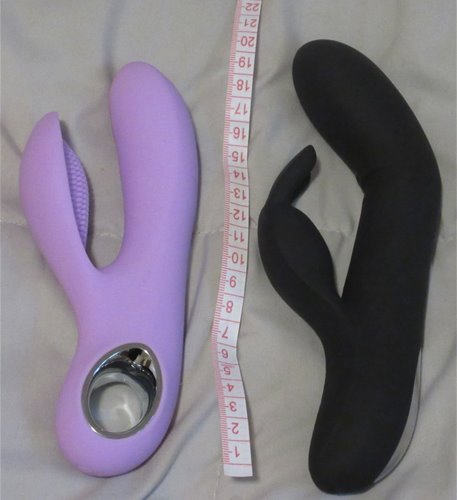 What the Saiph lacks in size, it makes up for in raw vibration power. Its two motors - located in the shaft and clit stimulator - were far stronger than I was expecting from this small toy! There are 7 vibration patterns you can rotate through, and the controls allow you to increase or decrease the power of the pattern for a more or less intense touch. Each pattern alternates between varying vibrations in the shaft and clit extension. While I enjoyed how different each of the patterns was, it was a little disappointing that only one setting had simultaneous clit and shaft vibrations. I wanted both to be going at the same time!
Now, did the clit stimulator live up to my expectations? Yes and no. With the shaft in the position of how I would normally play with my toys, I found the clit stimulator ended up being too long and extended past the region where I needed it to rest for proper clit stimulation. However, with some maneuvering of the shaft, I was able to get the clit extension into a better placement where I could fully enjoy the vibrations it offered.
Final Thoughts
I really enjoyed my time using the Saiph, although I have a few complaints based on my personal toy preferences.
For starters, I wish the Saiph had a thicker, longer shaft for insertion. But, considering this would have messed with the placement of the clit stimulator, I understand the decision to go with a shorter shaft for this toy.
What bummed me out the most though was the fact that the vibrations in the shaft and clit extension were only on simultaneously during one of the vibration patterns. I would have loved if the shaft and clit vibrations could be controlled individually, or if there were more patterns available that utilized both at once instead of alternating between the two motors.
All-in-all, I found the Saiph to be an adequately satisfying toy! What it lacks in size, it makes up for in power. It may have taken me a while to get around to first using the Saiph, but it won't be long until I'll be using it again!
This product was provided free of charge to the reviewer. This review is in compliance with the FTC guidelines.
Thank you for viewing
Saiph
– luxury rabbit vibrator review page!