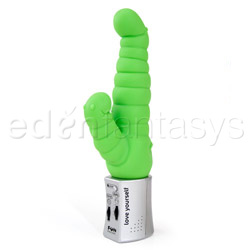 Paul and Paulina
G-spot rabbit vibrator by Fun Factory
Are they worms? Are they caterpillars? Who knows, but they're fun!
Don't be freaked out by these two cute little wormies! They're fun and whimsical and if you like a slow build they'll be sure to get you off. I wouldn't recommend this for quick sessions, as the toy isn't the type to offer instant orgasm gratification. The rotations are mediocre, but the vibrations are nice and the silicone is nice and plush.
Published:
Pros:
lime green silicone, squishy silicone, independently controlled rotations and vibrations,
Cons:
rotations somewhat weak and cause vibrations to lessen, battery cap comes off easily
Some might call Paul and Paulina creepy, since the design is two worms (or are they caterpillars? I think worms..), complete with eyes and smiles. I choose to think of it as whimsical though, yes they're worms but really it's just a fun design, don't worry it doesn't make you weird if these two worms can get you off! It's just fun! They're also lime green silicone, that's freakin' awesome right there. Paul and Paulina are also available in blue, but I chose the green since it's my favorite color. Paul and Paulina are a bit longer in length than some other rabbit style vibrators that I've tried, allowing deeper vaginal penetration.

Paul and Paulina come from Fun Factory, so they have that buttery soft silicone with a bit of squish. Since there's so many components most of the shaft is just thinner silicone with gears and such under, but both wormies both have the squishy silicone at their heads. Paul, I assume he's the bigger worm, rotates and also has spinning beads towards the bottom of his shaft. Paulina is there to offer clitoral stimulation with a buzzing bullet that starts at just around the mouth and ends close to where the base of Paulina meets Paul. What I found interesting were two indents in the base of the toy, one with a line of what looks like pinched silicone and one that is just a flat indent. I think these are meant for gripping, I could be wrong, but that's what they seem like to me.

The control panel is easy to use with a dedicated on/off button and then two dials. One is for the rotation or "twist" as it's labeled, and then another for the clitoral vibrations, labeled "shake". The batteries (2 AA, not included) are inserted in the back of the toy under a somewhat loose battery cap. This cap falls off easily, and usually Fun Factory's toys seem more well made than this, so the cap was a bit of a disappointment. It can come off during use, but only if you are holding onto it. If you use the "grippers" on the end of the shaft that issue is avoided.

The vibrations are adequate, somewhere between buzzy and deep, and not overly strong which I find to be a plus with rabbit style vibrators. I like to use them for a slow build and it's nice when the clitoral vibrations aren't so high that they have me getting off in a matter of minutes. The vibrations are more intense when the rotation is off or on low, unfortunately the motor can't handle having both one with the same intensity. I want to say that you lose about 1/3 of the power when turning on the rotation. The rotation, like most vibrators this style are kind of lack luster. When faced with clenching vaginal muscles they tend to slow and you can hear a whine in the motor when this happens. The spinning beads is a nice feature, but unfortunately it only offered very subtle stimulation. Paul and Paulina are also incredibly LOUD, especially when inserted. Someone might think you're baking a cake in there with the sound of this bad boy. The vibrations themselves aren't too bad, and they would likely not be heard through a closed door but the rotations will unless you put on some background noise.


Since Paul and Paulina is a silicone toy, make sure to only use water based lubricants. Paul and Paulina are not waterproof, these two wormies can't swim, so take care to keep them out of the shower, and when washing be careful that only the shaft itself gets wet, both the battery cap and the buttons could easily let water in. Because of the nature of the dial controls, I'd even be wary of using this with overly lubed up fingers, when dialed the lube could then get rolled into the toy.

The box is informative and comes with a booklet about your new toy and also a pamphlet about other Fun Factory toys and a sample of their Toy Fluid lubricant. Unfortunately the lubricant contains glycerin, so it's not one that I can use. I hear it's pretty awesome though if you're not sensitive to glycerin! The box isn't great for storing Paul and Paulina, it's kind of bulky and it's not the type of box that they just pop back in. It's a mix of a clam shell packaging and then an outer cardboard box. Paul and Paulina are also rather large so they don't fit in the toy box with my other toys. I opt for keeping them in a plastic bag in a drawer so that they stay nice and clean between uses.
Experience
The key to enjoying Paul and Paulina is patience and a bit of trial and error. You have a large shaft and then the clitoral stimulator, the trick is finding out how far to insert and how to line up the clitoral stimulator. For me the first thing to do was see where Paul worked out best. Sometimes the rotating toys are better if they're not inserted too deeply, and that ended up true for Paul. This allowed for the rotations to be felt a bit better and also prevented my muscles from clenching on the spinning beads. It's the beads that cause most of the whine and strain on the motor when they're clenched. If it works out for your body to have only a bit of the beads inserted it feels rather nice, it's kind of like they're dancing along the vaginal entrance. The rotations are still kind of weak, but Paul's big nose makes for decent G-spot stimulation, if it lines up correctly.

I found the actual best result from the rotations were that if you insert the toy as I explained above Paulina's nose will line up around about the clitoris. Of course since everybody's anatomy is different, you might need to adjust slightly to achieve this. For me though, her nose lines up in a way that I get just the right amount of pressure that when the rotations occur Paulina kind of moves back and forth against my clitoris. It kind of feels like being rubbed back and forth. Couple that with the vibrations and it's really nice. This is of course a slow build, but I actually found it relaxing since the toy was doing all the work and I only needed to rock the toy ever so slightly.

I wouldn't recommend Paul and Paulina if you're looking for a get off quick type of toy, I just don't see it really being good for that, unless you have a very sensitive clitoris. For me the best way for me to get off quicker with Paul and Paulina is to turn the rotations off all the way so that I can thrust Paul and have Paulina's clitoral vibrations work their magic and Paul's head offers good G-spot stimulation as a thrusting dildo. Better orgasms come from allowing a slow build up with this toy though, at least for me. I also find this to be better suited for masturbation, but I have never liked rabbit style vibrators for couples sex. They're just a bit too boring for me during sex.
This product was provided free of charge to the reviewer. This review is in compliance with the FTC guidelines.

Thank you for viewing
Paul and Paulina
– sex toy review page!